Donald Trump's Fight With Turkey's Erdogan, Explained
Last week was a low point for U.S. relations with Turkey.
President Donald Trump explicitly stated that the relationship between the two countries isn't very good right now, and Turkish President Recep Tayyip Erdogan accused the U.S. of "stabbing" Turkey in the back. For two allies in the North Atlantic Treaty Organization (NATO), it was a significant departure from their previously collaborative relationship. As recently as July, the two men were rumored to have gotten along well at a NATO summit in Belgium.
Now, the fight between Trump and Erdogan now centers on a cast of religious figures, chief among them Andrew Brunson, an American pastor who had been living in Turkey for decades before he was arrested in 2016.
Brunson was jailed in the wake of a failed military coup that attempted to oust Erdogan from power. The Turkish president blamed the Islamic cleric Fethullah Gulen, his erstwhile ally who is now residing in Pennsylvania, for the coup. In an op-ed in The New York Times published Friday, Erdogan claimed the Gülenists "tried to stage a bloody coup against my government."
Erdogan also claimed that Brunson worked with Gulen's followers and spied for Erdogan's other enemies, the Kurds, who attempted to establish an independent state in Turkey. Gulen's supporters are not traditionally allied with the Kurds, a point that has raised some questions about the validity of the accusations against Brunson. The American pastor has maintained his innocence throughout his years in custody, and the U.S. State Department has continued to lobby for his release, without success.
Turkey, meanwhile, advocated for Gulen's extradition from the U.S., a request that numerous U.S. administrations rejected. Reports have suggested that Erdogan may also have wanted to use Brunson as a bargaining chip in order to secure the release of Hakan Atilla, a Turkish banker who was sentenced to several years in prison over a scheme to help Iran avoid U.S. sanctions.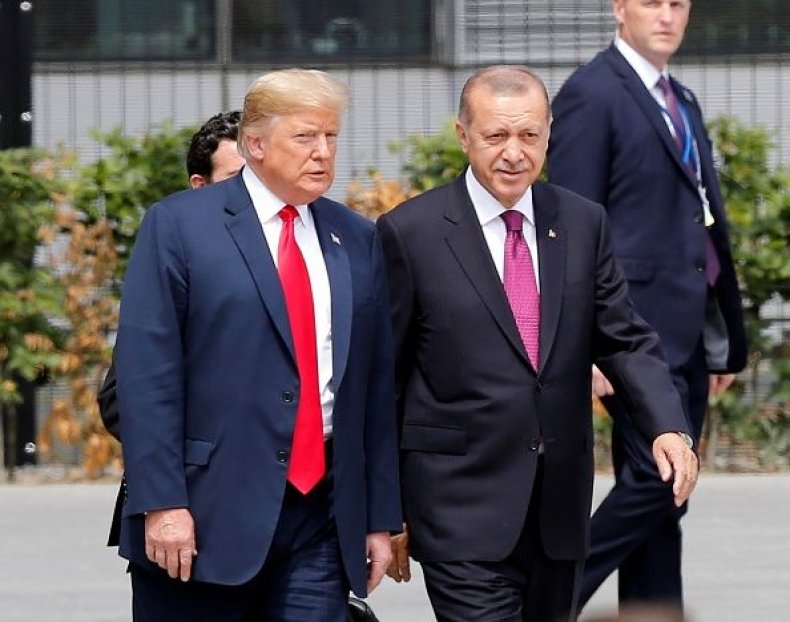 But what started as a dispute over a potential prisoner swap has quickly transformed into a crisis that could have lasting consequences for the two countries.
"The current U.S.-Turkish crisis is not likely to de-escalate quickly, as neither side appears to have found a strategy to get out of its corner and could really back down. For Ankara, this is no longer—if it ever was—a 'priest versus priest' prisoner swap to have Fetullah Gulen extradited, but an opportunity to rebrand the consequences of economic mismanagement as part of an 'economic war' against Turkey, and rally AKP [Erdogan's Justice and Development Party] voters and secular nationalists alike behind the government," Magdalena Kirchner, a senior analyst and Turkey expert at Conias Risk Intelligence, told Newsweek.
"For Washington, who took over a year to increase pressure on Turkey in the case of Brunson in the first place, being tough on Turkey appears to have now become one of the few issues all parties can agree on," Kirchner continued.
Indeed, Turkey is experiencing a severe economic crisis, and the diplomatic fallout with the U.S. has provided a scapegoat. Erdogan has peddled in conspiracy theories to explain the plunging value of the Turkish lira, and Trump's announcement Friday that he would impose steep tariffs on Turkish steel and aluminum only bolstered Erdogan's claims that the world was working against him. Trump, for his part, has demonstrated a willingness to use trade tariffs for leverage in foreign policy, and explicitly linked his decision to impose tariffs on Turkish goods to the deteriorating relationship between the countries.