Donald Trump's First 280-Character Tweet Praised an Authoritarian Leader Who Bans Twitter in His Own Country
President Donald Trump has posted his first 280-character tweet, complimenting Chinese leader Xi Jinping for his "great political victory" in the one-party state.
The president, an avid Twitter user, was one of millions of people worldwide who saw their 140 character limit doubled on Tuesday, a milestone change in policy for the social media platform that was first rolled out in September to a limited amount of users.
"Getting ready to make a major speech to the National Assembly here in South Korea, then will be headed to China where I very much look forward to meeting with President Xi who is just off his great political victory," Trump's tweet read, referring to Xi's recent power consolidation.
Asian language users, including Chinese, Japanese and Koreans, however, do not have access to the expanded character limit.
The social media platform is banned in China, the country Trump traveled to on Wednesday as part of his five-nation Asia trip, although foreigners are usually still able to tweet via their mobile phones.
"Regulation, control, censorship and surveillance of the internet has increased, even by Chinese standards, considering how internet censorship was already severe and tightly regulated," assistant professor at the School of Journalism and Communication in Hong Kong, told Newsweek last month in reference to the recent crackdown on internet freedom via new regulations on VPN and on what can be shared, or played, online.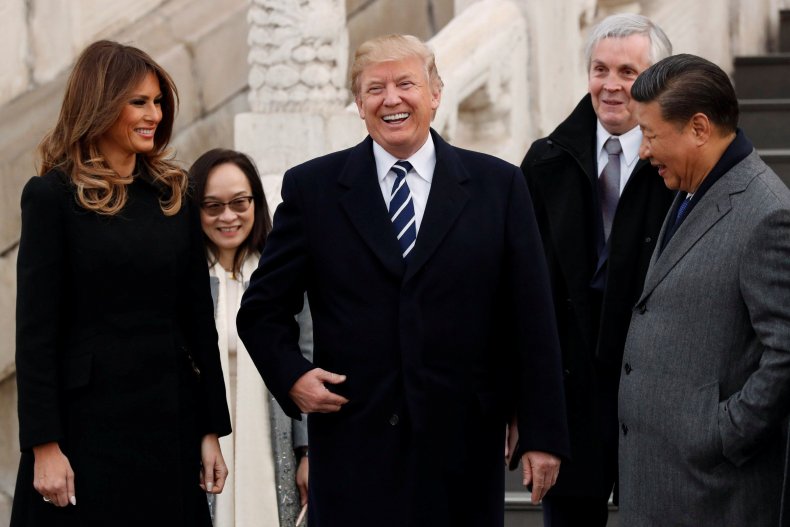 Trump's praise of his authoritarian counterpart's so-called victory raises doubts over whether the president will use his freedom and extended Twitter platform to call for greater freedoms for the Chinese people, as former President Barack Obama and first lady Michelle both did during their visits to the country.
Trump has often spoken admiringly of Xi's leadership, calling him a "friend" and a "very good person," despite previously scoffing at China for not doing enough on North Korea and for unfair trade practices.
Both topics are high on Trump's agenda on the Asia trip. Speaking in South Korea on Tuesday, Trump said Xi had been very helpful on North Korea. "We'll find out how helpful soon. But he really has been very, very helpful. So China is out trying very hard to solve the problem with North Korea," he said at a press conference.
Xi and his wife Peng Liyuan greeted Trump and first lady Melania at Beijing's airport Wednesday, along with members of China's honor guards and children waving Chinese and U.S. flags. The presidential couple's first stop was a tour of the Forbidden City.