Donald Trump's G-7 Tweets Were Depressing, Says Angela Merkel
German Chancellor Angela Merke called President Donald Trump's choice to break ranks with U.S. allies by backing out of a joint statement on social media and then deriding foreign leaders "a little depressing."
The European leader, known for negotiating compromises without political histrionics, gave an uncharacteristically candid and combative assessment of relations with Trump when she spoke to German channel ARD after last week's G-7 summit. At an event comprised entirely of U.S. allies, Trump angered the majority of the leaders before he had even arrived, imposing trade tariffs on European and Canadian exports.
Trump appeared to acquiesce to Merkel and other leaders' positions, as the G-7 issued a joint statement to uphold "free, fair, and mutually beneficial trade" at the end of the two-day summit. Trump then declared on Twitter that he no longer endorsed the statement.
Read more: Donald Trump heads to G-7 doing Putin's work for him, says ex-U.S. envoy to Russia
Merkel did not know Trump planned to do this and learned he'd pulled out from the "arduously negotiated" declaration while she was returning from the summit. A White House adviser later admitted that Trump's desire to appear strong was part of the reason for that move.
"[Trump's] withdrawal via Twitter is of course sobering and a little depressing," Merkel said, according to a translation from public broadcaster Deutsche Welle. Highlighting that the document was still "legally binding" as far as Germany was concerned, Merkel said she would uphold it but that her patience after Trump's about-face had worn thin.
"We won't let ourselves be ripped off again and again," Merkel said. "Instead, we act then too."
Trump has already announced tariffs on steel and aluminum imports from Canada and Europe, which will impact major exporter Germany, and he intends to hit another key sector for the German economy: auto exports.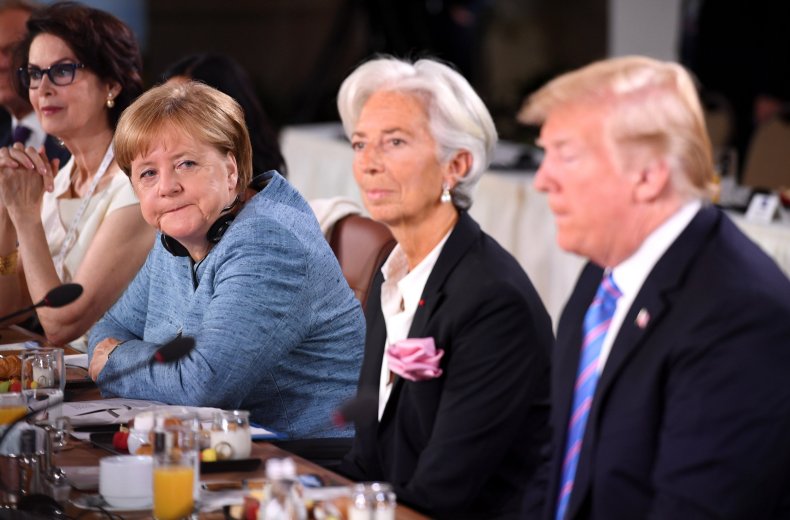 Although U.S. senators warned that a spat risked launching a "trade war," the key factor behind Trump's apparent policy zigzag was the matter of his image ahead of a first-ever meeting with North Korean leader Kim Jong Un this week, according to Trump's economic adviser Larry Kudlow. Kudlow admitted to CNN on Sunday that Trump had "compromised on the communiqué" but changed his mind later, seeing Canadian Prime Minister Justin Trudeau appear vindicated after the summit.
Trump's tweets appeared to single out Trudeau, alleging he was "very dishonest & weak" in a series of Twitter posts as he backed out of the joint statement on fair trade, saying it should now be called "fool trade."
Trudeau's office cast doubt over the genuineness of Trump's offense at the prime minister's remarks, pointing out that Trudeau's messages simply reiterated his position before the summit: that he will oppose attempts to bully Canada on trade.
"The prime minister said nothing he hasn't said before—both in public, and in private conversations with the president," Trudeau's office announced in a statement, according to Reuters. Speaking on the condition of anonymity, a Canadian official told national broadcaster CBC that not only had Trudeau made those remarks prior to the meeting, but on U.S. television last week he had also informed Trump of his position before he went on air.
Related: Trump Wants Russia at Summit With Allies, but the Kremlin Thinks Format Is Irrelevant
Trump and Kudlow have since claimed that Trudeau "stabbed us in the back" and that that was the reason for the U-turn, but it was Trump's actions that other G-7 leaders appeared to find frustrating.
Echoing Merkel's sentiments, French President Emmanuel Macron's office said that "international cooperation cannot depend on fits of anger and a few words," according to a statement published by French public broadcaster RFI.
"We spent two days producing a statement and commitments," the statement said. "We stand by it, and whoever leaves it and turns their back on it is showing inconsistency and lack of character."