On Wednesday morning, someone destroyed President Donald Trump's star on the Hollywood Walk of Fame in Los Angeles, marking at least the fourth time the star has been vandalized since Trump received it in 2007.
The Los Angeles Police Department (LAPD) told Newsweek that they received a call at 3:33 a.m. PT to report that the star had been vandalized by a person using a pickax. KNBC reporter Jonathan Gonzalez tweeted that it's believed the vandal called the police himself and left before they arrived, though LAPD could not confirm that to Newsweek.
LAPD was not sure if there were any security cameras that captured the early-morning destruction but are currently looking for a suspect. LAPD has not yet released information about any possible suspects.
This isn't the first time someone has targeted Trump's star on the iconic walkway. On October 2016, 53-year-old James Lambert Otis, dressed as a construction worker, used a sledgehammer to smash the star. Otis admitted to being the one behind the destruction and said he did so to show support for women who had accused the then-presidential candidate of sexual harassment and abuse, according to the Independent.
He pleaded no contest, which is the equivalent of guilty in California, and was given three years of formal probation and 20 days of road maintenance work. He was also ordered to pay $3,700 to the Hollywood Historic Trust, which cares for the Walk of Fame, and $700 to the Hollywood Chamber of Commerce. Within days of its destruction, Trump's star was repaired.
The star was also vandalized with graffiti in June 2017, and Twitter user Makenna gained recognition online after she posted photos of herself cleaning it up. Others, including comedian George Lopez, have posted photos on social media of them pretending to urinate on Trump's star and in February 2016, someone spray painted a black swastika in the center of it. Some detractors have also placed stickers and signs on the star and organized protests at its location.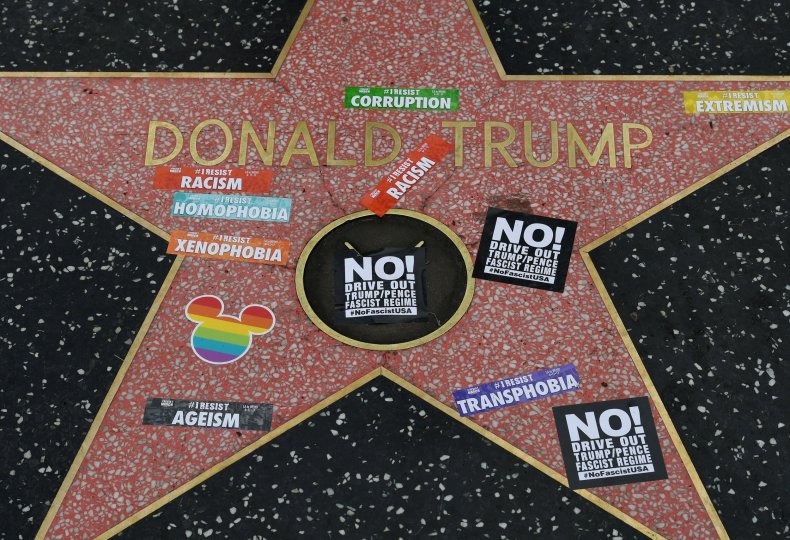 Trump earned his spot on the walkway of the iconic tourist attraction in 2007 for his "extravagant lifestyle and outspoken manner" that made him a celebrity and his work on the reality show The Apprentice and Miss Universe, according to the Walk of Fame website.
Celebrities are chosen on a yearly basis and any fan can submit a nomination form on behalf of their favorite star, according to the website. The most common reason a person's favorite celebrity hasn't been granted a star is that no one ever nominated them. Each Walk of Fame ceremony costs $40,000, which is used for the creation, installation and maintenance of the star.