Donald Trump's Immigration Plans Mean Money for Average Americans Is 'Burned, Flushed Down the Toilet' for an 'Egomaniac's Vanity Project': Former DHS Official
As President Donald Trump prepares to reveal his latest plan to address the surge of asylum seekers arriving at the U.S.-Mexico border, a former Homeland Security official has said the U.S. leader's policies are only seeing billions of dollars "burned" and "flushed down the toilet" for the "vanity project of an egomaniac."
Speaking to Newsweek on the condition of anonymity, the former DHS official said that in the time since he took office in 2017, the president has simply been pandering "to a group of voters trying to keep America white" by focusing his efforts on building a wall between the U.S.-Mexico border.
"It's truly absurd," they said. "There are things that we can do with that money. So many things that would be more valuable to the average American."
Instead, they said, the Trump administration wants to see billions of dollars wasted on the development of a border wall that is "an entirely symbolic political gesture for a group of right-wing Americans who really support this president because of these racist tendencies."
"Putting up a wall isn't going to do anything," the former official said. "People are still going to come to the wall and turn themselves in at the wall."
The former official said that while he does agree with the Trump administration that there is a "crisis" at the border, it is not "a crisis of illegal crossings."
"We do have a crisis at the border," they said. "But, it's a refugee crisis. Not a crisis of illegal crossings."
"The way you address refugee crises is by ending the push factors wherever those refugees are coming from," they explained.
By push factors, the former DHS official was referring to the driving forces "pushing" asylum seekers to flee their home countries.
In Guatemala, Honduras and El Salvador, which are collectively known as the Northern Triangle, poverty and violence are among those push factors. Gang warfare is on the rise in the Northern Triangle, according to the United Nations Refugee Agency (UNHCR).
Current homicide rates are among the highest ever recorded in Central America, according to the UNHCR, with several cities, including San Salvador, El Salvador; Tegucigalpa, Honduras; and San Pedro Sula, Honduras, being listed among the 10 most dangerous in the world.
In Guatemala, specifically, many asylum seekers are also being pushed to leave their home country due to food insecurity caused largely by drought.
The issue is one that current DHS chief Kevin McAleenan acknowledged in December, when he was still serving as commissioner of the U.S. Customs and Border Protection agency.
"These areas are facing significant challenges with food insecurity," he said of parts of Guatemala and Honduras.
Noting that the WFP and the International Organization for Migration "have all written very astute studies about drought, about the coffee price decline and how that's affecting the ability of families to provide for themselves," McAleenan said: "We're seeing that directly translate into who's arriving at our border."
At the time, McAleenan touted the U.S.'s efforts to support stability in Northern Triangle countries by improving security and economic opportunity through the Alliance for Prosperity Initiative, which was launched in 2014 in large part to address a rise in unaccompanied minors presenting themselves at the U.S. border.
"We're four years into supporting the Alliance for Prosperity with investment in Central America—over $2 billion set aside by Congress. A lot of that is in the process of being deployed," McAleenan said in December.
Addressing the push factors driving asylum seekers to the U.S. border is the best way to reduce arrivals at the U.S. border, the former DHS official told Newsweek.
"In Syria, you try to end the civil war; in Ethiopia, where refugees were coming due to famine, you deal with the push factors," they said. "The governments of Guatemala, El Salvador and Honduras don't have the resources necessary to address these issues."
"These issues are bigger than just these countries," they said.
Trump's latest plan, which, according to The Washington Post, has been spearheaded by his son-in-law and senior adviser Jared Kushner, is focused on enhancing border security and moving the legal immigration system to a merit-based structure, favoring those with skills over those with family ties.
The proposal is unlikely to be well-received by Democrats, given that it is expected to exclude the Deferred Action for Childhood Arrivals (DACA) program, which protects hundreds of thousands of people brought to the country as children.
It is also unclear whether the plan will make any mention of addressing the push factors driving asylum seekers to the U.S. However, given Trump's previous stances on U.S. aid that have seen the president vow to pull aid completely for Central American countries, it is unlikely that boosting support will be part of the program.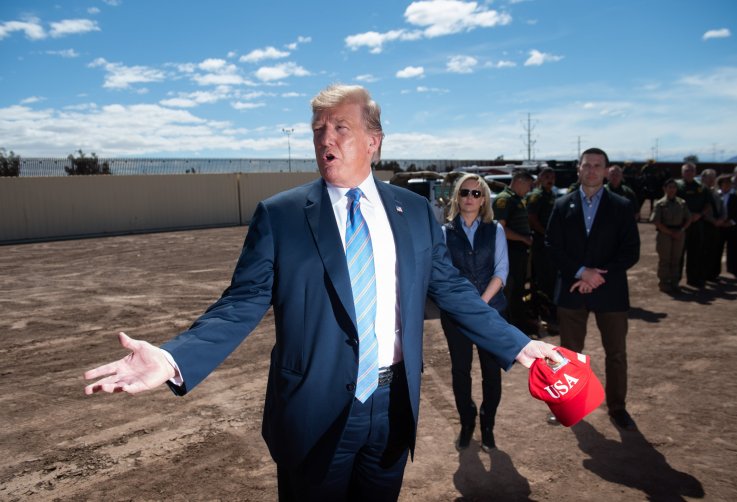 Donald Trump's Immigration Plans Mean Money for Average Americans Is 'Burned, Flushed Down the Toilet' for an 'Egomaniac's Vanity Project': Former DHS Official | U.S.