Donald Trump's Job Approval Hits All-Time High On Eve Of Senate Impeachment Vote
The day before the Senate is expected to acquit Donald Trump in his impeachment trial, a Gallup poll shows the president's approval rating is the highest it has ever been.
Forty-nine percent of Americans now approve of the president's performance, according to the survey. Additionally, 50 percent of Americans disapprove of Trump, while the remaining 1 percent had no opinion. The approval rating is the highest Gallup has ever recorded for Trump since he took office in January 2017.
A large majority of Republicans, 94 percent, said they supported the president, while less than 10 percent of Democrats did. Somewhat less than half of independents, 42 percent, expressed support for Trump.
"Trump's approval rating has risen because of higher ratings among both Republicans and independents," the Gallup report said. "His 94 [percent] approval rating among Republicans is up six percentage points from early January and is three points higher than his previous best among his fellow partisans.
"The 42 [percent] approval rating among independents is up five points, and ties three other polls as his best among that group. Democratic approval is 7 [percent], down slightly from 10 [percent]," Gallup said.
The 87 percent gap in approval between Democrats and Republicans represents the widest polarization in opinion of a president that Gallup has ever recorded, according to the report.
Gallup said the poll was conducted between January 16 and 29—during the president's impeachment trial. In December, the House of Representatives impeached Trump on accusations of abuse of power and obstruction of Congress. Impeachment proceedings began after a whistleblower reported that the president threatened to withhold military aid from Ukraine unless that country's government opened an investigation into presidential candidate Joe Biden and his son Hunter.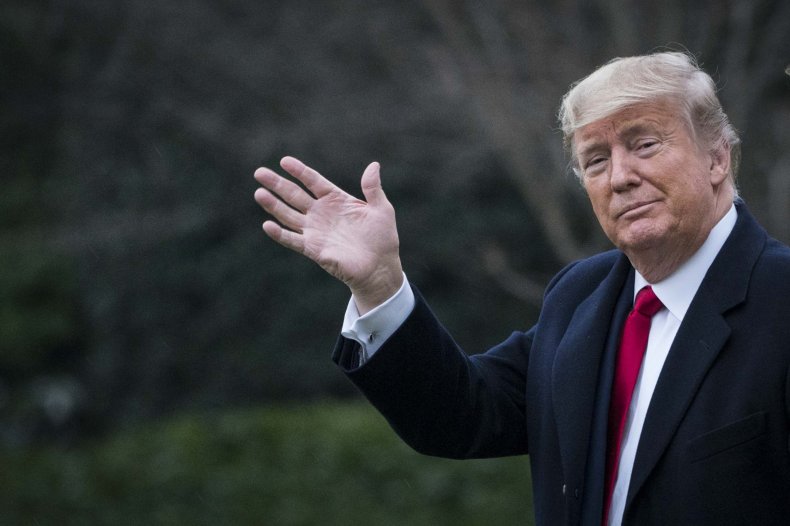 The Constitution states that after a government official has been impeached, the Senate must hold a trial to decide whether to remove that official from office.
Senate Democrats failed in their bid to allow witness testimony in the presidential trial, the first in U.S. history to not have them. Senators have until the 4 p.m. vote on Wednesday to continue giving speeches. With a Republican majority in the Senate, Trump's acquittal appears certain.
The Gallup poll also found that 52 percent of Americans are in favor of the Senate acquitting Trump, while 46 think he should be removed from office.
Gallup conducted the poll among a random sample of 1,033 adults living in all 50 states as well as Washington, D.C. Among that group, 946 were registered voters. There were 527 Republicans and Republican-leaning independents and 443 Democrats and Democratic-leaning independents. The margin of error was plus or minus 5 percentage points among the Republicans and plus or minus 6 percentage points among the Democrats.