Donald Trump's Khan Family Attack Is a Rarity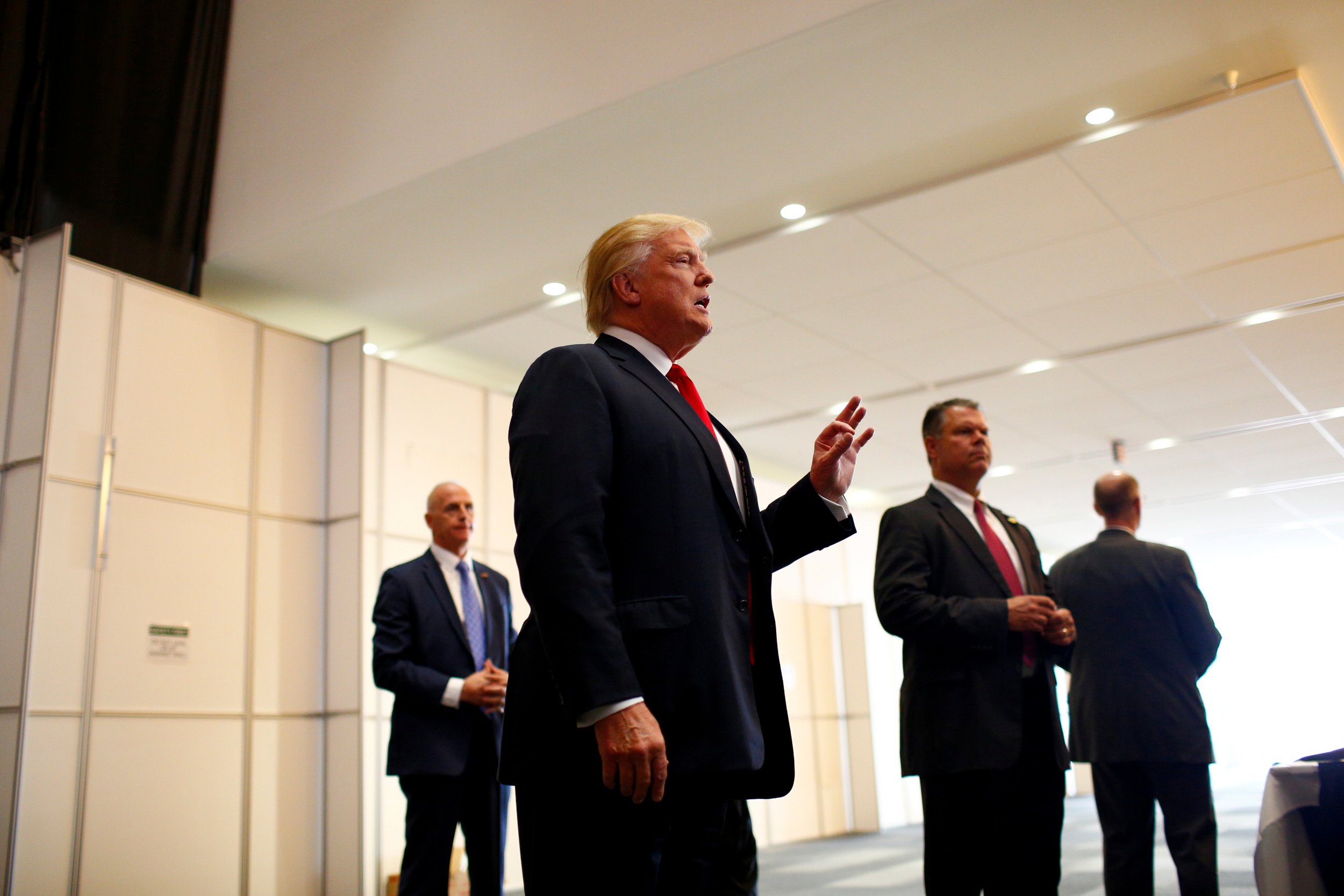 It's rare for a presidential candidate or sitting president to insult a private citizen in the modern era, and that's part of what makes it so bizarre that Donald Trump has been directing self-sabotaging and untoward insults at a Gold Star family.
Ever since Khizr Khan, with his wife Ghazala by his side, appeared before the Democratic National Convention in Philadelphia last week and asked if the mogul had read the Constitution, Trump has been digging himself in deeper. He first chided Khan, whose son Humayun was killed while serving the U.S. in Iraq in 2004, saying he had "no right" to criticize him over the Constitution—and thereby making Khan's point for him, since the founding document enshrines just such a right. He also said that Khan's wife may not have been allowed to speak—a none-too-subtle jab at Islam and the Khans themselves. Ghazala Khan said she did not speak for fear of being overcome by emotion, and she wrote an op-ed for The Washington Post in which she said: "Donald Trump has asked why I did not speak at the Democratic convention. He said he would like to hear from me. Here is my answer to Donald Trump: Because without saying a thing, all the world, all America, felt my pain."
In the days since, Republican politicians have been among the many who have denounced Trump, most notably the former GOP nominee, Senator John McCain. None, though, who were backing Trump before the remarks have withdrawn their endorsement of him for president, including McCain.
You have to think hard to find an analogous situation for what Trump has done. When asked in 2005 about the protestations of a Gold Star mother, Cindy Sheehan, George W. Bush expressed strong sympathy with her grief but clung to his wartime policy, pushing off in a way that was firm while taking pains to stay within the norms of American politics: "I sympathize with Mrs. Sheehan.… She has every right in the world to say what she believes. This is America. She has a right to her position."
Newsweek subscription offers >
In general, though, presidents and presidential nominees don't engage private citizens in fights. While Richard Nixon condemned Jane Fonda's infamous visit to North Vietnam in 1972, when she mounted an anti-aircraft artillery aimed at American aircraft, she was an acclaimed actress who was invited by the Communist government in Hanoi precisely because she was so well known and hailed from an all-American family.
On the other hand, presidents in general have had no hesitancy in attacking plutocrats. (Teddy Roosevelt called the board of Standard Oil "the biggest criminals in the country.") Barack Obama chided the Koch brothers and Donald Trump himself, before he launched his presidential bid, led the birther movement that raised doubts about whether the president was born in the U.S. and is a "naturalized citizen," qualifications for being president. (He was and is.)
Presidents also have certainly taken shots at journalists. In 1994, Bill Clinton self-pityingly criticized Rush Limbaugh for getting "three hours a day to say whatever he wants," and thus having a bigger microphone than he did as president. That same year, he mentioned Bill Kristol, later the editor of The Weekly Standard, as someone who was trying to undermine his health care reform effort. (Kristol had written an influential memo saying that Republicans should not cooperate with Clinton in finding a bipartisan alternative to HillaryCare.) In 1950, Harry S. Truman famously wrote a scathing letter to Paul Hume, a newspaper critic for The Washington Post, who wrote a bad review of his daughter's piano performance. Truman wrote: "Someday I hope to meet you. When that happens you'll need a new nose, a lot of beefsteak for black eyes, and perhaps a supporter below! [Conservative columnist Westbrook] Pegler, a gutter snipe, is a gentleman alongside you. I hope you'll accept that statement as a worse insult than a reflection on your ancestry."
It's true that the Khans' appearance at the Democratic convention put them in the political limelight, elevating them from the realm of entirely private citizens. But Trump's decision to respond and his untoward language made it a nuclear-level event. After all, many private citizens speak out at conventions, including Donald Trump's, and at other forums, and most candidates simply let it go. Not Donald Trump.
Donald Trump's Khan Family Attack Is a Rarity | Opinion