Donald Trump's Approval Rating Relatively Flat After Syria Airstrikes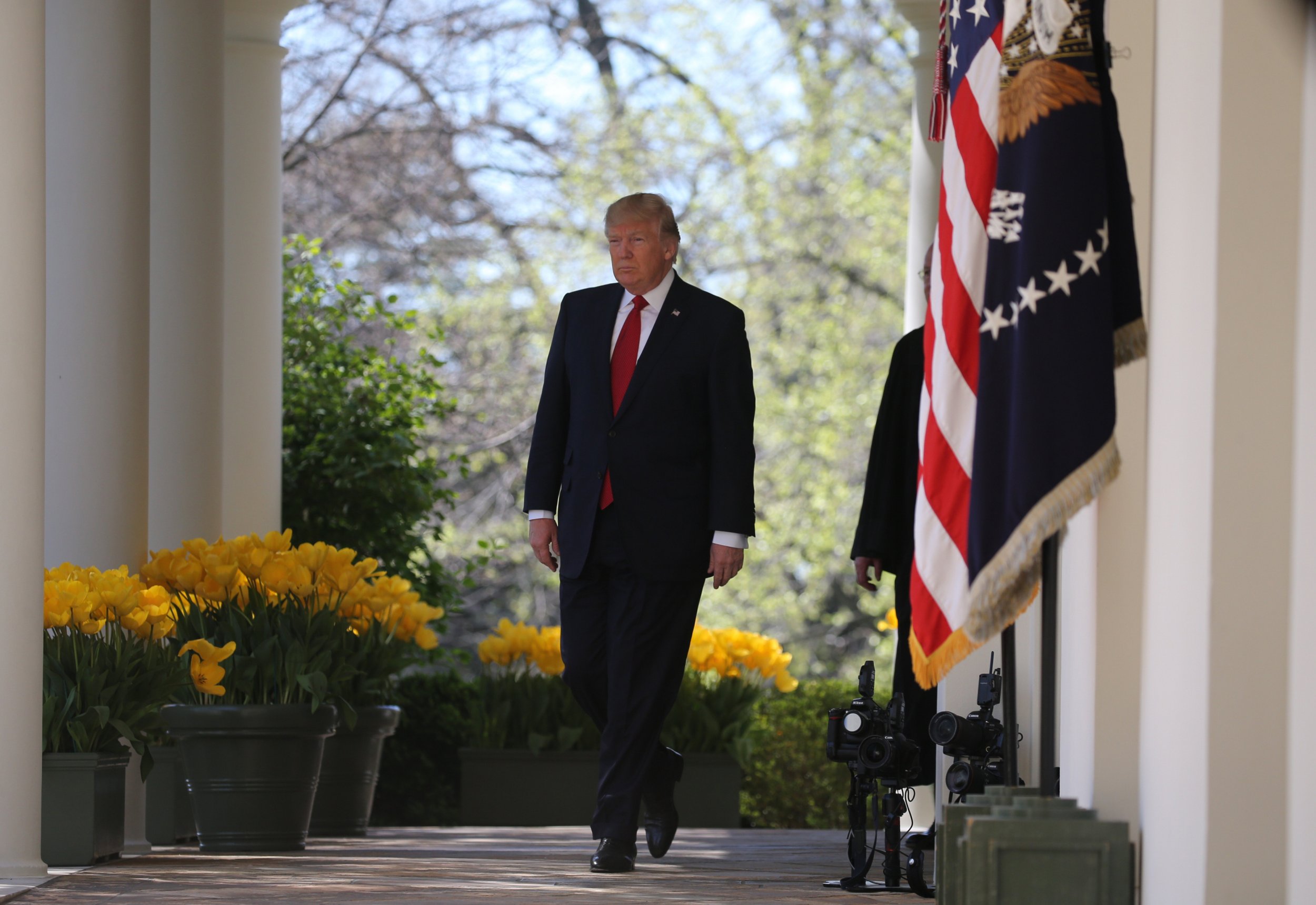 If history serves as a guide, after a president orders some sort of military action, they can typically expect a significant boost to their approval rating. But President Donald Trump's approval rating has ticked up modestly, if not held steady, after ordering airstrikes last week on a Syrian air base.
A CBS News poll released Monday found that 43 percent of the country approved of Trump's job performance. Near the end of March, that figure stood at 40 percent. The slight rise upward—the margin of error for the survey was four percentage points—was caused mostly by a shift among independents, who rose from 34 percent approval to 42 percent.
Related: Trump's approval rating likely to get boost from Syria strike
Gallup's daily tracking poll showed no movement in the days following the airstrikes ordered by Trump Thursday. The president's approval stood at 40 percent Tuesday and held steady at 40 percent through Monday. Gallup noted it found that just 50 percent of the country approved of Trump's decision to bomb the Syrian air base, the second-lowest such figure for the 11 military actions it had polled since 1983.
Rasmussen Reports, which has been criticized for having a conservative bent in the past, found Trump's approval rating stood at 44 percent Monday in its tracking poll. Rasmussen found 45 percent of voters approved of Trump's job performance Friday while Thursday 46 percent approved. Data-based news website FiveThirtyEight aggregates approval ratings, and its graph showed Monday both Trump's approval and disapproval ratings had pretty much remained unchanged from where they stood before the airstrikes.
That's a stark change from business as usual. As Newsweek noted last week, presidents can usually expect a significant uptick after ordering military action. To name a few: George W. Bush experienced sharp increases after launching wars in Afghanistan and Iraq, George H.W. Bush saw a big jump at the beginning of the Gulf War and Ronald Reagan's approval saw an uptick after ordering actions in Panama and Grenada.