Donald Trump's Lawyer Rudi Giuliani Says President Will Speak to Robert Mueller 'Over My Dead Body'
Donald Trump's personal attorney Rudy Giuliani on Sunday ruled out a face-to-face-interview between the president and special counsel Robert Mueller—claiming that investigators could trick the president into lying.
In the segment with Chris Wallace on Fox News Sunday, Giuliani said that an interview between the president and special counsel would now happen "over my dead body." He added, "But you know, I could be dead."
Speaking about Mueller, Giuliani declared himself "disgusted with the tactics they have used in this case."
Read More: Who has Robert Mueller indicted? Full list of everyone charged as result of Russia collusion investigation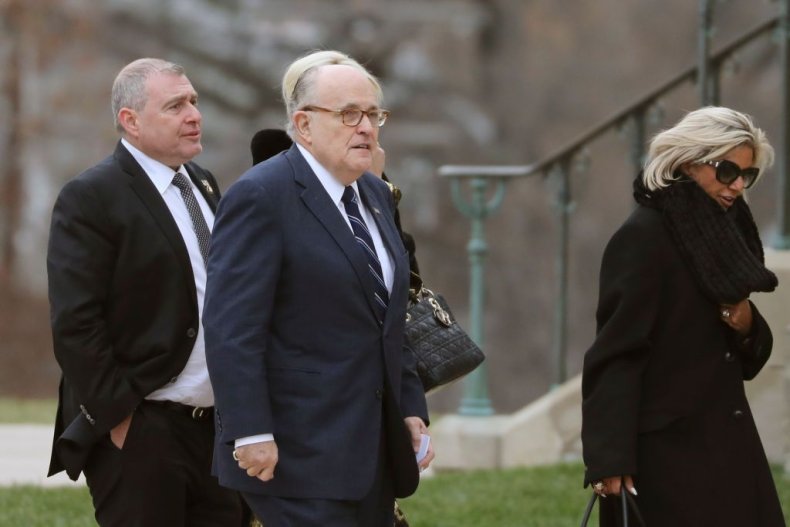 The flurry of interviews by Giuliani on Sunday came as Mueller's investigation placed the White House under increasing pressure.
In sentencing documents for Trump's former personal attorney Michael Cohen, filed earlier in the month, investigators said that Trump had violated election laws by ordering hush money payments to two women—including adult film actress Stormy Daniels (real name Stephanie Clifford)—who claimed to have had affairs with him.
"If there's another purpose, it's not a campaign contribution," Giuliani told ABC News. "Suppose he tried to use campaign funds to pay Stormy Daniels. It wouldn't be illegal. These are not campaign contributions."
Mueller is continuing to investigate whether the president and members of his inner circle conspiredwith Russia to seize victory in the 2016 election, and obstructed justice in attempting to cover up their crimes.
The special counsel has recommended that Trump's former national security adviser, Michael Flynn, serve no prison time for lying to FBI agents about conversations with the Russian ambassador about sanctions, as he has cooperated with several ongoing investigations.
Mueller has requested an interview with Trump, and last month the White House submitted written answers to Mueller's questions about possible collusion. Trump has resisted answering questions about possible obstruction of justice in a face-to-face interview.
The special counsel has threatened to subpoena the president to compel him to testify, The Washington Post reported in May, a move that would likely be fiercely resisted by Trump's attorneys in court.
Giuliani quipped that the only thing left for Mueller to ask about was "several unpaid parking tickets that night, back in 1986, '87 that haven't been explained."
On Friday Mueller hit back at Flynn's claim to have been duped by the FBI into admitting lying about his conversations with the Russian ambassador, claiming that Flynn was trying to mitigate the gravity of his crime.
Giuliani remarked on Fox News Sunday about the accusation that Mueller's investigators tricked Flynn: "I am disgusted with the tactics they have used in this case…what they did to General Flynn should result in discipline—they are the ones who are violating the law."
Asked about a face-to-face interview between Trump and Mueller, Giuliani scoffed: "Yeah, good luck! After what they did to Flynn, the way they trapped him into perjury…over my dead body."