Donald Trump's Mar-a-Lago Club Partially Closed Due to COVID-19 Outbreak
Former President Donald Trump's club, Mar-a-Lago, has been partially closed due to an outbreak of COVID-19. The golf club and resort is located in Palm Beach, Florida, and now serves as Trump's primary residence.
A member of the club's staff tested positive, according to the Associated Press (AP), which led management to introduce a partial shut down of Mar-a-Lago's operations.
This includes quarantining some workers, a source told the AP on condition of anonymity. The club will also limit access to certain facilities, including its dining room. There has been no indication yet about how Trump or his family may have been affected.
A receptionist also confirmed the closures but offered no further comment.
Mar-a-Lago circulated a letter to members about the situation, which was obtained by CNN's Jake Tapper and shared on Twitter.
"The health and safety of our members and staff is our highest priority," the letter read.
"As some of our staff have recently tested positive for COVID-19, we will be temporarily suspending service at the Beach Club and á la carte Dining Room.
"We are taking this measure out of an abundance of caution, like other clubs in our area impacted by COVID-19," the club said.
"We have already undertaken all appropriate response measures in accordance with CDC guidance," the letter went on. "Including activating a thorough sanitization and cleaning of any affected areas and all club facilities, and we will continue our heightened environmental cleaning regimen."
"We reiterate our commitment to the health and safety of all those who visit the club," the email said.
Mar-a-Lago is now former President Trump's primary residence. Though born in New York and a resident of the city almost all of his life, Trump formally relocated to Florida during his time in the White House and moved to the resort after he left office in January.
The club is also the location of Trump's first known exposure to COVID-19. Last year, he was photographed with a Brazilian official at Mar-a-Lago who was diagnosed with the disease soon after.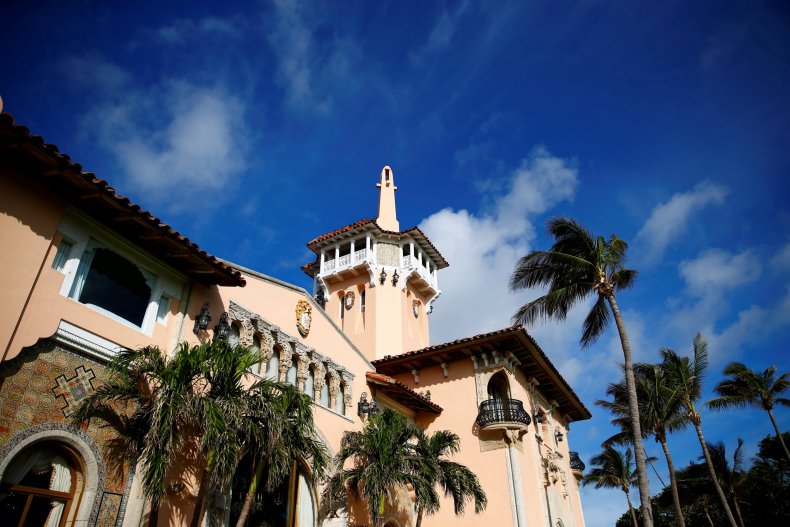 Trump himself suffered from COVID-19 but recovered. Several staff working in the White House also contracted the virus over the course of the past year. The risk of reinfection is low, however and he has been vaccinated.
Mar-a-Lago hosted a New Year's Eve party in January that resulted in a warning from Palm Beach county because the event violated an ordinance requiring staff and guests to wear masks. Though Trump wasn't in attendance, his son Donald Trump Jr. was.
Newsweek has asked former President Trump's office for comment.