Donald Trump's Muslim Brotherhood Terrorist Designation Could Damage U.S. Relationships Across Middle East, Experts Argue
In a move that could distinguish his foreign policy from that of his predecessors, President Donald Trump announced his plan to label the Muslim Brotherhood, a nearly 100-year-old transnational Islamist movement, as a terrorist organization. This proposal could also have repercussions for America's political relationships throughout the Middle East.
The designation is far from certain, since the Trump administration's counterterrorism agencies must first present evidence supporting the change to the secretary of state, the attorney general, and the Treasury Department.
Even if the new designation is approved, Congress could attempt to block the label, and the Muslim Brotherhood would have the opportunity to challenge the decision in court. But if it passes, experts say that the designation could drive a wedge between the United States and legitimate democratic forces in the Middle East.
"If the designation were to go through, it could have repercussions not only for pro-Brotherhood countries like Turkey and Qatar, but also Kuwait, Jordan, Bahrain, Tunisia and many others worldwide—because Brotherhood members are not only active therein, but in some cases serve in government," H.A. Hellyer, senior nonresident fellow, Atlantic Council and the Royal United Services Institute, London, told Newsweek.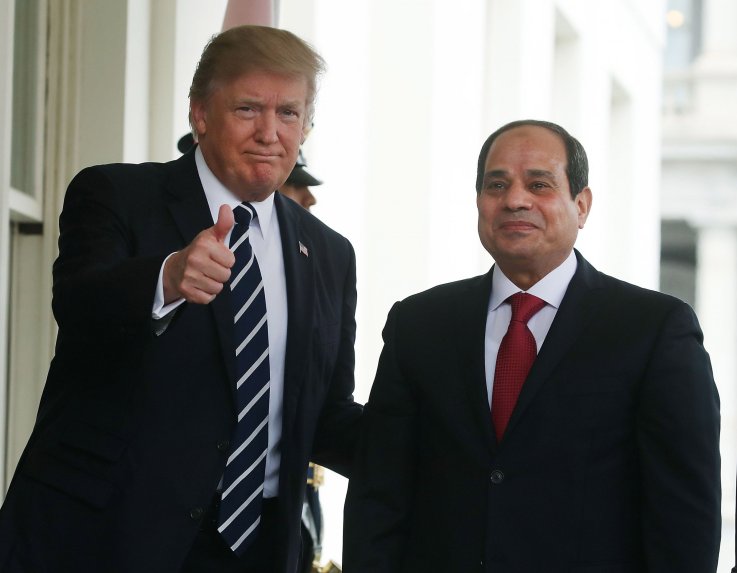 "It's partly due to this I think there will be a lot of opposition against the move within government circles more generally," added Hellyer. "The organization has a lot of affiliated or linked groups worldwide. It isn't clear which Brotherhood the Trump administration intends to try to proscribe—if it will try to aim for the worldwide brand, or focus solely on a single national group, or something else entirely, and all that will have different effects."
The designation would sanction members of the group and those who do business with it, a move that could implicate millions of people in the Middle East and alienate them from the U.S.
"Usually when we talk about a designation, we're talking about extremist groups that have a very small number of members or supporters like Al Qaeda or ISIS," Shadi Hamid, a senior fellow with the Brookings Institution said in a recent interview with Brookings. "This is something completely new, different, and unprecedented, where you're talking about millions of people are basically going to be called terrorists by the U.S., the ostensible leader of the free world.
"It also, I think, will have serious effects on some of our allies as well," Hamid continued. "The interesting thing here is, if you look at Jordan, Morocco, Tunisia, Turkey...I mean, the list is actually quite long, Bahrain, Kuwait, these are all American allies that have Muslim Brotherhood branches or Brotherhood-inspired political parties in their parliaments or even sometimes in government."
Experts have long argued that the Muslim Brotherhood, formed in Egypt in 1928, does not meet the criteria for a terrorist organization. An investigation into the matter by the United Kingdom was dropped due to insufficient evidence to support the claim that the brotherhood engages in terrorism. The group is largely nonviolent, although some former members have left to join terrorist organizations like Al Qaeda.
On Tuesday, following the Trump administration's announcement that it plans to pursue the designation, the Brotherhood pledged to continue its work peacefully.
"We will remain...steadfast in our work in accordance with our moderate and peaceful thinking and what we believe to be right, for honest and constructive cooperation to serve the communities in which we live, and humanity as a whole," the group said in a statement.
Not all Middle East leaders support the Brotherhood. Egypt's authoritarian President Abdel Fattah el-Sissi views the group as a threat and wants to see it ostracized. Sissi recently met with President Trump and pushed his case on this matter. U.S. allies in Saudi Arabia and the United Arab Emirates would also like to see the Muslim Brotherhood designated as a terrorist organization.
Donald Trump's Muslim Brotherhood Terrorist Designation Could Damage U.S. Relationships Across Middle East, Experts Argue | World