Donald Trump's Net Approval Rating Fell 23 Points in Michigan Since 2016 Election; Visiting Grand Rapids for Thursday Night Rally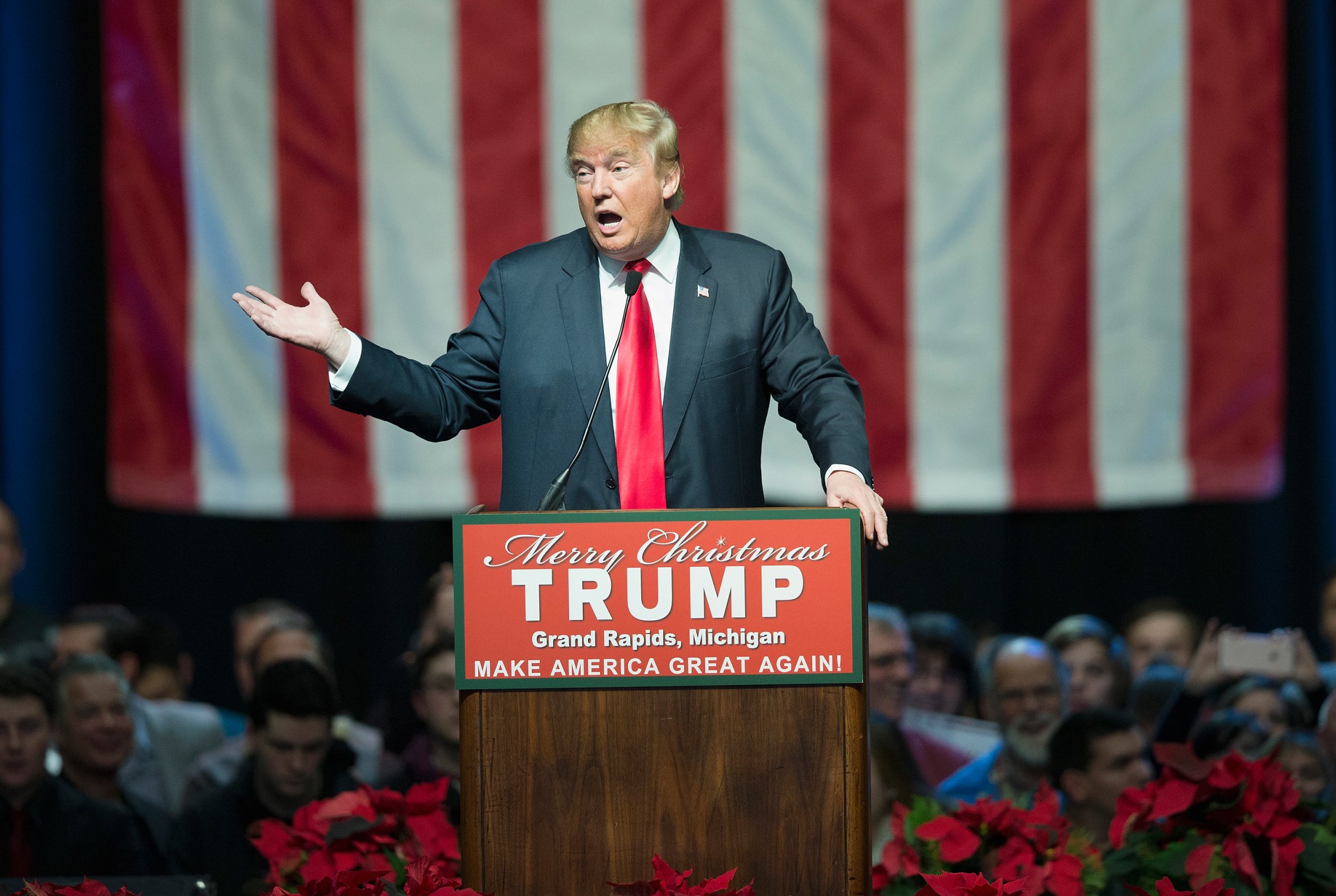 President Donald Trump's net approval rating has fallen by 23 percentage points in Michigan, a crucial swing state that helped push him to victory in 2016, and where the president will spent Thursday night for a 2020 campaign rally.
Since taking office in January 2017 through February 1, 2019, Trump's net approval rating in Michigan dropped 23 percentage points, according to Morning Consult, which surveys more than 5,000 registered voters across the country daily.
Trump's January 2017 approval rating in Michigan was 48 percent, with 40 percent of the state's voters disapproving of the then-new president. By February 1, 2019, his approval rating had dropped to 40 percent while his disapproval rating had swollen to 55 percent, a net swing of 23 percentage points over that two-years span.
The president's dwindling popularity in Michigan could be a bad sign for his reelection run. In the 2016 election, Trump beat his opponent, Hillary Clinton, in Michigan by less than 1 percent to win the state's 16 electoral votes. Trump became the first Republican to win the popular vote in Michigan since 1988, when George Bush won the state on his way to the White House.
Trump hyped up his visit to Grand Rapids on Twitter Thursday morning.
"Will be heading to Grand Rapids, Michigan, tonight for a Big Rally," the president tweeted. "Will be talking about the many exciting things that are happening to our Country, but also the car companies, & others, that are pouring back into Michigan, Ohio, Pennsylvania, North & South Carolina & all over!"
Trump teased his visit again a couple of hours before the rally's scheduled start time of 7 p.m. ET, by tweeting a 57-second video of a crowd of Trump supporters waiting in line, presumably to watch him speak.
It will be Trump's first rally since Attorney General William Barr released a summary of special counsel Robert Mueller's investigation into Russian interfence in the 2016 election. According to Barr, Mueller found no evidence of collusion between Russia the Trump campaign.
Trump has been on a victory lap since the Mueller report summary stated the probe "did not find that the Trump campaign or anyone associated with it conspired or coordinated with Russia in its efforts to influence the 2016 U.S. presidential election."
In addition, the summary written by Attorney General William Barr stated that the investigation "did not draw a conclusion" on whether Trump obstructed justice but "does not exonerate him." Instead, Mueller left it up to Barr to determine if any crime of obstruction had occurred. In the summary, Barr said that he and Deputy Attorney General Rod Rosenstein decided not to move forward with obstruction charges.
A Quinnipiac University poll released on Thursday showed that Trump could be more vulnerable in the upcoming election than he might like. The poll found that 53 percent of all eligible American voters "definitely will not" vote for Trump in 2020, assuming he will once again be the Republican nominee, compared to just 30 percent who said they will definitely vote for him.