Donald Trump's Nobel Peace Prize Candidacy Endorsed by Norwegian Lawmakers Citing 'Huge and Important' North Korea Meeting
After Donald Trump's summit with North Korean leader Kim Jong Un in Singapore, two Norwegian lawmakers have nominated him for the Nobel Peace Prize.
The lawmakers, Christian Tybring-Gjedde and Per-Willy Amundsen, are from the country's Progress Party, a right-leaning libertarian party. The Nobel Peace Prize is one of five awards created by Swedish inventor Alfred Nobel. The prizes are administered by the Norwegian Nobel Committee, appointed by Norway's parliament. The prize would be next year's because the deadline for this year has already passed.
The lawmakers told Norwegian wire service Norwegian News Agency that Trump "had taken a huge and important step" toward peace with North Korea and disarmament.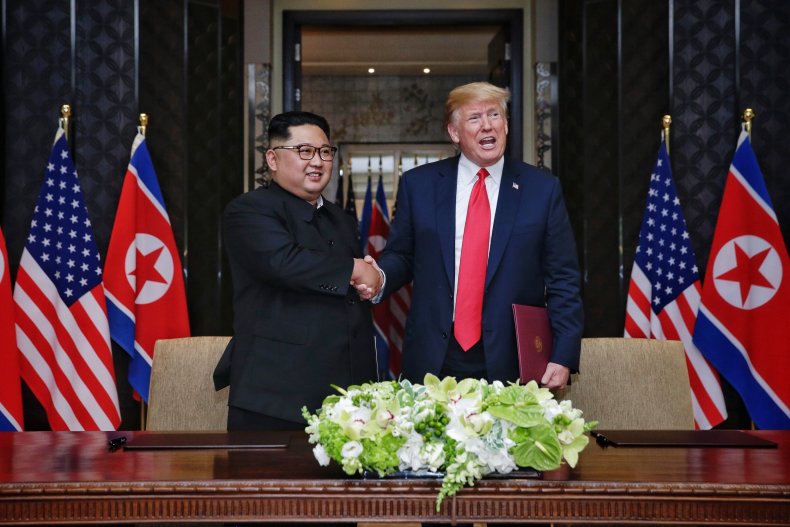 A group of 18 Republican lawmakers nominated Trump for the prize last month for his dealing with North Korea.
"Since taking office, President Trump has worked tirelessly to apply maximum pressure on North Korea to end its illicit weapons programs and bring peace to the region. His administration successfully united the international community, including China, to impose one of the most successful international sanctions regimes in history. The sanctions decimated the North Korean economy and have been largely credited for bringing North Korea to the negotiating table," Republican lawmakers wrote.
Trump himself has mused about earning the Nobel: "Everyone thinks so, but I would never say it," the president said when asked about the possibility of the prize last month.
Former President Barack Obama earned the prize, as did Jimmy Carter, Theodore Roosevelt and Woodrow Wilson.
Trump's summit with Kim is the first time a U.S. president had met face-to-face with a North Korean leader. The meeting came after a relatively diplomatic year for North Korea. The country participated in the Winter Olympics at the year's start, despite the games taking place in South Korea, a nation that it never technically ended war with.
Kim also met with South Korean President Moon Jae-in after inviting Trump to meet. This year stands in stark contrast to last year, when Trump and Kim traded barbs and threats. The international community ratcheted up economic sanctions at the time as North Korea launched several intercontinental ballistic missiles and tested their most powerful nuclear weapon.
The U.S.–North Korea summit resulted in a joint declaration with denuclearization as a goal, but with no specifics on what that means or how to get there. In return, Trump promised to end "war games," or joint military exercises, with South Korea.