Donald Trump's Police Reform Order Focuses on Training, Misconduct Tracking—'Americans Want Law and Order'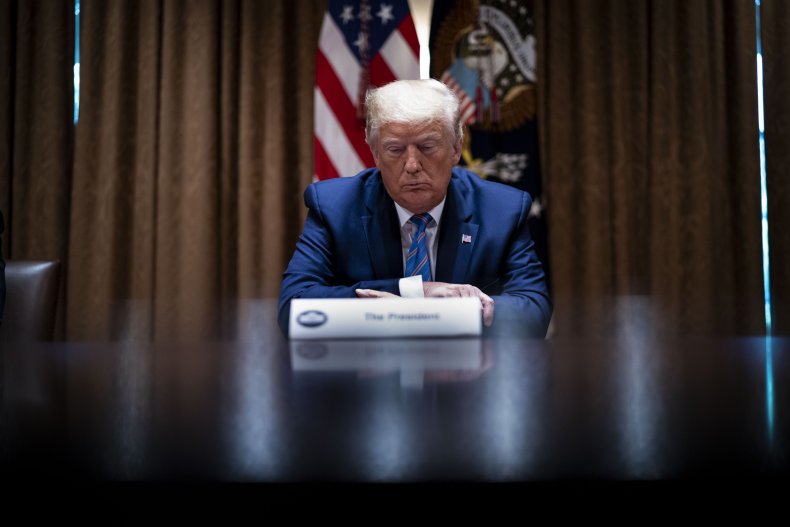 Protestors who have taken to the streets in support of the "defund the police" movement didn't get what they wanted in President Donald Trump's law enforcement executive order signed Tuesday.
The order, which Vice President Mike Pence described as the "opposite" of defund the police. A senior White House official told Newsweek that the goal is "to incentivize best practices" for law enforcement.
During a hard-line speech at the White House on Tuesday, Trump repeatedly praised the police and called for "law and order," amid nation-wide protests and the coronavirus pandemic.
"We have to find common ground," Trump told reporters Tuesday. "Americans know the truth: without police, there is chaos; without law, there is anarchy; and without safety there is catastrophe."
"Americans want law and order, they demand law and order," he continued. "When you remove the police you hurt those who have the least."
Trump held meetings with law officers and other advisers in recent weeks, after the killing of George Floyd in Minneapolis. Videos showed officers physically restraining him on the street until he died. Trump said he personally watched the nearly nine-minute video that showed Floyd pleading for help and calling out for his mother.
Trump's executive order is aimed at setting up a mechanism for public reporting of officers who have excessive use of force complaints. It also increases training and contains provisions that provide for police interactions with homeless people and people in mental health crises.
Before making his announcement, Trump said he met with the families of several black people who've been killed by police or vigilantes,
"It's so sad. Many of these families lost their loved ones in deadly interactions with police," Trump said. "Your loved ones will not have died in vain."
Democrats in the U.S. House have called for legislation to address concerns about law enforcement and the killing of unarmed black people, but it doesn't go as far as supporters of the more sweeping reforms that the "defund the police" movement has pushed.
Trump's presumptive Democratic rival for president, Joe Biden, also has rejected the "defund the police" movement but supports the Democrat-backed legislation.
The House Dems' Justice in Policing Act of 2020 would ban chokeholds, set up a national database on police misconduct and ban the use of no-knock warrants in most cases. Trump has, in recent weeks, signaled that he agrees with measures that would curtail some law enforcement techniques but also said he thinks some things, like chokeholds, may be defendable in some cases.
"I don't like chokeholds," Trump said an interview with Fox News anchor Harris Faulkner last week, but he also said they could be needed in some cases, when an officer is alone with a suspect who is unruly.
Trump is running a campaign of balancing his tough-on-crime message with a more compassionate tone that's followed Floyd's death.
Trump called his executive order "historic action" that was centered on law enforcement and equality.