The Senate voted on Saturday to acquit Donald Trump in his second impeachment trial, clearing him of the charge that he incited the insurrection that took place at the U.S. Capitol on January 6.
But the insurrection has left the former president more politically diminished than ever, putting into question his future role in the Republican Party and his ability to run for office again in 2024—a scenario that some of his former advisers are rooting for and Trump himself hasn't ruled out.
In the wake of January 6, several polls showed Trump's approval rating dropping roughly 10 points. He left office with his worst approval rating ever, as just 34 percent of Americans supported the job he was doing as commander-in-chief.
Then, after the House impeachment managers presented their case against the former president, The Wall Street Journal editorial board concluded that while Trump may not be convicted, he "won't live down his own disgraceful conduct."
Charlie Black, a longtime Republican lobbyist and political adviser, agreed that the Democratic presentation against Trump was "absolutely devastating." When asked about Trump's political future, Black told Newsweek that the former president could potentially run for the party's nomination again, but he "certainly couldn't win the general election."
"I just think what he's done to himself with his actions is going to effectively disqualify him," Black said.
One major roadblock for Trump moving forward is his permanent suspension on Twitter. The social media giant banned the former president on January 8, citing a risk of further incitement of violence following the riot, and the repeated flagging of his tweets that contained false information about the 2020 election.
"Trump's ability to hold onto his base depends on his communicating with them, and he can't do that right now," Black said. "He's not going to get back on Twitter. He's not going to get covered by the mainstream networks or cable. So I don't know how he's going to stay in front of the people who have been loyal to him."
But others argue a lot can change in four years and it may be too soon to say that the Capitol riot—including Trump's conduct before and after the attack—will leave a permanent stain on his reputation.
"Do I think the president's unpopularity has declined? Unquestionably, absolutely, no doubt," Mark Weaver, a Republican strategist, told Newsweek.
But he said it's "too early to tell" whether Trump has the support to run for president again and predicted that other political events over the course of the next few years will overtake the former president's controversies. "That's just the pace that we've been moving at as a country," he added.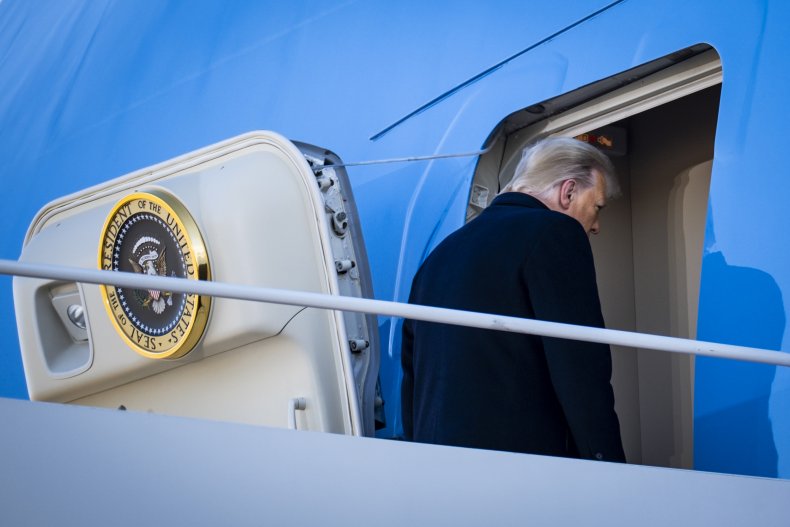 Plus if anyone can mount such a comeback, it would be Trump, according to the University of Houston political science professor Brandon Rottinghaus.
"There's no doubt that the impeachment and the incitement to insurrection will be a big red X on his presidency and a millstone around his political neck," Rottinghaus told Newsweek.
"Most politicians in office could not survive that level of scrutiny," he continued. "Donald Trump is of course a rare political specimen and has been able to withstand way more political scrutiny than any figure in American history. His capacity to be able to bounce back from this is unknown. But if anyone can do it, it's Donald Trump."
Even if Trump can't run for office himself, Rottinghaus argued, he'll likely wield influence over the GOP. The former president is already playing a role in the 2022 midterm election cycle, pledging to work with House Minority Leader Kevin McCarthy (R-Calif.) to help the party win back control in Congress.
"Every discussion about the future of the Republican Party for the next decade will involve Donald Trump," Rottinghaus said. "So he has already set a tremendous legacy within the party that's both good and bad for them."