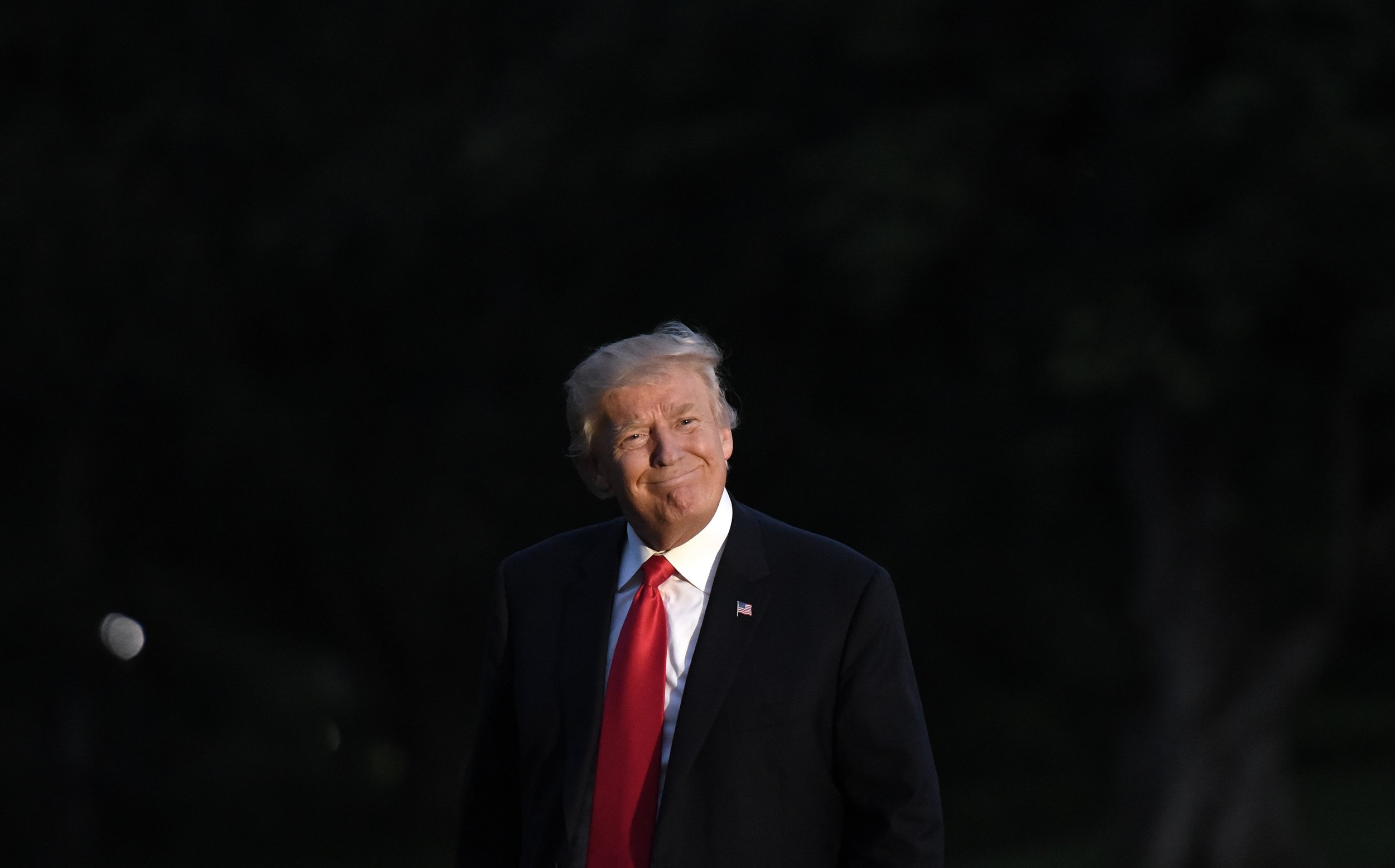 The people who loved Donald Trump in November largely still love him in July. But America as a whole isn't thrilled.
The president's approval rating, historically speaking, is quite low. The weighted average from data-focused website FiveThirtyEight, for instance, had him at 39.3 percent Wednesday. FiveThirtyEight's tracker shows that in the history of modern polling, only former President Gerald Ford had a worse approval rating at this point in his presidency—and that's largely because it plummeted after he pardoned his predecessor, Richard Nixon, who resigned in disgrace after the Watergate scandal.
A new poll from The Economist/YouGov released Wednesday showed that Trump's base largely approves of the job he's doing. Fifty-eight percent of people who voted for Trump in November "strongly approve" of the job he's doing as president, according to the survey. Thirty percent of Trump voters "somewhat approve," meaning 88 percent of folks who voted for the president have approved of his time in office to some degree. The Economist/YouGov poll pegged Trump's overall approval, however, at 37 percent, while 52 percent disapproved of the job his is doing.
Ariel Edwards-Levy, a reporter who is polling director at Huffington Post Politics, pointed out on Twitter that the new poll showed Trump's "strong" approval among his voters had risen to 58 percent from 52 percent earlier this month. During his tenure in the White House, that figure has risen as high as 66 percent and dropped as low as 48 percent.
The Economist/YouGov poll interviewed 1,500 U.S. adults from July 9 through July 11 and had a margin of error of plus or minus 3.1 percentage points.
Trump's popularity has suffered amid a steady drumbeat of controversy and pushback against his decisions in office. An ongoing debate over the Republican plan to gut Obamacare and the investigation into his team's potential ties to Russia have proved especially detrimental to his approval rating. The several iterations of the GOP health care plan have had one thing in common: tens of millions of Americans losing coverage, according to scores from the Congressional Budget Office.
The Russia controversy, meanwhile, took a new turn this week. Trump's son, Donald Trump Jr., tweeted out an email conversation that showed he set up a meeting during the campaign with a person he believed was an operative of the Russian government in an attempt to land negative information about Democratic nominee Hillary Clinton. The same conversation included a line from a Trump associate that read, "This is obviously very high level and sensitive information but is part of Russia and its government's support for Mr. Trump."
All in all, not a great week for the president. But he can take solace knowing a good portion of his most devoted voters still like him.