Donald Trump's Post-Election Actions Could Lose Republicans the Senate, Says GOP Pollster
Donald Trump's unrelenting efforts to challenge the results of the presidential race could reduce the likelihood of a Republican majority in the U.S. Senate next term, GOP pollster Frank Luntz said Sunday.
The communications consultant and political commentator criticized Trump's actions since Election Day during an interview with Fox News' Howard Kurtz, as the sitting president continued to advance his campaign's unsubstantiated claims of voter fraud and misconduct skewing the outcome of November's contest.
Luntz suggested that Trump's focus on baseless fraud allegations works to the public's detriment and disadvantages Republican congressional candidates still campaigning ahead of Georgia's runoff elections next week. GOP Senators David Perdue and Kelly Loeffler are defending their seats against Democratic challengers Jon Ossoff and Raphael Warnock, after no contenders secured more than half the votes during the general election.
"It's having an impact on Republicans in the House and the Senate. It feels like this president is trying to do as much damage as he can," Luntz said Sunday, referencing Trump's actions since the general election before specifically addressing their potential effects on Perdue and Loeffler.
"I'm afraid, and I believe that those two Republicans may well lose on the fifth of January because of what the president is doing right now...and this should not be happening," he added. "That election should be waged separately from the ugliness that's happening here in Washington."
Trump's influence over his followers is evidenced by their response to his presidential election claims, Luntz told Newsweek via email on Monday. Just as protesters demanded that officials "stop the steal" in the aftermath of Joe Biden's win, and in response to Trump's lawsuits, Luntz suggested the sitting president's ongoing rhetoric about manipulated elections will deter Republicans' participation in the Georgia runoffs."
"His people listen to him. He told his people not to vote by mail—and they listened. He told them to protest the outcome. Again, they listened," Luntz said. "For weeks now, Republicans have been told by Trump that the system is rigged, and that's going to have a debilitating impact on whether his people vote."
How Georgia's runoff races unfold is of critical interest to the state's electorate as well as the rest of the country, since their outcomes will determine whether Democrats are able to gain control of the Senate. If both Ossoff and Warnock win, Democratic Vice President-elect Kamala Harris will act as a vote tiebreaker in an evenly split Senate—and Republicans will lose their current majority control.
Recent polling data indicates close races between Perdue and Ossoff, as well as Loeffler and Warnock, about one week before the January 5 runoffs in Georgia. The latest statistics included in FiveThirtyEight's favorability tracker show Perdue leading Ossoff by a very slim margin of 0.1 percentage points, and Warnock leading Loeffler by just under 1 percent.
Trump, alongside droves of major Republican figures and organizations, has openly advocated for Perdue and Loeffler throughout the runoff campaigns. He is due to appear at a Georgia rally supporting their bids on the eve of Georgia's elections next week, after delivering remarks at another GOP campaign event earlier in December.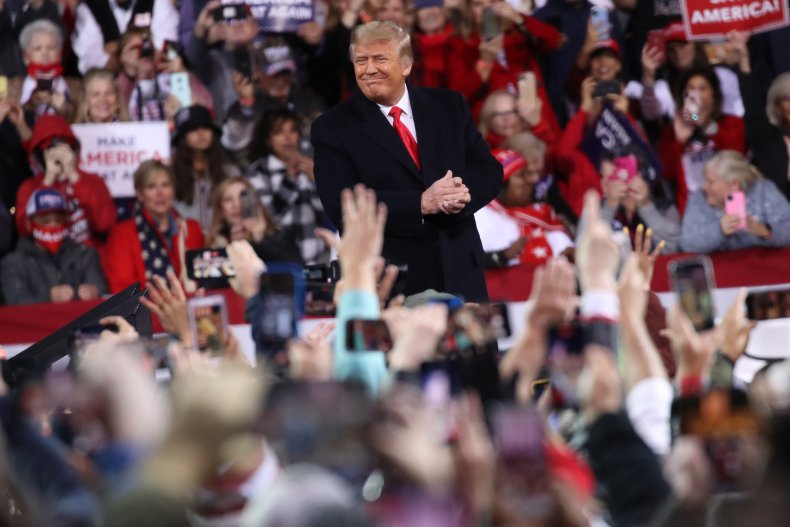 Trump's comments backing the two senatorial candidates are often intertwined with discredited allegations that Democrats stole the presidential election. Although Biden earned a majority of popular votes, including those cast in Georgia, and subsequently received the number of electoral votes necessary to assume office, Trump has yet to concede. While the U.S. grapples with surging coronavirus infections, hospitalizations and deaths, he continues to devote most public statements to furthering his campaign's fraud accusations, despite an absence of evidence to substantiate those claims.
"My frustration right now, as we end this year, is that the president is tweeting about an election that's over with, and instead he should be tweeting about saving lives, about taking this vaccine," Luntz said Sunday. He cited polls that suggest Republicans are less inclined to get the two approved vaccines, which states recently began administering to high-risk groups.
"His own vote is listening to him, and they don't realize how important this is," he continued. "They need to wake up."
Newsweek reached out to the Trump campaign but did not receive a reply in time for publication.
This story was updated at 5:09 p.m. ET to include Frank Luntz's comments to Newsweek.
—