Donald Trump's Protest Call to Arms Sparks Jan. 6 Comparisons
Donald Trump's call for Americans to "protest", after claiming he will be "arrested on Tuesday", has sparked an angry reaction online, with commentators comparing it to the rhetoric used ahead of the January 6 2021 attack on Congress.
Speculation has been growing for weeks that Trump is about to be indicted by the Manhattan district attorney's office, for allegedly breaching campaign finance laws to arrange a payment of $130,000 in hush money to adult movie star Stormy Daniels before the 2016 presidential election.
On January 6 2021 hundreds of Trump supporters stormed Congress in a bid to stop Joe Biden's 2020 presidential election result from being certified. In the ensuing mayhem, one Trump supporter was shot dead by police and dozens of officers were injured after being attacked with poles, rocks and chemical irritants.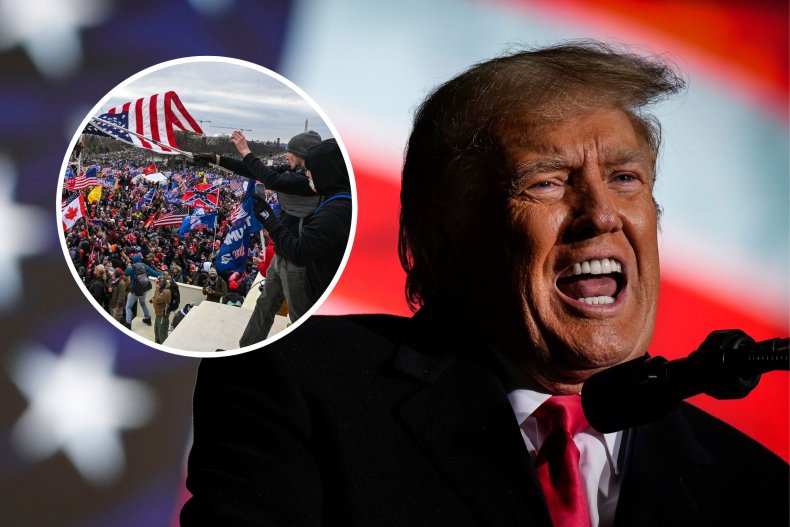 Posting on his Truth Social website, in all capitals, Trump said leaks from "a corrupt & highly political Manhattan district attorneys office" indicate he will be "arrested on Tuesday of next week."
The former president added: "Protest, take our nation back!"
Earlier Trump claimed "radical left anarchists have stollen our presidential election," and claimed "American patriots" were being "held in captivity like animals," in an apparent reference to those arrested over the January 6 disorder.
A number of political commentators condemned Trump's call for protest on social media, with several suggesting he was inciting violence and making an explicit comparison with the January 6 unrest.
Philip Lewis, a senior HuffPost editor with over 300,000 Twitter followers, tweeted: "'Protest, take our nation back' is not politician speak. That is Trump calling for violence, and that is clear."
Jon Cooper, co-founder of anti-Trump Super PAC The Democratic Coalition, commented: "Trump knows his cult followers. By calling for them to "Protest, take our country back!" he's implicitly urging them to riot in the streets.
"Trump is growing increasingly desperate. To save himself from the justice he fears is coming, he's hoping for a repeat of January 6th — but on a larger scale.
"Law enforcement needs to be fully prepared this time for the potential for violence by far-right extremists. THIS THREAT IS DEADLY SERIOUS."
Grant Stern, executive editor of the left-wing group Occupy Democrats, also compared the situation to January 6. He commented: "Will March 22st become another January 6th? Now that Donald Trump has announced his impending arrest and called for his Ultra MAGA supporters to protest, it could happen. This time, nobody will be sleeping on the suspicion."
New York Times national correspondent Trip Gabriel added: "Rather than accepting the rule of law, Trump is calling for 'take our nation back' protests just as he did ahead of the Jan 6 riot."
Washington Post national columnist Philip Bump made a similar point, tweeting: "The things that made Jan. 6 dangerous were a call to action and a time and place for that action to take place. It's not just that Trump is again demanding a response, it's that he's telling people when."
Ahmed Baba, president of ranttmedia, which claims to combat "authoritarianism," said: "Trump tells his supporters to protest and "take our nation back." Law enforcement better be prepared this time because that's January 6 talk."
The Atlantic columnist David Frum tweeted: "Trump is trying now to organize resistance to the reportedly pending indictment. He and his supporters proved on January 6, 2021, their readiness to use violence to defy the law."
However Professor Juliette Kayyem, a Harvard academic who held a junior post in Barack Obama's administration, argued any protests will attract less people than Trump expects.
She commented: "Trump seek more than protest and has always welcomed violence, of course, but it is just as likely that the scare tactic will result in little. Trump is popular but simply cannot get the crowds, who know he has no get out of jail for free card anymore."
Trump loyalist Marjorie Taylor Greene claimed if Trump is indicted "he will ultimately win even bigger than he is already going to win."
The House Republican added: "The base has had enough of Republicans that won't stand up for the people and against the Democrats war against Trump, his admin, his supporters, and traditional values."
Twitter and Tesla CEO Elon Musk also predicted Trump's arrest would boost his re-election chances, tweeting: "If this happens, Trump will be re-elected in a landslide victory."
Newsweek spoke to Thomas Gift, founder of the University College London Centre on US Politics, about Trump's comments.
He said: "Trump's language is deliberately provocative. It's red meat to his followers who already needs little excuse to get into in a battle-ready crouch. That said, there's nothing in Trump's words that could lead to him being held liable if something were to happen. It's Trump's standard modus operandi. Whip up the base, but always with language elastic enough to give him plausible deniability."
Update 3/18/23 13:00 p.m. ET: This story has been updated with comment from Thomas Gift.