Donald Trump's Reshaping of the Judiciary is Overrated by His Critics and Supporters
Since taking office in 2017, President Donald Trump has had a large and likely lasting impact on the federal judiciary.
But it is neither historic nor unprecedented, as both his critics and supporters claim it is.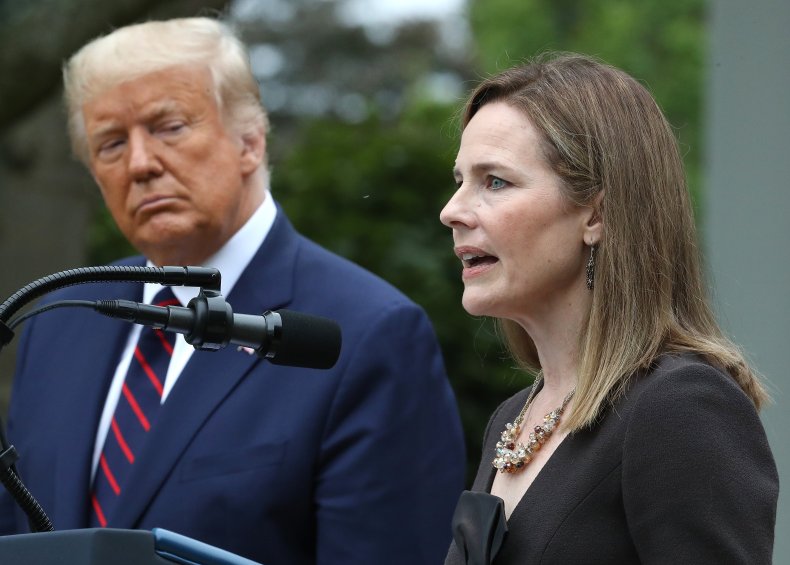 If re-elected, Trump would appoint a third justice to the Supreme Court and even more federal judges, adding to his conservative influence on the federal judiciary for generations.
"He is steering the courts in a more conservative direction that will last for decades," said Chris Rasmussen, Associate Professor of History at Fairleigh Dickinson University.
But the nation has seen this all before.
Early in the history of the republic, and again in the late 19th and early 20th centuries, conservatives stocked the court with like-minded jurists in an effort to stymie their political opponents, Rasmussen told Newsweek.
More recently, conservatives would argue, during the period from 1953 to 1969 known as "The Warren Court," led by Chief Justice Earl Warren, liberal justices on the court used that third branch of government to enact social reforms that conservatives did not support, Rasmussen said.
The Warren court is known for its decisions expand civil rights protections, such as Brown v. the Board of Education, which outlawed racial segregation in public school schools, and Loving v. Virginia, which declared unconstitutional laws banning in interracial marriage.
With a vacancy on the top court of the land created by the death of Supreme Court Justice Ruth Bader Ginsburg, Trump has the potential of becoming the first president since Richard Nixon to appoint three Supreme Court justices. George H.W. Bush, Bill Clinton, George W. Bush and Barack Obama each appointed two justices during their terms. Gerald Ford made one appointment, and Carter made none.
So how do the number of Trump's appointments to the federal judiciary compare to his recent predecessors?
As of October 1, with a little more than three months to go in his first term, Trump has made 218 appointments, including two Supreme Court justices, 53 appellate court judges, 161 district court judges, and two judges on the Court of International Trade, according to data compiled by Ballotpedia.
Of those, nearly 200 are judges with lifetime appointments to lower federal courts, according to a Pew Research Center analysis released in July.
Those numbers put Trump in second place in the modern presidential judicial appointment sweepstakes. First place? A Democrat. Last place? A Republican.
Ballotpedia compared Trump's appointments to those of his predecessors as of October 1 in the final year of their first terms. Trump trails Carter by 42: 260-218, but leads Bill Clinton (203), George W. Bush (201), George H.W. Bush (187), Barack Obama (160), and Ronald Reagan (153).
Of course, the "standings" are not final, as Trump has a few months left in his first term.
Trump has already appointed two justices to the Supreme Court: Neil Gorsuch in 2017 and Brett Kavanaugh in 2018. And he has made another controversial nomination, Amy Coney Barrett, a circuit judge on the U.S. Court of Appeals for the Seventh Circuit.
Barrett was nominated less than two months before the election with about four months left in Trump's first term. This nomination came some four years after the Republican-controlled Senate refused to hold hearings or a vote on Barack Obama's nominee Merrick Garland, saying it was too close to the end of Obama's second term.
Garland was nominated on March 16, 2016, more than seven months before the election and 10 months before the expiration of Obama's term.
The lower courts, particularly the U.S Circuit Court, are where the real impact of Trump's appointments will be felt, Keith E. Whittington, the William Nelson Cromwell Professor of Politics at Princeton University, told Newsweek. The intermediate courts of appeals in the federal system decide a large number of cases, with only a small fraction getting reviewed by the Supreme Court, making the lower courts the final stop for most cases under appeal.
"The Circuit Courts have a lot of discretion to be setting doctrine and setting precedents that are going to guide District Court judges and Circuit Court judges into the future," Whittington told Newsweek. "So, a lot of important lawmaking effectively is occurring at that Circuit Court level. Having an influence there is going to have a big impact not only on how specific cases are going to be resolved, but also what the shape of the law actually is."
But even though Trump has appointed an impressive number of judges, the impact on the judicial system might not be as long-lasting as some have predicted, he said.
"As is often the case, those numbers will get swamped within even just one or two additional presidential terms," Whittington said. "That's happened to other presidents in the past who've appointed a sizable number of judges, but the next administration catches up and starts to alter the overall composition."
Observers have pointed out what they call a disturbing trend among Trump's appointments. Supreme Court nominee Amy Coney Barrett is 48 years old, in line with tactics Trump has been using to give lifetime appointments to young judges on the federal bench.
"That is part of the strategy, to find an accomplished jurist who is in their late 40s or early 50s," Rasmussen told Newsweek, " so they prospectively can be on the courts for three decades or even more than three decades, which is a long time for anyone to wield that kind of power."
Trump and other Republicans are countering this argument on the campaign trail, arguing that if Joe Biden is elected Democrats would stack the courts, including increasing the number of Supreme Court justices to 13.
"I would highly doubt they would try to expand the court, but then nothing's off the table," Rasmussen said. "I think it's more likely we might see a move for term limits for federal judges."
A change in term limits would require a constitutional amendment.
More than a third of Trump's judicial appointees have filled seats previously occupied by judges appointed by Democrats, The New York Times reported in March.
Article III of the U.S. Constitution authorizes the president to make appointments, with the advice and consent of the Senate, to the Supreme Court, the 13 circuit courts and 94 district courts and judges on specialized courts. As of October 1, the Supreme Court had 9 seats. The U.S Circuit Courts, or courts of appeals, has 179 judgeships and the U.S. district court has 677 judgeships. The Court of International Trade has 9 seats.
According to the Pew Research Center, as of July 7 this year, 25 percent of the federal judges Trump had appointed are women, a larger proportion than other recent Republican presidents but a smaller share than recent Democratic presidents at the same point in time of their terms. Of the judges appointed by George W. Bush, 21 percent were women, and 15 percent of George H.W. Bush's appointees were women at the same point in their terms. Of Obama appointees to federal judgeships, 45 percent were female, as compared to 30 percent of Clinton's.
Trump had appointed a higher percentage of white judges, 85 percent, than most of his recent predecessors through July 7 of the fourth year of their terms respectively, according to Pew. Only fellow Republican George H.W. Bush, among recent presidents, appointed a higher share of white judges at 91 percent. Obama appointed the highest share of non-white judges, more than 36 percent, through July 7 of the fourth year in office, according to Pew.
In addition to the two Supreme Court Justices appointed by Trump, there are six others on the court.
Barack Obama appointed and had confirmed two justices, Sonia Sotomayor and Elena Kagan. Garland, his third nominee, did not get a Senate hearing and didn't make it to the court.
Two members of the Supreme Court were appointed by George W. Bush, Chief Justice John G. Roberts and Justice Samuel Alito. His third nominee, White House Counsel Harriet Miers, withdrew her name before Senate hearings began after bipartisan criticism over the fact she had never served as a judge.
Clinton appointed Ginsburg, who died last month, and Stephen Breyer.
David Souter, who retired in 2009, and Clarence Thomas, who still sits on the court, were appointed by George H.W. Bush.