Donald Trump's Second Impeachment Trial Set to Start in February in Senate
Former President Donald Trump's second impeachment trial is expected to begin in the U.S. Senate during the second week of February, according to Senate Majority Leader Chuck Schumer.
In January, the House impeached Trump for his role in allegedly inciting a riot at the U.S. Capitol building. Trump supporters were able to enter the Capitol while Congress was in the midst of certifying President Joe Biden's victory in the electoral college. Many of those involved in the riot had listened to Trump give an address at a Stop the Steal rally, in which he pushed baseless claims that Biden had won the election to due voter fraud.
During floor remarks, Schumer said that briefs for Trump's Senate trial will be drawn up by both parties for presentation beginning "the week of February the 8th."
"The January 6th insurrection at the Capitol incited by Donald J. Trump was a day none of us will ever forget," Schumer said. "We all want to put this awful chapter in our nation's history behind us. And healing and unity will only come if there is truth and accountability, and that is what this trial will provide."
While some Democrats wanted to schedule Trump's trial as quickly as possible, Republican Senate Minority Leader Mitch McConnell suggested delaying the trial until February in order to allow legal teams enough time to prepare their arguments. Democratic House Speaker Nancy Pelosi announced Friday that the article of impeachment would be sent to the Senate on Monday.
"The House has been respectful of the Senate's constitutional power over the trial and always attentive to the fairness of the process," Pelosi said in a Friday statement. "When the Article of Impeachment is transmitted to the Senate, the former President will have had nearly two weeks since we passed the Article."
Newsweek reached out to Pelosi's office for comment.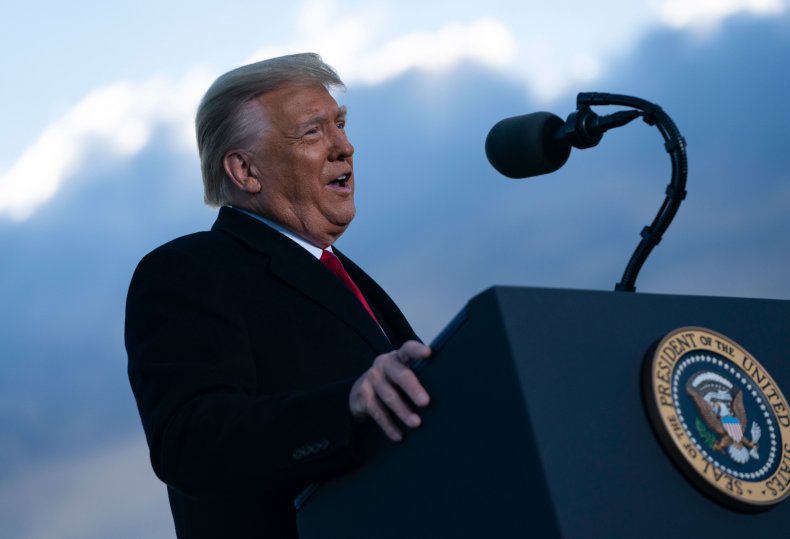 South Carolina lawyer Butch Bowers is expected to defend Trump during the trial, according to a Thursday tweet by Trump advisor Jason Miller. Bowers's expertise lies in elections and ethics.
"Excited to announce that Columbia, SC-based Butch Bowers has joined President Trump's legal team," Miller wrote. "Butch is well respected by both Republicans and Democrats and will do an excellent job defending President Trump."
House Democrats named Maryland Representative Jamie Raskin as their lead impeachment manager. In a Sunday interview with CNN's Jake Tapper, Raskin said he wanted the Senate to "conduct a serious trial where every member of the Senate lives up to his or her Constitutional oath to render impartial judgment as a juror."
Trump was widely held responsible for the violent Capitol riot that left 5 people dead. During his remarks, Trump encouraged his supporters to "walk down to the Capitol" while Congress was in session.
"We fight like hell," Trump said during his address. "And if you don't fight like hell, you're not going to have a country anymore."
The article of impeachment which the House approved in January alleged that Trump incited "violence against the Government of the United States." Although Trump is no longer president, he is still subject to impeachment proceedings. If Trump is convicted by the U.S. Senate, he would be prohibited from running for president again.