Donald Trump's Secretary of State is Starting a War—Against Commas
Secretary of State Mike Pompeo has reportedly announced a new offensive, declaring war on grammar abuses within his department.
Memos obtained by CNN are reported to have put staffers on notice that the improper use of commas will not be tolerated within the secretary of state's department.
The latest email, which CNN says was sent out in early September, gives "updated guidance…regarding correct use of commas in paper for Department principals" as per The Chicago Manual of Style.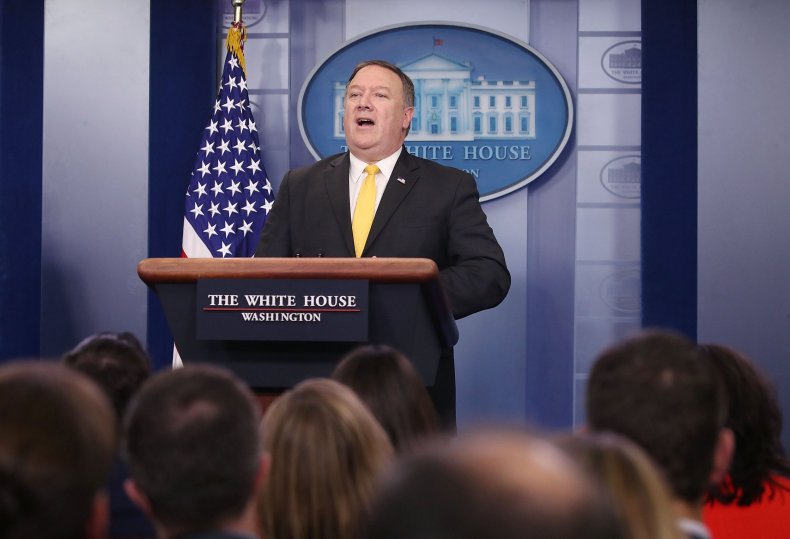 "The Secretary has underscored the need for appropriate use of commas in his paper (both their inclusion and omission)," the email reportedly states.
It also noted Pompeo's preference for the Chicago Manual's style, which states that the "effective use of the comma involves good judgment, with the goal being ease of reading."
The email reportedly included a wide range of examples, including several from The Chicago Manual of Style, making clear when a comma should be used and when its use should be avoided.
To avoid any confusion, the email even included color-coded highlighting, CNN reported.
One example provided in the memo states: "The administration is committed to achieving a lasting and comprehensive peace agreement, and remains optimistic that progress can be made," with the comma after agreement highlighted in yellow, reflecting an incorrect use of a comma.
"No comma when single subject with compound predicate," the memo explains.
The secretary of state's hard-line stance on grammar stands in stark contrast with President Donald Trump's own tendency to abuse general grammar rules, particularly when it comes to his Twitter writings.
The U.S. leader's grammar rule infringements have attracted criticisms from far and wide, including from Harry Potter author J.K. Rowling, who mocked Trump on Twitter last month with a tweetful of typos.
After Trump claimed that "some members of the media" were "very Angry" at a "Fake Story in the New York Times" in a Twitter statement written in his signature style, including random capitalizations meant to add emphasis to certain words, Rowling decided to troll the president with her own mock statement intentionally riddled with typos.
"I do'nt care what Kids at School call me because they are all Disgusting Fake Losers and my Real Friends go to a diffrent Scool you haven't heard of and they think Im the Coolest and Smartest and we go to parties and I don't have to tell you there Names for this to be True," Rowling said.
Even the social media account for the Merriam-Webster dictionary appeared to troll the president after he tweeted in July that he prided himself on his "ability to write" and asserted that the "Fake News constantly likes to pour over my tweets looking for a mistake."
Not long after, Merriam-Webster's social media account happened to make a point of noting the difference between "pour" and "pore," with Trump's use of the former being incorrect. Coincidence? We think not.
Donald Trump's Secretary of State is Starting a War—Against Commas | U.S.