Donald Trump's Sexual Misconduct Accusers Have The Right To Be Heard, U.N. Ambassador Nikki Haley Says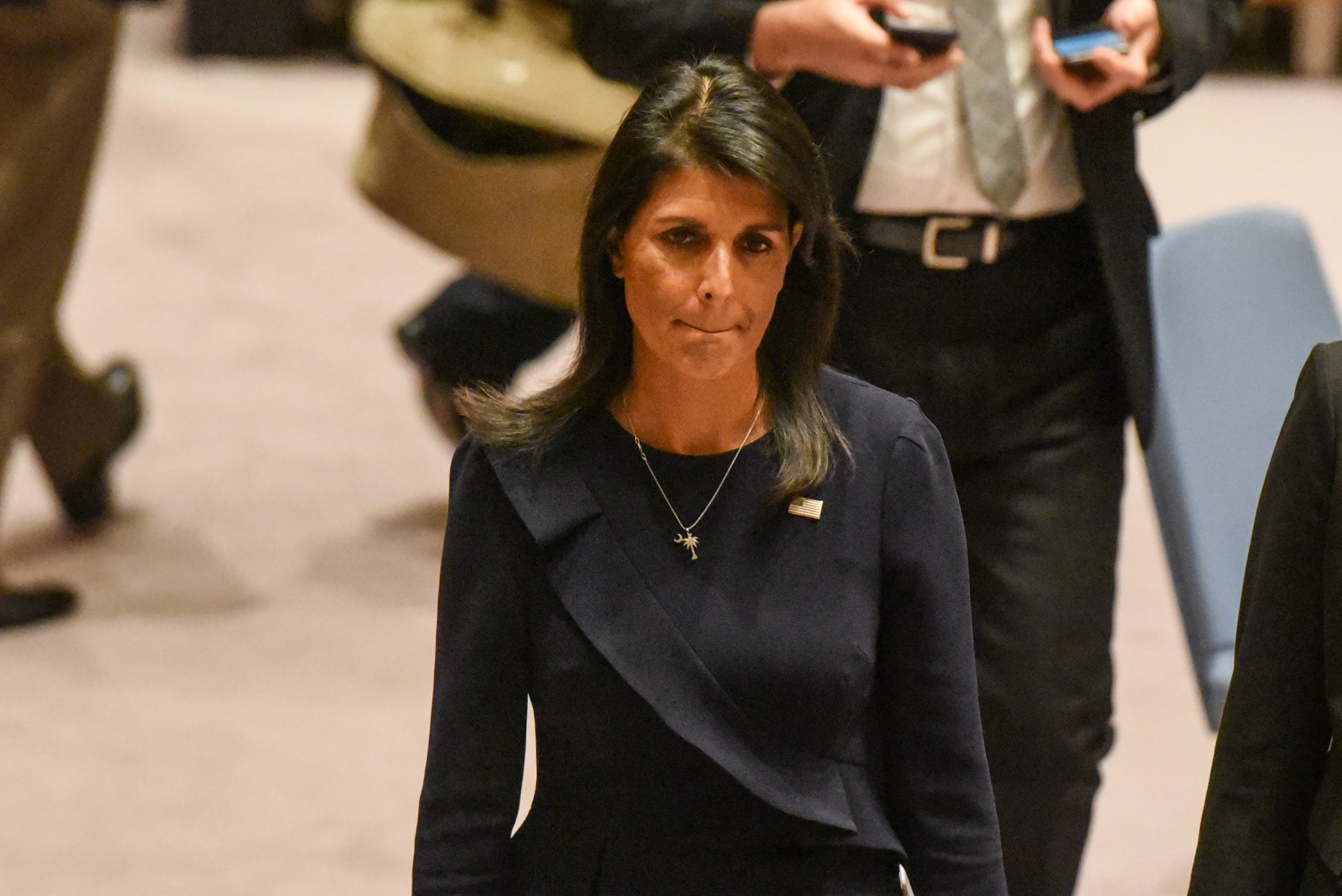 The women who accused President Donald Trump of sexual misconduct deserve to be heard, U.N. Ambassador Nikki Haley said on Sunday.
Speaking to CBS' Face the Nation, Haley said that anyone who "felt violated or felt mistreated in any way" had the right to speak out – stating that women who accused "anyone" should be heard.
"I am incredibly proud of the women who have come forward. I'm proud of their strength. I'm proud of their courage. And I think that the idea that this is happening, I think it will start to bring a conscience to the situation, not just in politics, but in, you know, we've seen in Hollywood and in every industry. And I think the time has come," she told host John Dickerson, when asked about the shift in culture that has seen women reporting assault and sexual misconduct in droves.
Asked about the allegations made against Trump, which saw 19 women come forward with various accusations of sexual misconduct during the run-up to the 2016 presidential election, Haley said she believed those women had the right to be heard.
"Well, I mean, you know, the same thing, is women who accuse anyone should be heard. They should be heard and they should be dealt with. And I think we heard from them prior to the election. And I think any woman who has felt violated or felt mistreated in any way, they have every right to speak up," Haley added.
Her comments come following a slew of sexual assault allegations in the political, media, and Hollywood spheres – initially following the numerous allegations made against movie mogul Harvey Weinstein, prompting a string of allegations against other powerful figures to be made public.
Haley is not the first person close to the president to suggest his accusers should be heard out. Several weeks ago, former White House Press Secretary Sean Spicer said he believed the sexual misconduct allegations against Trump should be taken seriously.
Asked about the allegations against Trump, Spicer told Fox Business Network on November 29: "I would say that all allegations should be treated seriously. I think we can't dismiss people who make those."
"But I also believe that we need to make sure that we do give people—we are a country of due process," he added.
The former press secretary also suggested that there were "appropriate venues" in which to discuss the allegations against Trump.
"But ultimately, beyond those venues, then there's obviously voters who get to make a decision whether or not the allegations that they feel have been made—they have to weigh those in terms of how they are going to vote for a particular individual," Spicer added.
Trump has denied such allegations; he also recently questioned whether it is really his voice that can be heard during the infamous Access Hollywood footage in which he claims that being famous means you can "grab women by the pussy." Access Hollywood has insisted the tape is real.