Donald Trump's Social Media Order Could Have Global Impact—The 'World is Watching,' Tech Experts Say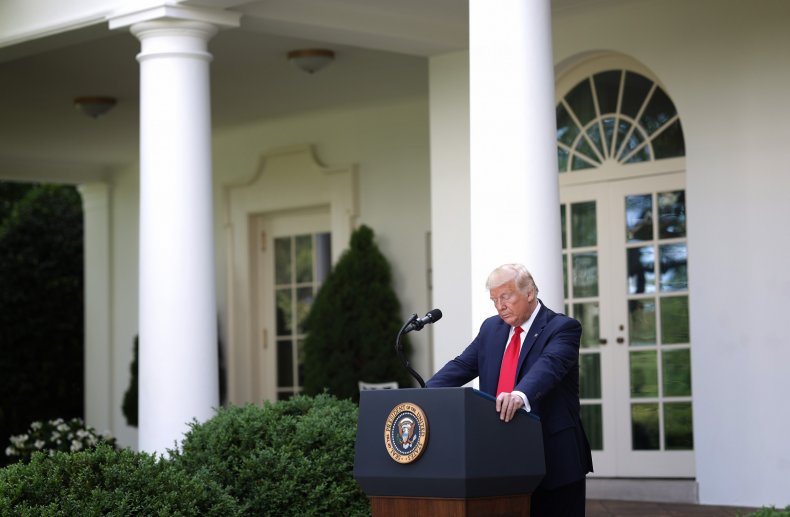 President Donald Trump doesn't care if his new executive order targeting social media platforms sparks a lawsuit.
"I guess it's going to be challenged in court, but what isn't?" Trump told reporters Thursday shortly before signing the order in the Oval Office. "We're fed up with it."
But tech experts predict the order could have a chilling effect on the future of social media—not just in the United States, but globally.
"The world is watching. How we tackle this complex issue matters," Adrian Shahbazz, a researcher with FreedomHouse, a nonprofit think tank focused on democracy, political freedom and human rights, told Newsweek. "We need to make sure we are using all components of our democracy to ensure that whatever policy we make goes through the appropriate process of deliberation and review and reaching out to affected stakeholders."
The order comes mere days after Twitter linked two of Trump's tweets about mail-in voting to a fact check page noting that, historically, voting by mail hasn't been linked to evidence of widespread voter fraud.
It was one of the first times that Twitter has used its new labeling system and the first time it had been directed at the president, who tweets frequently.
Trump's order would remove a crucial liability shield for social media platforms under the Communications Decency Act if they censure or edit content. Section 230 of the Communications Decency Act protects such platforms from liability because they are considered forums for sharing ideas, rather than traditional publishers responsible for content.
The order also would ban the federal government from spending money to advertise on platforms that violate outlined "free speech principles."
"They're editorial decisions—in those moments, Twitter ceases to be a neutral public platform," Trump told reporters. "They become an editor with a viewpoint. I think we can say that about others, also, whether you're looking at Google, whether you're looking at Facebook and perhaps others."
In effect, it could strong-arm Twitter and other outlets into dropping future "fact check" endeavors. Trump said that would be a good thing.
"Social media companies that engage in censoring or any political conduct will not be able to keep their liability shield, that's a big deal," Trump said. "They have a shield; they're not gonna have a shield."
Twitter and Facebook did not respond to Newsweek's requests for comment on the order.
A Google spokeswoman told Newsweek the company relies on "clear content policies and we enforce them without regard to political viewpoint."
"Our platforms have empowered a wide range of people and organizations from across the political spectrum, giving them a voice and new ways to reach their audiences. Undermining Section 230 in this way would hurt America's economy and its global leadership on internet freedom," the spokeswoman said.
Carl Szabo, vice president and general counsel for NetChoice, a tech lobby arm whose members include Twitter, Google and Facebook, called the executive order a "dangerous precedent."
"Whether you are a liberal or conservative, you should worry about an administration proposing rules for what can and cannot be allowed on social media platforms," Szabo told Newsweek. "This is creating a playbook for another administration or foreign government to try to control what type of content they think should be allowed on social media platforms and what types of content they think should be removed."
Attorney General Bill Barr said he will also work on legislation for Congress or individual states to consider to rein in social media companies.
"The states have broad and powerful authority to regulate in this arena and they'll be doing it also. We encourage them to do it if they see exactly as we've been seeing," Barr told reporters.
Twitter CEO Jack Dorsey defended the site's decision to "fact check" Trump's two tweets on Tuesday.
"We'll continue to point out incorrect or disputed information about elections globally. And we will admit to and own any mistakes we make," he wrote on Twitter Wednesday evening. "This does not make us an 'arbiter of truth.' Our intention is to connect the dots of conflicting statements and show the information in dispute so people can judge for themselves."
Szabo, the counsel for the tech titans, told Newsweek that Twitter added a label to Trump's tweets rather than deleting them or any others that have been reported from Trump's prolific feed.
"It's important to recognize that, especially for conservatives who are championing this effort, social media has been one of the best tools for conservative voices and conservative values," he said. "It's enabled them to reach middle America in ways they could never have before."
Trump, who typically tweets multiple times a day—often previewing actions he will take or airing private grievances with people and media outlets—told reporters that he would delete his account "in a heartbeat" but doesn't think he would get fair media coverage without the direct mode of communication.
Shahbazz, the nonprofit researcher, said Twitter was following what experts consider the least harmful playbook by linking Trump's tweet to background information.
"Twitter was flagging President Trump's tweet and providing more information," he said. "Providing context is not censorship."
He said the protections in Section 230 have been a model world-wide as the Internet has grown.
"We need to be careful about reforming something that's been a cornerstone of the Internet as we know it," Shahbazz said. "We need to think very carefully about what sort of implications this will have not only for free speech here in the United States, but globally"