Donald Trump's Son Says Media Coverage of President Would Drive Anyone to Suicide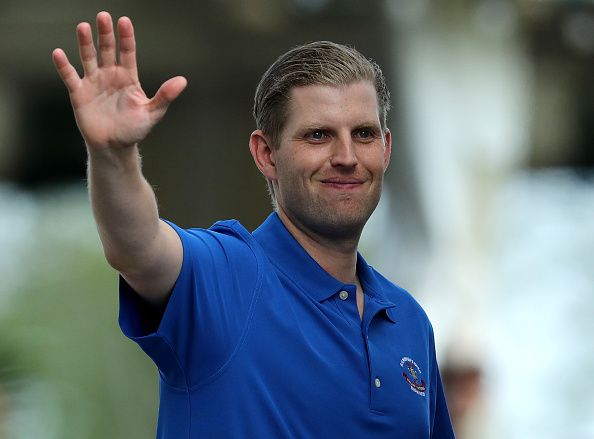 President Trump's second oldest son Eric has claimed that negative media coverage of his father is so ferocious that it would lead another person to depression and then suicide.
The 33-year-old businessman made the comments on the Joe Pags Show, a nationally syndicated radio program, where he also said the president had to tune out negative coverage from the mainstream media.
Read More: Ivanka Backs Trump Administration's Plan to Scrap Obama Rules Preventing Pay Discrimination
"If they weren't talking about you, you wouldn't be doing something right and it's important to keep it in context, otherwise quite frankly you'd probably end up killing yourself out of depression," Trump told the host Joe Pagliarulo, according to The Hill. He also explained that the first family take the coverage with a "with a grain of salt."
"It's the media, the mainstream media, who does not want [the president] to succeed. It's government who does not want him to succeed…No matter what he does, he's going to get hit, and listen, I think you have to tune it out."
Throughout the interview, Trump continued to attack the political establishment and the mainstream media that he said dealt in "fake news."
"Politics is nasty, it's the nastiest business I've ever seen," he said. "No matter what [the president] does, they're going to hit him on it."
In the past, Eric Trump has attacked the Washington establishment calling it "a lot more corrupt than most Americans think." Speaking on Fox News earlier this month he called an email that showed his older brother Donald Trump Jr. had met with a Russian lawyer claiming to have information about Democratic nominee Hillary Clinton "total nonsense."
Trump Jr. had initially denied that the meeting had ever taken place. On July 11 he revealed the email thread in its entirety, showing that he was hoping to be given damaging information on Clinton.
Trump's eldest son has agreed to sit down in a private Senate judiciary session as investigators look into the meeting with the Russian lawyer. He is expected to appear before the panel as soon as September, CNN reported.
Earlier this month Trump Jr. turned over 250 pages of documents to the Senate judiciary committee as part of a deal after he was initially invited to testify in public.
Russia has loomed large over the first six months of the Trump presidency. U.S. intelligence agencies have concluded that Russia worked to tilt the presidential election in Trump's favor. Moscow denies any meddling and Trump denies any collusion by his campaign, while regularly denouncing the investigations as political witch hunts.