Donald Trump's Tab For MAGA Rallies Jumps to $1.8 Million as 14 Cities Say President Hasn't Paid Police Bills, Report Finds
President Donald Trump's campaign keeps racking up unpaid bills for police and security at his MAGA rallies, according to a new report from The Center for Public Integrity.
The report, published Thursday, found that Trump's team owes a total of $1.82 million to 14 local municipalities for public safety-related costs incurred during the president's "Make America Great Again" events.
That's nearly double the amount of debt that the nonprofit investigative journalism organization found in June 2019. At that time, the president's re-election effort owed at least $841,219 to 10 city governments.
Trump's team has claimed that it's not responsible for paying the bills, though the latest campaign finance data shows they have more than enough with a $100 million war chest.
That duty, they told the organization, was left to the Secret Service. The Secret Service pointed the finger at Congress, arguing that lawmakers haven't set aside any funding that would allow agents to reimburse local governments for the public safety costs.
Newsweek reached out to Trump's campaign for comment on the unpaid bills but did not receive a response in time for publication.
Trump's not the only candidate who has ignored bills from local municipalities for costs incurred on the campaign trail. According to an invoice from the Burlington Police Department, President Barack Obama owed a few thousand dollars for a visit to Vermont in 2012. However, many 2020 Democratic candidates and several Republicans say they always repay local officials even though it's not legally required, according to the Center for Public Integrity.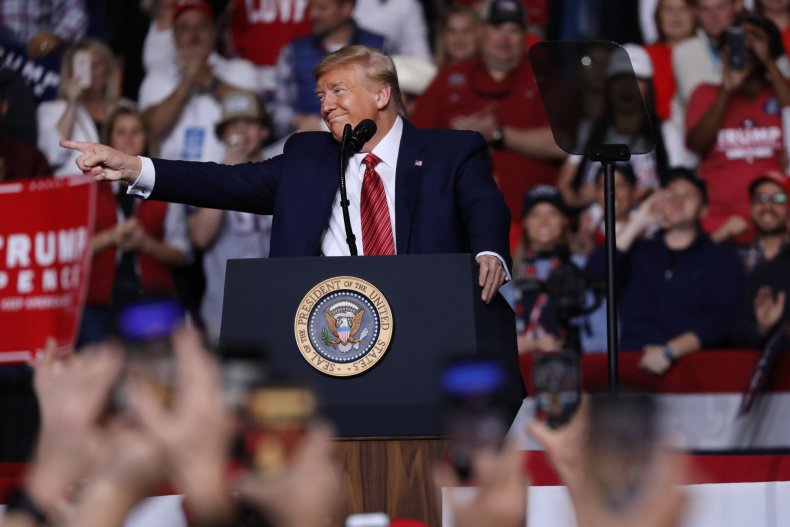 But now, amid the coronavirus pandemic, local governments are urging Trump to pay up. The COVID-19 outbreak has forced most of the country to shut down, with state officials issuing stay-at-home orders and forcing all nonessential businesses to close.
"Without this money, we cannot help our most vulnerable, and I guarantee we do not have enough money to prevent lives lost and homes lost," Kate Burke, a city council member in Spokane, Washington, told the Center for Public Integrity. Burke said Trump owes the city more than $65,000 from an event hosted in 2016.
Trump, like all other political candidates, has been forced to stop in-person campaigning amid the global health crisis. The last rally the president was able to hold was on March 2 in North Carolina. At the time, he was still touting low unemployment numbers and other economic achievements as the key reasons voters should re-elect him to a second term in the White House.
But now, both the message and strategy have changed. Trump's campaign has switched to an entirely digital campaign effort, holding virtual town halls and meetings. The president has also taken advantage of the previously unused White House press briefing room to deliver hours-long speeches daily on the coronavirus. And as the economy has taken a downturn—more than 20 million Americans have filed for unemployment in the past four weeks—Trump has made crisis leadership the focus of his campaign.
"When somebody's president of the United States, the authority is total. And that's the way it's got to be. It's total. It's total," Trump declared earlier this week.