Donald Trump's Tariffs Could Spike 2019 Holiday Shopping Prices for Americans If They Don't End Soon, Says Retail Group
President Donald Trump's tariffs on imported goods from China — which he threatened this week to increase — could lead to higher retail prices for many items Americans purchase for the holidays.
Retailers begin receiving goods in August for the winter holidays. If the president's tariffs on China are still in place, and if Trump implements new tariffs, some costs will inevitably be passed on to customers, the National Retail Federation told Newsweek.
"Retailers have already started making their purchases for the holiday season, and those shipments will start arriving in August. There are a wide range of products that have already been targeted by tariffs, including handbags and luggage, sporting goods, furniture, personal care products, bicycles, tools and hardware, and more," Bethany Aronhalt, senior director of media relations at the NRF, told Newsweek.
The statement from the organization is the latest to emphasize the disparity between Trump's presentation of the trade war with China and its actual impact on consumers. Although Trump has repeatedly claimed that Beijing is paying the cost of the ongoing trade dispute, economists have noted that the price of the tariffs are being passed on to consumers and businesses.
Trump threatened Thursday to levy tariffs on another $300 billion of Chinese goods and Aronhalt warned that doing so would affect consumer products even more.
"If the administration proceeded with additional 25% tariffs on $300 billion in goods, the impact will be significant. Everything and the kitchen sink (literally, kitchen sinks are on the list), will be hit by tariffs," said Aronhalt. "Consumers could see higher prices for TVs, cell phones, lap tops, cameras, cookware, stemware, instruments, clothing, shoes, toys, strollers, and much more."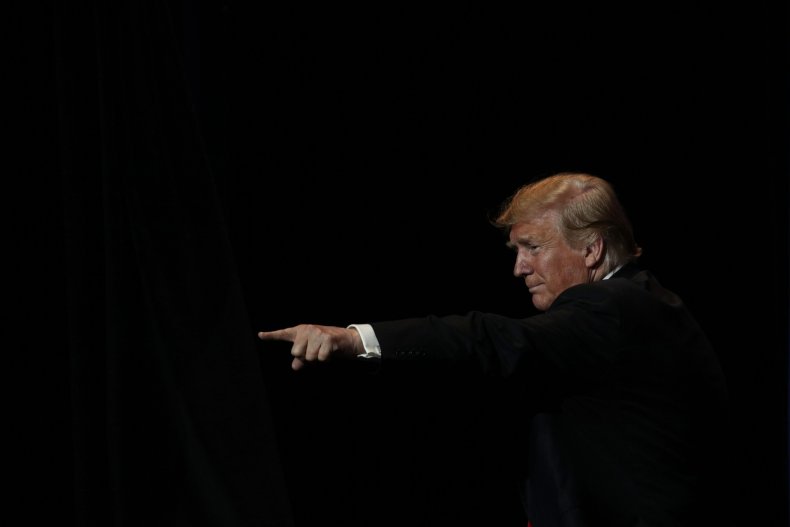 Analysts from the Federal Reserve Bank of New York said that Trump's 2018 tariffs on China cost the average household $419. After Trump raised tariffs last month, the analysts said that the average household would pay an annual cost of $831.
The impact could be compounded by the implementation of tariffs on all imports from Mexico, which Trump has threatened to implement on June 10. The White House said last week that it would start tariffs at 5 percent and continue raising the tariffs by an additional 5 percentage points at the first of each subsequent month, reaching 25 percent, unless Mexico moved to stop the flow of migrants entering the country through America's southern border.
Last year, the U.S. imported $346.5 billion in goods from Mexico, and the president's proposal to levy tariffs against the array of products imported through the country has provoked rare dissent from Republican lawmakers, in addition to the concerns voiced by business groups.
Trade organization Retail Industry Leaders Association criticized the proposed Mexico tariffs in a statement to Newsweek, which noted Trump's attempt to replace the North American Free Trade Agreement with the U.S.-Mexico-Canada Agreement.
"Threatening tariffs on Mexican imports while simultaneously seeking support in Congress for a trade deal aimed at keeping trade barriers low with Mexico is a confusing and counterproductive strategy," the organization's Vice President for International Trade, Hun Quach, wrote.