Donald Trump's Tweets Are in Vladimir Putin's News Briefs
Russian President Vladimir Putin may not follow President Donald Trump on Twitter, but Kremlin staff keep Putin up to date with the U.S. leader's tweets, his spokesman has said. And Moscow takes them very seriously.
"Everything that comes out of his authorized Twitter [account] is perceived in Moscow as his official statements, and nothing else," Dmitry Peskov, Putin's spokesman, told the Interfax news agency on Tuesday. "Of course this is reported to President Putin alongside other information from official statements by politicians and heads of state from other countries in the world."
Related: Those who botched Trump meeting will be "punished" says Putin
Trump's use of Twitter during his campaign and presidency has repeatedly stoked controversy, as critics have noted the often-aggressive tone and haphazard grammar and spelling is inappropriate for the highest office in the country. The president has repeatedly come under fire for his tweeting of political memes, including one that showed a golf ball hitting his presidential rival Hillary Clinton, and another, since deleted, that showed a cartoon train running over a person superimposed with the CNN logo.
Asked what the Kremlin makes of Trump's social media posts in general, Peskov said it is not for him to judge Trump's tweeting. But the Kremlin noted that Putin does not have a personal Twitter profile.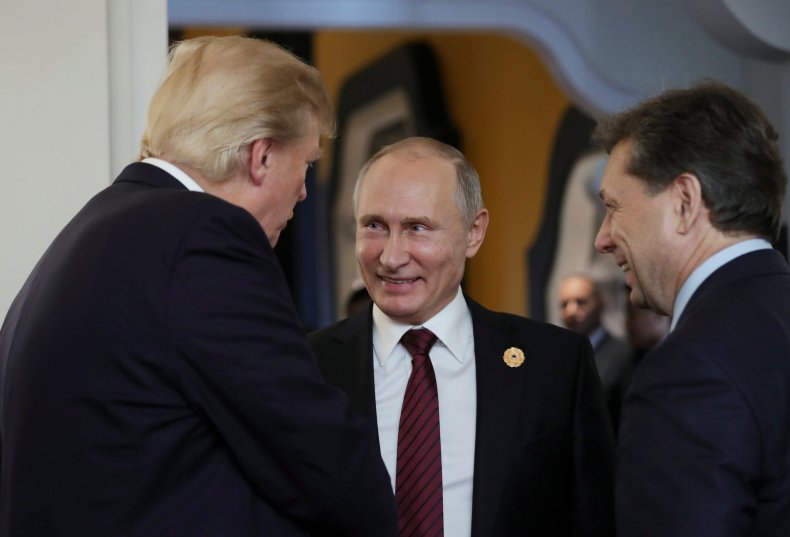 There are a handful of official accounts dedicated to Putin and the office of Russian president, including two verified accounts for the Kremlin, one tweeting in English and the other in Russian. Neither follows Trump's personal account, but both follow the White House, former President Barack Obama, former California Governor Arnold Schwarzenegger and former Argentine President Cristina de Kirchner.
At time of publication, neither followed more than 35 accounts, the majority of which are Russian officials, events and agencies, although the English-language account also follows NATO Secretary General Jens Stoltenberg, the EU Council and the British Prime Minister's official account.
Currently the relationship between Putin and Trump is under close scrutiny because of the ongoing investigation into alleged collusion between the Trump campaign team and Russia in attempts to meddle in the 2016 election. Both Putin and Trump have denied the allegations, though determining the degree of confirmed contact between Russian officials and Trump's team prior to his official swearing in as president has been far from straightforward. General Counsel Robert Mueller took over several investigations earlier this year, now leading an overall investigation into Russian influence and potential links with the Trump team.
Trump's eagerness to engage with people on social media doesn't extend to the Russian leader. Last month, Peskov asked people seeking answers from the Russian president to stick to the official modes of communication, telling a group of athletes who published an open letter to Putin on Instagram not to expect a reply on social media.
"Understand this: Instagram has never been, and I hope will never be, a channel of communication with the president of Russia," Peskov told state news agency RIA Novosti, when asked about the letter.