With less than two months until the election, President Donald Trump has continued to express his views on abortion and the 1973 Roe v. Wade Supreme Court decision, during his time in office, as well as before entering the White House.
Trump is set to face off against Democratic challenger Joe Biden in the first presidential debate on Tuesday and following Trump's recent nomination of Amy Coney Barrett to the Supreme Court, abortion and Roe v. Wade are two issues likely to be brought up.
Here's what Trump has said about both issues over the years.
1999 Interview on NBC News' Meet the Press
"Well, look, I'm very pro-choice," Trump said when asked if he would ban partial-birth abortions as president. "I hate the concept of abortion. I hate it. I hate everything it stands for. I cringe when I listen to people debating the subject. But you still – I just believe in choice. And, again, it may be a little bit of a New York background, because there is some different attitude in different parts of the country. And, you know, I was raised in New York, and grew up and work and everything else in New York City. But I am strongly for choice and, yet, I hate the concept of abortion."
When asked again if he would ban partial-birth abortions, Trump said, "No. No, I am very pro-choice in every respect and as far as it goes, but I just hate it."
In his 2000 book, The America We Deserve
"I support a woman's right to choose, but I am uncomfortable with the procedures," Trump wrote. "When Tim Russert asked me on Meet the Press if I would ban partial-birth abortion, my pro-choice instincts led me to say no. After the show, I consulted two doctors I respect and, upon learning more about this procedure, I have concluded that I would support a ban."
2011 Interview with CBN News' David Brody
"One thing about me, I'm a very honorable guy. I'm pro-life, but I changed my view a number of years ago. One of the primary reasons I changed [was] a friend of mine's wife was pregnant, and he didn't really want the baby. He was crying as he was telling me the story," Trump said. "He ends up having the baby and the baby is the apple of his eye. It's the greatest thing that's ever happened to him. And you know here's a baby that wasn't going to be let into life. And I heard this, and some other stories, and I am pro-life."
2016 Interview with CBN News' David Brody
Trump was asked if he would support or sign a bill that would defund Planned Parenthood.
"Yes, because as long as they do the abortion, I am not for funding Planned Parenthood," Trump said in response. "They do other good work. You look at cervical cancer. I've had women tell me they do some excellent work so I think you also have to put that into account, but I would defund Planned Parenthood because of their view and the fact of their work on abortion."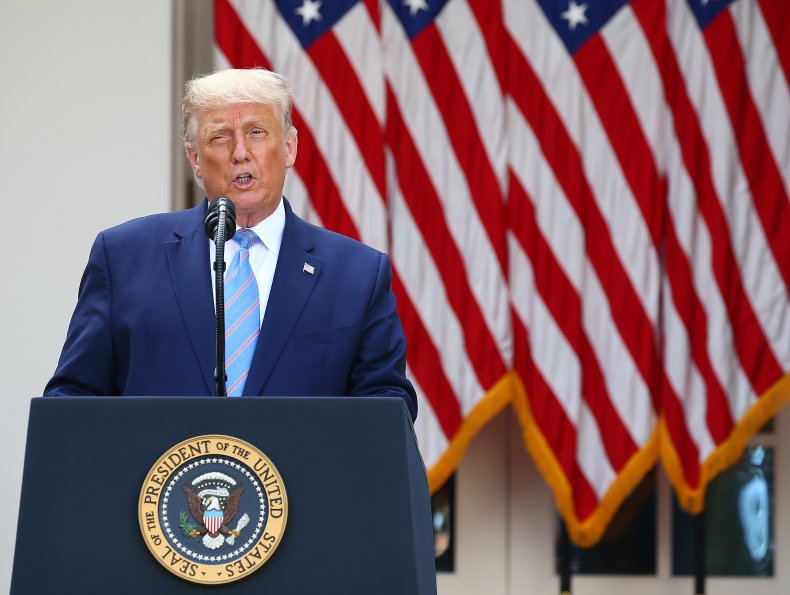 Third presidential debate, 2016, Las Vegas, Nevada
Trump was asked if he wants the court, and justices he appoints to overturn the Roe v. Wade decision.
"Well, if that would happen, because I am pro-life, and I will be appointing pro-life judges, I would think that that will go back to the individual states. If we put another two or perhaps three justice on, that's really what's going to be," Trump said. "That'll happen automatically, in my opinion, because I am putting pro-life justices on the court. I will say this: It will go back to the states, and the states will then make a determination."
2016 MSNBC Town Hall
When asked if abortion should be punished, Trump said: "Well, people in certain parts of the Republican party and conservative Republicans, would say 'yes, they should be punished.'"
"The answer is that there has to be some form of punishment," Trump said, and when asked if the punishment should be for the woman, he said, "There has to be some form."
Statement Released in 2016 following MSNBC Town Hall
"If Congress were to pass legislation making abortion illegal and the federal courts upheld this legislation, or any state were permitted to ban abortion under state and federal law, the doctor or any other person performing this illegal act upon a woman would be held legally responsible, not the woman. The woman is a victim in this case as is the life in her womb. My position has not changed—like Ronald Reagan, I am pro-life with exceptions," the statement said.
2020 Interview with Fox News following the nomination of Amy Coney Barrett to the U.S. Supreme Court
The president was asked if he would like to see Roe v. Wade challenged and overturned.
"So, I didn't think it was for me to discuss that with her [Barrett], because it's something she's going to be ruling on," Trump said in response. "But if you look at her past actions and rulings, I guess she maybe would be in the category that you mention, I don't know."
He continued, "I can say this, that she is certainly conservative in her views and her rulings and we'll have to see how that all works out."
When asked if he thinks a Supreme Court with a 6-3 conservative majority would rule on a "life issue, a Roe issue," the president said, "It's certainly possible and maybe they'd do it in a different way, maybe they'd give it back to the states."
Newsweek reached out to Trump's campaign for comment but did not receive a response in time for publication.