Donald Trump's Walk Of Fame Star Won't Be Removed After Physical Altercation
Donald Trump's Hollywood Walk of Fame star will not be removed, despite being vandalized and then fought over by rival protesters, TMZ reported on Sunday.
According to the Los Angeles Police Department, keeping the star was not an easy decision. The LAPD and Hollywood Chamber of Commerce said that removing it could trigger attacks on other celebrities' stars.
On Thursday, Trump's star, while damaged and roped off, became a battleground for Trump supporters and opposers.
Trump supporting YouTuber Elijah Schaffer and Trump opposer, Instagram star "Real Snake Boy," along with Schaffer's bodyguard, Tony, ended up in a fight over Trump's divisive politics.
The filming was led by controversial singer Joy Villa and Schaffer. Villa is well known for her conversation-starting dresses, most recently wearing a pro-life dress with an image of a fetus on it to the 2018 Grammys.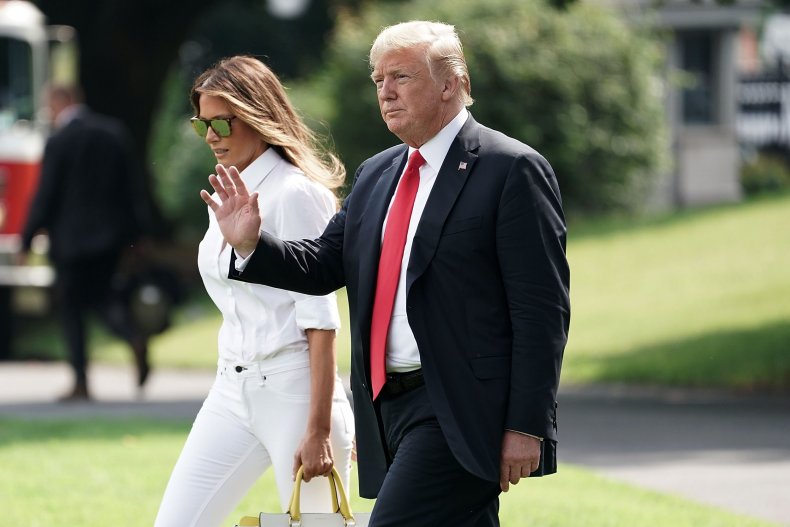 Schaffer said the reasoning for their appearance at the star, wearing red, white and blue, toting a Trump cardboard cutout, and a bringing a bodyguard, was to film a segment for Schaffer's politically-charged YouTube channel.
"The point of the channel is to use the Socratic method to get people to answer why they believe what they believe," Schaffer told The Washington Post.
The pair then set up the cardboard cutout, and waited, filming the blank moments of "peace," noted by the cameraman. As the video was live-streamed, people with opposing views began to express their opinions about Trump.
The confrontations eventually escalated, and Schaffer spoke of calling 911. Schaffer later said he would not press charges in return for "Real Snake Boy" speaking on his YouTube channel about the incident.
On Wednesday, Trump's star was destroyed with a pickaxe for the second time. Austin Clay, 24, later turned himself in for the vandalism and was granted bail for $20,000, according to the Los Angeles Times.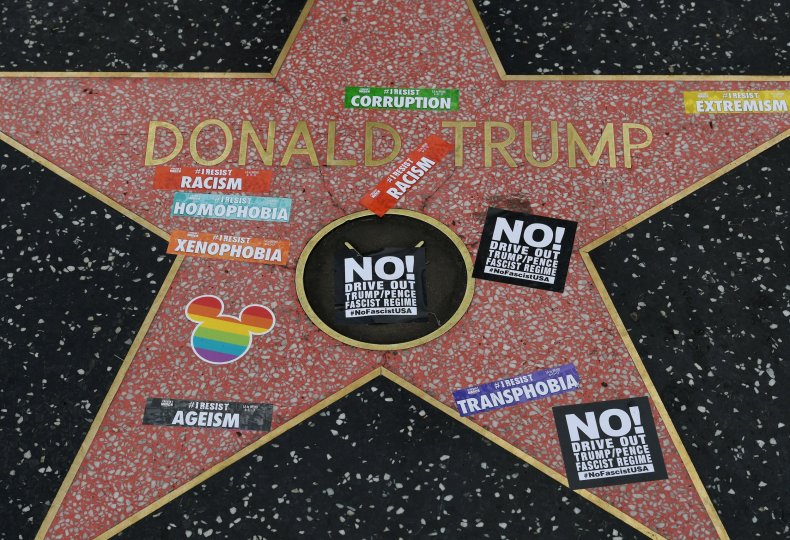 The star has been vandalized multiple times since his election, though it has only been completely destroyed twice. Each star costs around $3,000 to create, not including breaking ground, according to CNN.
While many have asked for the removal of Trump's star, he joins a list of celebrities who may always have a place on the Walk of Fame, no matter how much opposition they face. Since 2015, and his sexual assault allegations, Bill Cosby's star has been a part of this growing discussion.
Leron Gubler, president and chief executive of the Hollywood Chamber of Congress quickly shot down the possibility of removing Cosby's star.
"The answer is no," he said, according to NBC News.