Donald Trump's War on Press Freedom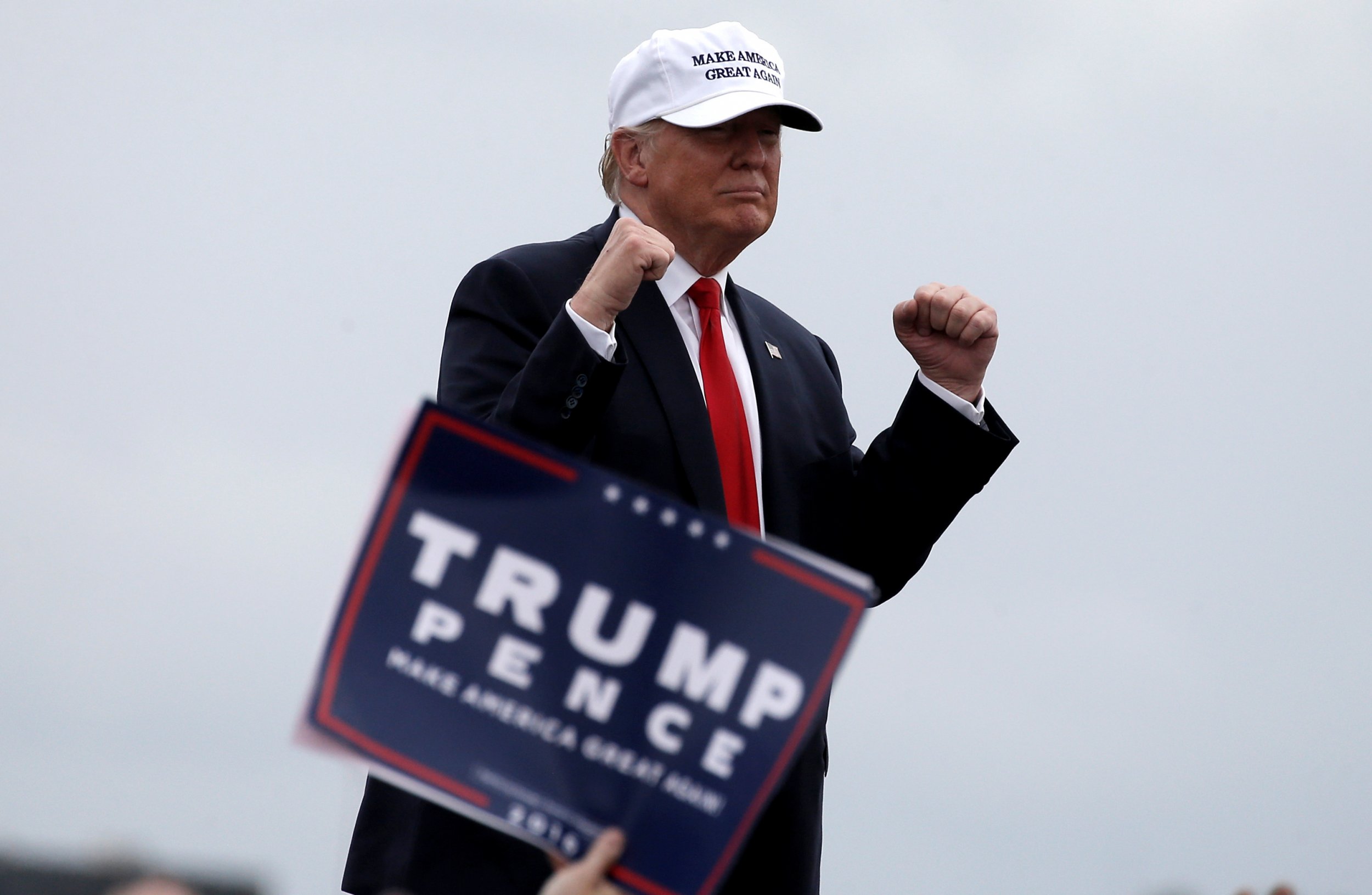 Earlier this week, CNN political reporter Jim Acosta tweeted a picture of a press table in the aftermath of a Donald Trump rally in Florida, where a supporter of the Republican presidential candidate left a sign bearing the word "media"—and a swastika. This should not have come as a surprise, as Trump increasingly blames his disastrous campaign on a media conspiracy.
"They will seek to destroy everything about you, including your reputation," Trump told his supporters in Florida, aligning the press with the Clintons and, seemingly, an international banking conspiracy of the kind suspected by anti-Semites. "They will lie, lie, lie, and then again, they will do worse than that." The crowd loved it. They truly believe it when Trump says "we" do not win anymore. China is to blame, as is Mexico. But so is The New York Times.
According to a Bloomberg report, Trump refused a vetting from his own campaign. So media organizations like this one did it for him, their job facilitated by Trump's having lived large in the public sphere for decades. His thoughts on women, taxes, minorities—they're all a Google search away.
Trump's indignation seems to stem from the feeling that he deserves deference, of the kind that he used to get from the New York tabloids back when writing about him was fun and funny. Now the stakes are somewhat higher than they were when he was selling steaks and building casinos, but he doesn't seem to understand that. Earlier this year, he said he would like to "open up our libel laws so when they write purposely negative and horrible and false articles, we can sue them and win lots of money." He is already trying out this approach, threatening to sue the Times for running the story of two women who alleged sexual misconduct by Trump. The Times answered back with what amount to a chuckle and a middle finger.
That kind of insouciance will be much harder to muster if Trump becomes president, even if his power to curtail First Amendment powers will be thoroughly limited by the Constitution. On Thursday, the Committee to Protect Journalists released a statement that said, "A Trump presidency would represent a threat to press freedom in the United States." The statement cited his cruel mockery of a disabled New York Times reporter and the routine banishment of various news organizations from his events. "Since the beginning of his candidacy, Trump has insulted and vilified the press and has made his opposition to the media a centerpiece of his campaign," the CPJ said.
Trump did what he always does: He fought back. By morning, a new hashtag was trending, #RIPJournalism. Its intent was to show how little the media have reported on the Hillary Clinton email server controversy, as well as how closely aligned the press is to the Democratic Party. One user tweeted an image of a stern-looking Clinton. "She controls the media," said the text. "Next control is our guns."
Another user, a woman with the Twitter handle Deplorable in Pink, tweeted, "FAKE Trump accuser is friends with #CrookedHillary. Deception runs deep."
"Voter fraud is real but for some reason, MSM refuses to cover it," tweeted a user named Mark Zellner.
It is true that most mainstream journalists are to the left of Trump. It is also true that most journalists are too principled to engage in the kind of propaganda Trump accuses them of. Nor will they propagate propaganda of the opposite kind, writing flattering profiles of his business empire. Well, not anymore.
On Thursday, the dogged Trump surrogate Rudy Giuliani—the former mayor of New York increasingly divorced from decency and reality, not to mention his former constituents—claimed that newspapers were failing to report on the Clinton campaign emails published by WikiLeaks. In response, Anthony De Rosa, a producer for The Daily Show, tweeted out images of the front pages of The New York Times and The Washington Post. The story was right there, well above the fold.
It is the irony of Trumpism that even as he threatens journalists, he seems to bring out the best in them.