Donald Trump's Women Problem: Poll says Red State Women are Backing Joe Biden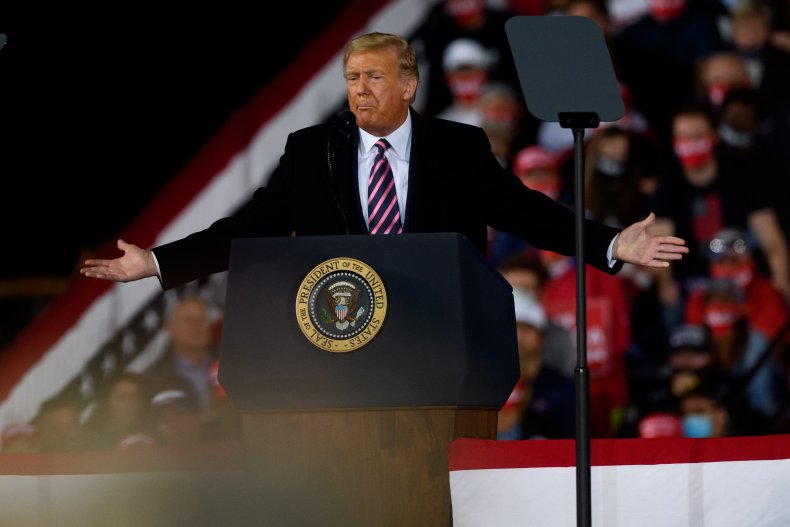 President Donald Trump's campaign could be stumped in traditionally red states this election cycle as female voters jump to support Democratic nominee Joe Biden.
New polling from the New York Times and Siena College released Thursday found a widening gender gap working to Biden's advantage in Iowa, Georgia and Texas—three states Trump won by considerable margins in 2016.
In Iowa, a state where Trump defeated Hillary Clinton by 9 points, Biden has a double-digit lead among women. The Times/Siena College poll found 50 percent of female voters surveyed would back the former vice president if the election were held today, compared with 36 percent who would support Trump. Overall, the poll showed Trump trailing Biden by 3 points in the Midwest state.
In Georgia and Texas, Biden is leading among women by 10 points and 8 points, respectively. The Times found that the Democratic nominee was doing better now with female voters in Iowa and Texas than Clinton did in 2016. In Georgia, the performances are about the same.
Polling found the 2020 race tied in Georgia, a state Trump won by 5 points four years ago. Trump remains 3 points ahead of Biden in Texas, likely due to his overwhelming popularity among male voters, but it appears that support there has waned since he won it by 9 points against Clinton.
Trump, meanwhile, was shown doing better with male voters in all three states—a similar trend to 2016. Exit polling found Trump led among all male voters by 10 points.
Trump has frequently boasted that he won over a majority of women in 2016, but the overall picture is much more complicated. A majority of the female electorate, 54 percent, supported Clinton. But Trump did win over more white women, which helped seal his Electoral College victory.
But that key demographic is starting to erode, according to an analysis from the Brookings Institution. Trump's support from white working-class women has plunged 11 percentage points from 2016. Clinton lost this group to Trump by 27 points, but this summer Biden was found trailing the president by only 6 points.
The Trump campaign has made several efforts to court female voters over the past few weeks. This week the group "Women for Trump" launched a bus tour in North Carolina and hosted an event with Kimberly Guilfoyle in Pennsylvania. Ivanka Trump will be campaigning in Minnesota on Friday.
The president has also already pledged to fill Ruth Bader Ginsburg's Supreme Court seat with a woman, a move political scientists said could be another effort to boost his appeal with female voters in the final weeks of the 2020 race.
The margins of error for the Times/SienaCollege polls of Georgia and Iowa are 4.9 percentage points. For the Texas survey, the margin of error was 4.3 percentage points.