Boos, Cheers As Donald Trump Attends UFC Fight—in Which Conor McGregor Breaks Leg
Donald Trump was met by a cacophony of noise—some cheers, largely jeers—when he made a public appearance at a UFC fight in Las Vegas on Saturday night.
The former president with his wife, Melania, waved as he and his entourage made their way through the crowd toward the couple's cage-side seats, video posted on social media showed.
The contest ended in agony for Irishman Conor McGregor, whose leg was broken in a defeat to American Dustin Poirier. Dana White, the UFC president, later said McGregor had broken "the lower tibia in his left shin" as he stepped backward.
As doctors moved to stop the fight, McGregor insisted "this is not over."
"If I have to take it outside, let's take it outside," the 32-year-old said during an interview conducted while sat on the canvas with his ankle in a protective cast.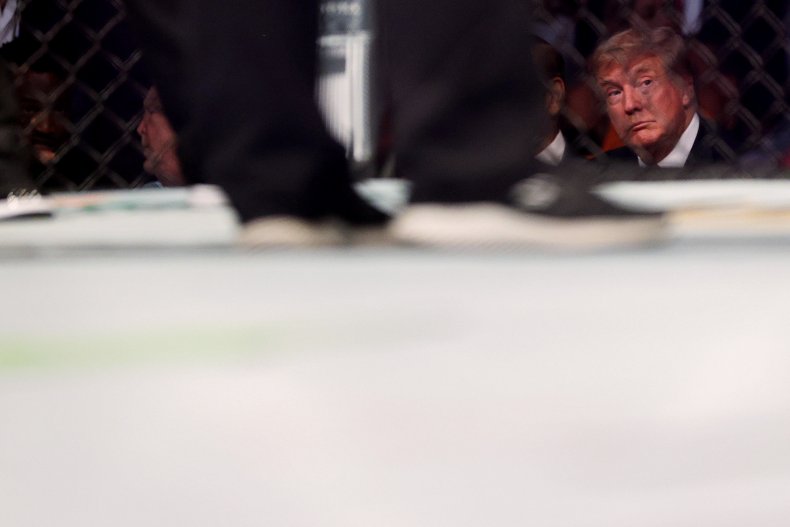 That drama was likely all overseen by the Trumps and other well-known faces in an audience that reportedly included: Justin Bieber, Dave Chappelle, Machine Gun Kelly, Megan Fox, Mel Gibson, Kourtney Kardashian, Kevin Durant, and Travis Barker, and others.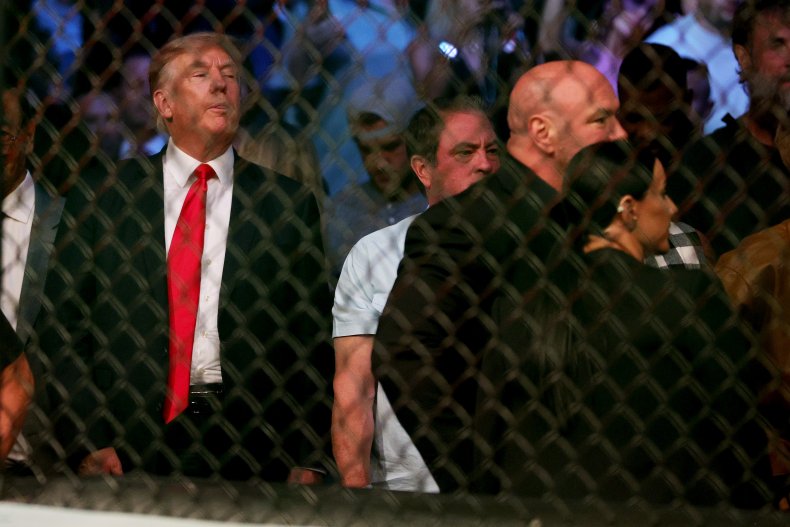 Since losing the 2020 Presidential Election to Joe Biden, Trump has made few public appearances.
In the initial months following his defeat, the Republican leader attended the Conservative Political Action Conference (CPAC) but largely stayed away from the public gaze at his Mar-a-Lago bolthole in Florida or his golf course in New Jersey.
But he has increasingly sought to place himself in the limelight, holding rallies in Cleveland, Ohio, on June 26—his first rally since leaving office—and Florida on July 3.
During both events the ex-president continued to peddle baseless claims of election fraud, falsely claiming of the 2020 presidential vote: "We won that election in a landslide."
Earlier this week, Trump's team confirmed the ex-president will visit Phoenix for another rally later this month.
Trump lost Arizona by about 11,000 votes in 2020, and the state has become a point of focus for his support, largely owing to a Republican-led audit of its election result.
The unusual move has been dubbed a "forensic" truth-finding mission by Trump and his supporters, but critics have labeled it a "fraudit."
Trump has not confirmed that he intends to run for the White House again in 2024, although allies of the Republican leader have strongly suggested he would.
His eldest son, Donald Trump Jr. has also been linked with a potential bid for president. But, when asked this week, said he has not "personally thought" about running for president in 2024.