The Washington Roman Catholic Archbishop accused of systematically covering up the sexual molestation of more than 1,000 children over several decades says he will not resign.
Speaking with WTTG-TV, Cardinal Donald Wuerl responded to a scathing grand jury report detailing allegations that thousands of Pennsylvania children were sexually abused since the 1940s. Wuerl led the Pittsburgh diocese from 1988 to 2006 before previously becoming a bishop. He is named 15 times in the grand jury report. Wuerl said he "did everything [he] possibly could" to shed light on cases of child sex abuse and dismissed the notion Catholic Church leaders did nothing.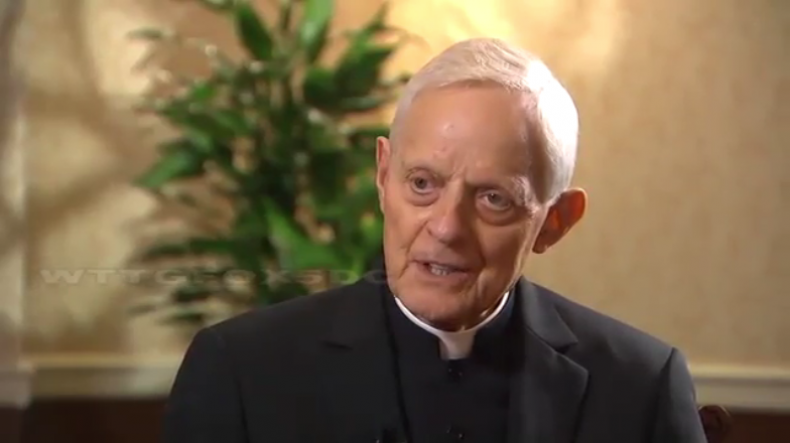 "I think I did everything that I possibly could," Cardinal Wuerl told WTTG-TV. "One of the things that we did was that we put into place a review board so there would be a way of looking into the allegations that would take it beyond just myself and my office looking at it.... The pain and the suffering are something that we need to take responsibility for."
Wuerl noted the allegations span the course of several decades, but only two of the 1,000 cases are within the legal statute of limitations to be open for prosecution today. He reiterated that priests and other church leadership have gone through an "evolution" in dealing with child sex abuse cases. The grand jury report, however, laid out how a long succession of Catholic bishops and diocesan leaders shielded the church from bad publicity for decades.
"My efforts from the time that I reached Pittsburgh onto today, I've tried to do my very best to deal with this whole question of allegations against a priest. Now, remember, we're dealing with a long spectrum of time so how we dealt with things in the late 80s and early 90s is different than the way we would today," Wuerl said. "How do you deal with an allegation, and remember now when an allegation comes forward that allegation often times ends up being one word against another."
The grand jury report details how Wuerl reassigned, reinstated or allocated monthly payments to accused pedophile priests during his time in Pittsburgh. Wuerl said church leaders intended to protect the child victims despite the report's illustration that there was a systematic cover-up of the abuse. Allegations from the abused children include forced groping, masturbation, and anal, oral and vaginal rape. The report details how a 9-year-old boy was forced to perform oral sex on a priest before having his mouth washed out with holy water.
Pennsylvania Attorney General Josh Shapiro said Catholic Church leaders were not only covering up the child sex abuse cases, they had "complete disdain" for the young victims. "I think that's his take to say that we did nothing at all," Wuerl said of Shapiro when asked by WTTG-TV's Tom Fitzgerald this week. "That's simply not verified with the facts."
Wuerl said he will not resign and that the church is making progress in effectively reporting and dealing with child sex abuse cases. However, he added that no one can offer a full guarantee that child sex abuse doesn't occur anywhere in the Washington Archdiocese or the Catholic Church as a whole moving into the future.
"Certainly, I'm speaking for myself now, it's the sense of anger, the sense of betrayal, the sense that we just have to be better at addressing this and then realizing that we are making steps forward," Wuerl said.
Correction: A previous version of this story listed the exclusive interview with WTTG-TV FOX 5's sister station in New York.