Donations Supporting George Floyd's Family, Bail for Protesters Skyrocket After Police Killing of Minneapolis Man
Charities and nonprofit groups supporting George Floyd's family and the legal defense of nationwide anti-police brutality protesters reported an unprecedented barrage of donations in the wake of the Minneapolis man's May 25 death at the hands of police.
The Minnesota Freedom Fund, a community nonprofit which pays the cash bail of low-income individuals, announced they are "in awe" of financial support that began pouring in as U.S. protests broke out in dozens of cities Friday night. Protesters and police clashed just days after Floyd, a black man, died as a Minneapolis Police Officer restrained him using a knee over the neck for more than eight minutes during an arrest over alleged counterfeit cash.
"With solemn gratitude, we have been flooded with tens of thousands donations large and small, totalling around $20 million," the nonprofit posted Saturday.
The group which decries "the ransom of bail" against people accused of low-level crimes wrote on Saturday they'd been "flooded with tens of thousands of donations" which totaled more than $20 million dollars. The Minnesota Freedom Fund was joined by former NFL quarterback Colin Kaepernick's Know Your Rights camp fundraising arm in accepting millions of dollars in support of protesters' legal defense funds. Hundreds of people tied to U.S. protests were arrested Friday night for wide-ranging charges including arson and disorderly conduct in protests that state lawmakers have described as overwhelmingly peaceful.
Newsweek reached out to the Minnesota Freedom Fund for additional comments Saturday night.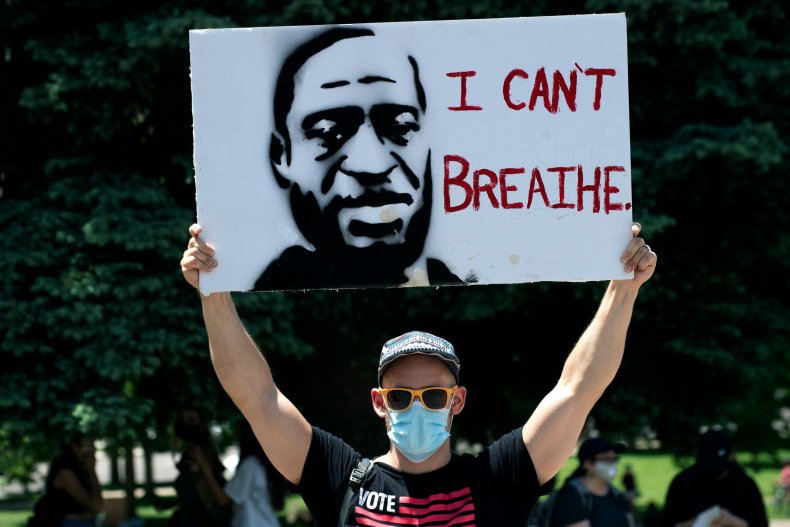 "We did not ask for or anticipate this massive outpouring of support. We simply said yes to the call to support and bail out people jailed for protesting for justice for George Floyd," the Minnesota group wrote in a Saturday post. "We now encourage people to generously donate to George Floyd's family and other local organizations, especially those which are Black and BIPOC led, and which are working to lift up communities, end police brutality, and build a more just future."
"The world has shown up in support for those who are taking to the streets to demand the long-overdue end to police brutality that has taken the lives of too many of our black, brown and Native people," the Minnesota Freedom Fund noted.
The GoFundMe page linked to Saturday afternoon by the group had collected just over $4 million. But just hours later, donations increased to nearly $4.25 million. Philonise Floyd, the brother of George and a Houston resident, created the official George Floyd donation page.
Kaepernick, who led National Anthem kneeling protests against police brutality in the NFL dating back to 2016, announced on Twitter Friday he was donating legal defense money "in solidarity w/our brothers & sisters in Minneapolis" after video of Floyd's death became national news.
The Know Your Rights Camp website on Saturday evening reported a 274 percent increase in participants, 1,400 people engaged in seven cities and a 98 percent increase in people "understanding their rights." The group describes its mission as an effort to "advance the liberation and well-being of Black and Brown communities through education, self-empowerment, mass-mobilization and the creation of new systems that elevate the next generation of change leaders."
Kaepernick's organization works to provide the "resources, access and knowledge" that can help black Americans and people of color to become more aware of their rights when dealing with U.S. law enforcement.
The Minnesota Freedom Fund on Saturday listed several other regional groups which are working to help their shared cause: Black Visions Collective, Reclaim the Block, Twin Cities Coalition for Justice 4 Jamar.