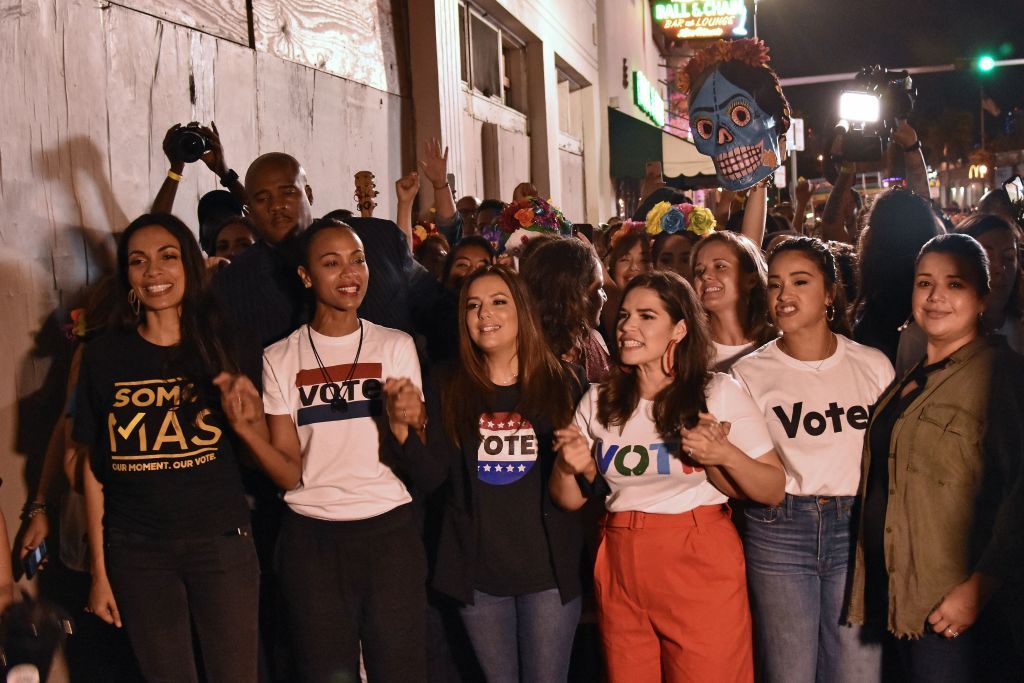 Actors Eva Longoria, Rosario Dawson, Zoe Saldana, America Ferrera and Gina Rodriguez took to the streets of Miami on Sunday, rallying people to vote ahead of the midterm elections.
The group led hundreds chanting "Si, se puede" ("Yes, we can") as they marched through Little Havana, the city's famed Cuban neighborhood.
"This cause of getting people out to vote is one of the most important things we can do as citizens," Longoria told the Associated Press. "It's our job."
It's not just the Latina celebrities who are politically involved this year. The 2018 midterms have seemingly galvanized Hispanics across the United States, with their enthusiasm outstripping that of all other American adults. That's according to a Sunday Reuters/Ipsos poll.
By Election Day, Google searches for "dónde votar" ("where to vote") surged by more than 3,500 percent.
The National Association of Latino Elected and Appointed Officials (NALEO) is expecting about 7.8 million Latinos to vote, a 15 percent increase on 2014.
The Reuters/Ipsos poll also found likely Hispanic voters nearly twice as inclined to support Democrats for the House of Representatives as Republicans in Tuesday's elections, with voter registration groups using Republican President Donald Trump's nationalist, anti-immigrant rhetoric to drive up Latino enthusiasm.
Latinos could play a crucial role in several races, from tight Senate battles in Arizona and Texas to Florida's close Senate and gubernatorial races. In California, the flourishing Latino population has helped put in play some Republican-controlled House districts Democrats hope to flip.
Republican attacks on the Obama administration's Affordable Care Act (ACA) could also play a role in driving up the Latin vote.
Latino households are among the least insured of any ethnic group in the U.S.—but the number of insured households increased with the ACA, reported NBC.
"We've seen a more concerted effort at mobilizing Latinos this election," Victoria DeFrancesco Soto, a political scientist and lecturer at the Lyndon B. Johnson School of Public Affairs in Austin, Texas, told NBC.
"We are not going to wake up Wednesday and say: 'Oh my God, every Latino turned out.' But I think we saw a big push," she added.