Donetsk Shelled as Russian 'Aid' Convoy Heads Towards Ukraine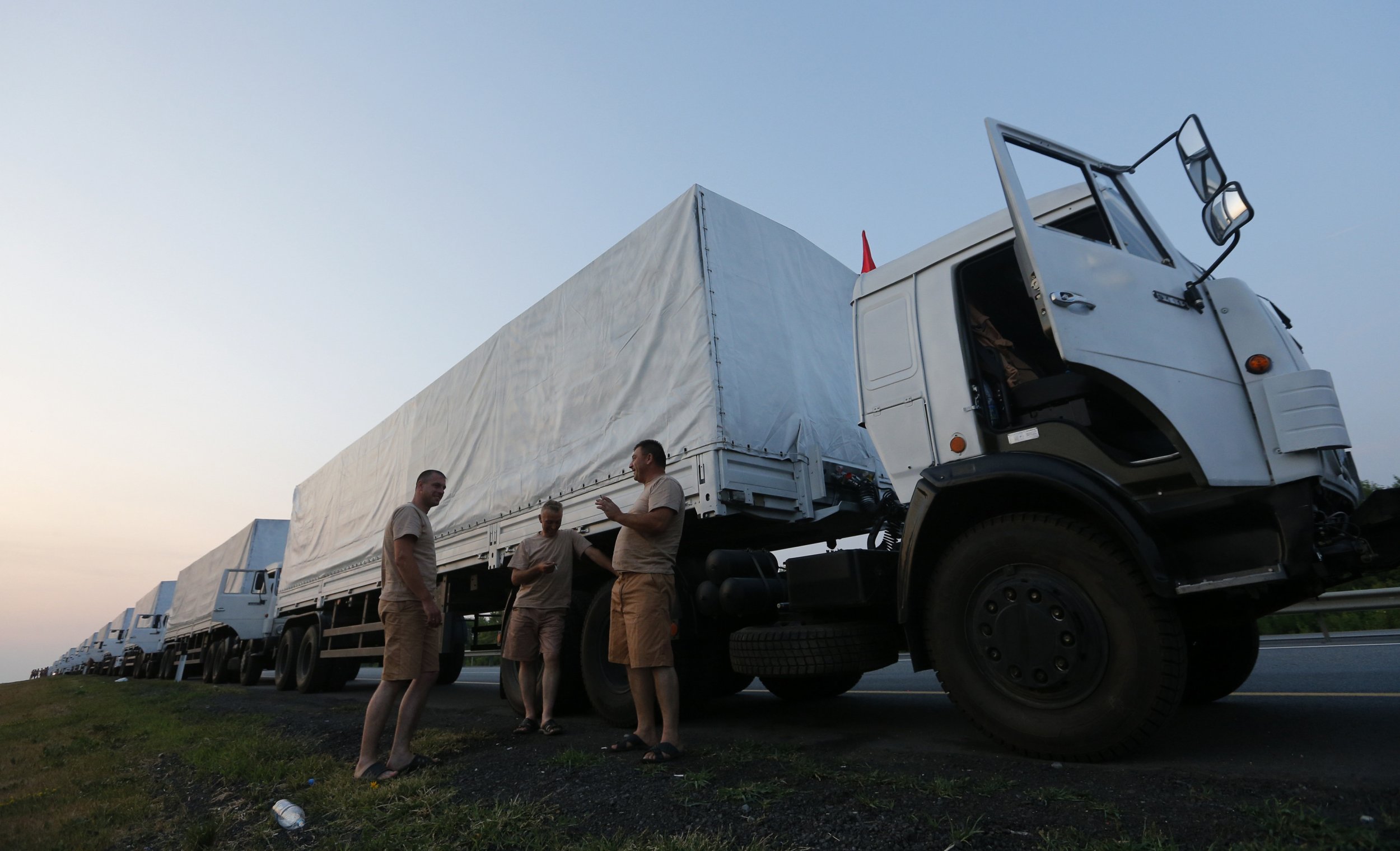 A convoy of trucks said by Russia to contain humanitarian aid supplies that has been denied entrance to Ukraine by Kiev is snaking back towards another Ukrainian border crossing as shelling is stepped up in the rebel-held Donetsk region, killing one person.
It's not clear whether Ukrainian government forces or pro-Russian rebels fired the shells, but Kiev government forces are homing in on the city of Donetsk and encircling separatists who are occupying it. Office workers in Donetsk are said to have streamed onto the streets after an evacuation warning earlier today and two shells landed near the Park Inn Radisson hotel, Reuters reports.
More than 2,000 have been killed in four months of fighting between pro-Russian separatists and Ukrainian forces in eastern Ukraine, with more than half killed in the past two weeks, the United Nations reports.
After coming to a halting yesterday after Kiev said it could not cross into government-held territory, the convoy of around 260 trucks the Russian authorities say are loaded with emergency supplies like water, medicine and baby food for those living in the besieged cities of Luhansk and Donetsk and the surrounding area is heading back towards Ukraine. Ukrainian officials said they will not let the Russian convoy enter the country until the International Red Cross has verified that the contents are solely for humanitarian rather than military use, Reuters reports.
The exact contents and destination of the cargo is still unknown. The BBC reports there are sleeping bags inside the lorries and Russia says the aid includes 340 tons of canned meats, 649 tons of water and more than 60 tons of baby food, The New York Times reports.
The International Committee of the the Red Cross (ICRC) said they have made "initial contact" with the convoy, which the organization believes is on its way to the east of Ukraine where pro-Russian rebels hold the border. The U.S. and French governments have expressed concern that the delivery of supplies ostensibly for humanitarian relief could be used by President Vladimir Putin as a cover for Russian forces to invade Ukraine. Russia called those claims as "absurd."
The BBC's Steve Rosenberg is trailing the convoy and tweeted a photo of Russian military vehicles escorting the large white trucks, which suggests the convoy may be part of a covert military operation.
The New York Times's Andrew Roth is also following the convoy and has been tweeting photos of what's inside.
The trucks are "moving at a steady 50 miles per hour," Roth reports, but the original delivery route has changed. After Russia and Ukraine agreed that the trucks would deliver their load to an area under full Ukrainian control, the trucks turned off the main highway and headed towards to Izvarino, a Ukrainian border town under rebel occupation, The New York Times reports.