Donald Trump Now Only Trusts His Children After Damning Anonymous NYT Op-ed Says He's Amoral: Report
President Donald Trump reportedly feels as if he can now only trust his children following a damning opinion piece penned by a senior administration official and published by The New York Times Wednesday, which labeled the president as amoral and described a cadre of officials hindering Trump from ruining the country.
Trump had a small circle he trusted prior to the op-ed's release but a friend said after its publication that now the president believes only his children are trustworthy, according to The Washington Post.
The president brought his eldest daughter Ivanka Trump and her husband Jared Kushner to the White House after their help with his successful campaign, and he entrusted the Trump Organization to his eldest sons Donald Jr. and Eric, as well as longtime chief financial officer Allen Weisselberg.
The president has taken heat for both bringing his politically inexperienced daughter and son-in-law to Washington and for placing them in charge of key issues like women's rights, Middle East peace negotiations and prison reform.
Ivanka Trump and Kushner have also been at the center of allegations of leaking information to the press in order to gain more power around the president and oust political rivals, like former White House chief political strategist Steve Bannon.
President Trump is known to value loyalty among his staff but has recently seen previously unshakeable allies break away. His former attorney and "fixer" Michael Cohen pleaded guilty to a litany of federal charges last month and directly implicated the president in campaign finance violations. Around the same time, former Apprentice contestant and White House aide Omarosa Manigault Newman challenged the president's mental acuity in her book released last month.
Weisselberg, too, has seemingly abandoned the president. Two weeks ago, he was granted immunity by federal prosecutors for grand jury testimony about Cohen's payments to women who claimed to have had affairs with Trump.
The Times op-ed reportedly enraged Trump and sent the White House into a tailspin about the writer's claims and their identity.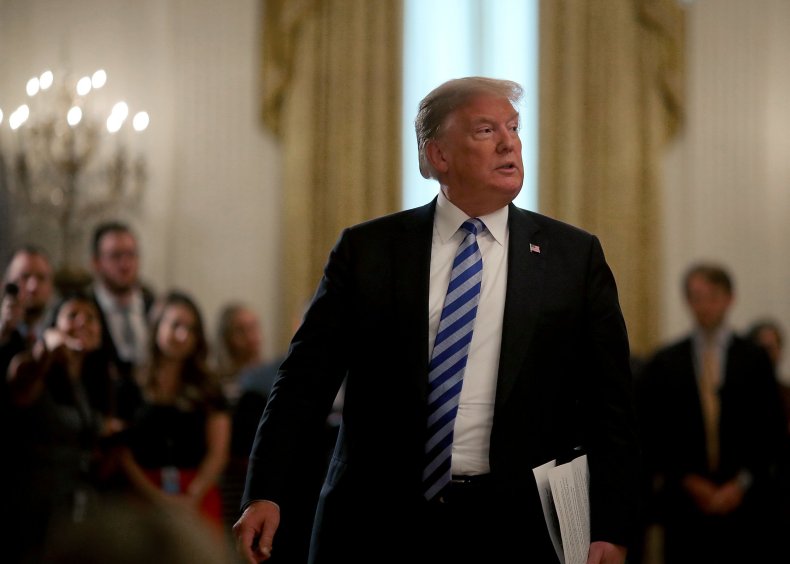 The piece claimed a group within the administration had banded together to ensure Trump continues his aggressive conservative agenda, like tax cuts and increase in military spending, but prevents him from damaging the country's democratic institutions.
The writer stated they were part of a resistance within the administration and also said the president's leadership had no moral foundation.
"The root of the problem is the president's amorality. Anyone who works with him knows he is not moored to any discernible first principles that guide his decision making," the anonymous official wrote.
Trump, as well as White House press secretary Sarah Huckabee Sanders, labeled the leaker as "gutless" and a "coward," with Trump also questioning if the op-ed source was even real.
"Does the so-called "Senior Administration Official" really exist, or is it just the Failing New York Times with another phony source? If the GUTLESS anonymous person does indeed exist, the Times must, for National Security purposes, turn him/her over to government at once!" the president tweeted Wednesday evening.