Donna Summer and the Birth of Disco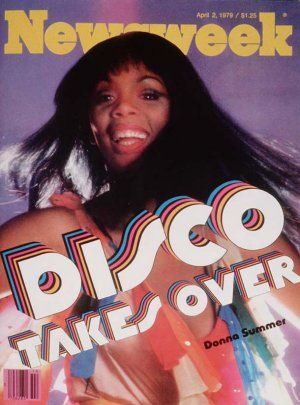 One afternoon in Munich in 1975, a file clerk-turned-chanteuse was trying to create a sexy. Upbeat, downbeat, shrill, comic—it all sounded stale until producer Giorgio Moroder cleared the recording studio and Donna Summer came to life. Easing her full-throttle delivery down to a shivery whisper, she moaned over and over into the microphone, "Ooooh, aaaah, love to love you, bay-bee . . ." Summer would later boast of simulating 22 orgasms, but whatever she did, it worked: "Love to Love You Baby" became disco's first above-ground smash hit and made Summer its First Lady of Lust.
Now, four years later, the 30-year-old disco diva has proved that she is more than just a novelty success. "People bagged me as incapable of singing anything but 'Love to Love You Baby'," she says. "But I was totally aware I had more going for me." In 1977, after three LP's for Casablanca Records that played her up as disco's Aprodite, Donna released "I Remember Yesterday," an album that pushed the musical boundaries of disco ever wider with the electronic rub-a-dub rhythms of "I Feel Love," her second big hit. The album also proved that Summer could handle a range of pop styles from Tin Pan Alley to Motown.
Summer wasn't surprised by the critical hosannas. "I knew I would be great," she says. Born Donna Gaines, she was one of seven children of a Boston butcher and his schoolteacher wife. She listened to Mahalia Jackson and Janis Joplin while playing hooky from high school (she once kept 200 truancy cards on her dresser) and sang with a local rock band. Donna dropped out two months before graduation and left the country in 1968 to play in the German production of "Hair." She worked for eight years in European productions of musicals and light opera and married Austrian actor Helmut Sommer. The marriage ended with "Love's" success, leaving Summer in California with their daughter, Mimi, and an Anglicized version of her ex-husband's name.
As Donna tells it, instant fame brought instant anguish. She developed ulcers, landed in a California hospital and for two years has been undergoing treatment for depressions that have recurred since childhood. In "Once Upon a Time," a mini-"opera" coauthored by Summer in 1977 and hailed by a critic in The New York Times as "disco's artistic coming of age," she spins the Cinderella tale of a girl "Who lived in a land of dreams unreal/Hding from reality ... Trapped within their world." Says Donna, "It was mostly autobiographical."
Now her big hope is that she won't "die with disco. I'd like to have as much validity as Streisand and Aretha Franklin," she says. She widened her stylistic base on a concert tour last fall by adding touches of mainstream rock and blues. If she couldn't always render a sweet ballad persuasively, at least she proved she wasn't a disco Pinocchio following a producer's orders. "Suddenly they stopped throwing stones and came bearing gifts," she says of the critics' enthusiastic reception.
Inspired by her live-in boyfriend, guitarist-singer Bruce Sudano of Brooklyn Dreams, she composed a rock tune for her new album—but Casablanca president Neil Bogart suggested she give it to Cher instead. Bitterly, Summer recalls: "He saw dollar bills flying out of my pockets when I said I wanted to sing rock 'n' roll." Feeling "stuck doing something that had been choking me to death for three years," Summer vowed to "go back to singing in church." Looking back on the experience, Summer says: "I felt like Marie Antoinette or Joan of Arc—great women of their time who had to deal with ridicule and misunderstanding." Finally, Bogart gave in: half of her new LP would be rock-oriented.
But in the meantime, it's the steamy disco stuff that her fans clamor for. And so, to close each concert performance, Summer still slips into her role as a pelvis-thrusting Barbarella and begins those moans and groans that made her famous. Donna may insist she's "a performer, not a disco performer," but in the end her audiences get what they've paid to see—the Love to Love You Baby.
Donna Summer and the Birth of Disco | Culture