Donnell Fire Update: Latest on Blaze Threatening 2,000-Year-Old Bennett Juniper Tree
Firefighters are rejoicing after they managed to prevent the Donnell Fire from burning down the 2,000-year-old Bennett Juniper tree.
The fire had already engulfed almost 30,000 acres of land and came within just half a mile of the tree. The blaze has been burning through the Stanislaus National Forest in California's Sierra Nevada since August 1.
Speaking to CNN, US Forest Service representative Maria Benech said the tree was being protected by the Save the Redwoods League organization—despite not being a redwood. "It's the largest tree of its species that exists, which makes it very historic, and unique," Benech said. "Junipers don't get that tall.
"The Bennett is not a redwood tree, but it sits in one of the properties owned by the League, so they care for it and manage it. The firefighters went miles ahead of the tree to protect the area, and stop the fire from spreading. We helped the fire department by preparing as soon as possible, and we built fire lines within several hundred feet of the tree."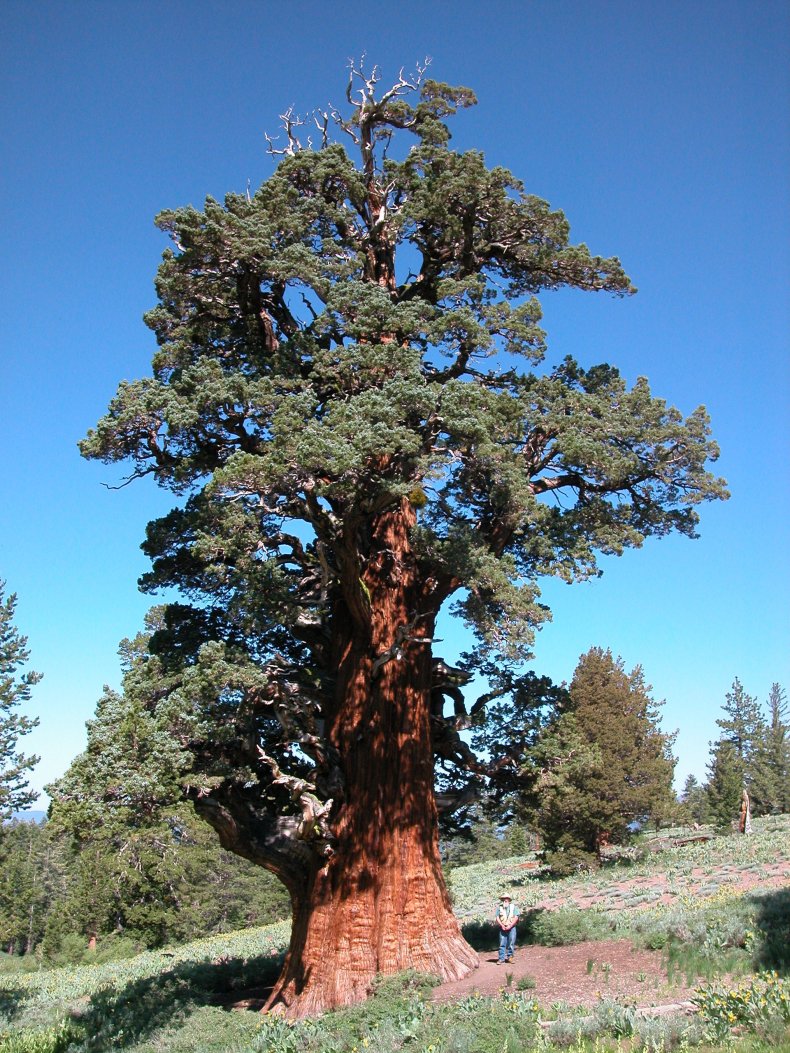 The Save the Redwoods League has estimated the Bennett Jupiter could be as much as 6,000 years old. It stands at 82 feet tall and just over seven feet wide. Some botanists have even suggested it could be the oldest tree on the planet.
Since the fire ignited on August 1, firefighters have only been able to contain 24 percent of the blaze. According to The Mercury News, crews expect to have the fire fully contained by September 1.
Save the Redwoods League senior scientist Kristen Shive told Newsweek that the organization regularly worked with state and federal agencies to "reduce the consequences" of wildfires.
"In California, with our hot, dry summers and flammable vegetation, it's not a question of if something will burn, but when," Shive said. "Over a century of putting out all fires has allowed many forests to become thick with trees and woody debris, which can increase the risk of more severe fires."
The fire has claimed dozens of cabins, including the Dardanelle Resort, which was bought by a family just three months ago. Laurelin and Jim Lewis purchased the holiday destination in May as a business venture. They moved in with their 10-year-old daughter, eight-year-old son and 18-month-old baby boy.
Speaking to The Modesto Bee, Laurelin said they had been lifted by the community, despite the destruction of their investment. "We're devastated, but we're leaning into that and the community," Laurelin said on Monday. "We're also there, to support cabin owners who have a deeper history than us."
When they purchased the resort, Laurelin and Jim were excited by the idea their youngest son would know it as home. "We were thrilled and our kids were thrilled because they have grown up going there."