Donor-Conceived Children Demand Rights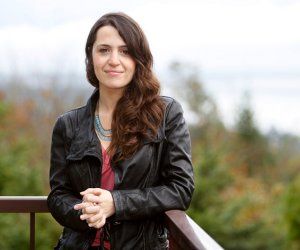 When she was younger, Alana S. used to experiment and tell people her dad died when she was a baby and that she didn't really ever get to know him. She would get a sincere hug and a heartfelt, "I'm so sorry." But when she told people the truth of her father's whereabouts, she got a response mostly filled with confusion.
"When I tell people I'm donor conceived, God, the blank expression on their face," Alana said. "They're shocked, they're paralyzed."
The reaction propelled her to create AnonymousUs.org, a no-names online story collective for donor-conceived people, their families, donors, and medical professionals. "The goal is for it to be a healing resource, and also I want to find the patterns. I feel like I'm a tile in a big mosaic and I want to see other people's tiles and get a big picture," she said.
AnonymousUs.org is part of the growing online presence and increasing visibility of the adult children of anonymous sperm and egg donors—kids who are not quite all right.
Unlike Joni and Laser, the donor-conceived teenagers of lesbian couple Jules and Nic in the recent film The Kids Are All Right, very few donor-conceived people have access to their donor's information. Most donors are anonymous and wish to remain so, and most records are destroyed. And that is the way we seem to want to keep it. For Alana S.; Lindsay Greenawalt, author of the Confessions of a Cryokid blog; and Olivia Pratten, a Toronto journalist waiting for a Canadian court to hand down a landmark ruling on disclosing donor records, that's simply unacceptable. They argue that their genetic makeup, their biological fathers, are very much a real and visceral part of who they are, and they have the basic, empirical human right to know that heritage: "Every time I look in the mirror I see my father," says Alana S.
Currently, in the United States, you need a license to sell a condo or cut hair in a salon, but not to broker human life. The $3 billion fertility industry goes largely unregulated, offering blank pages to those searching for information where the rest of us are free to access vital statistics of public record. "I'm not a treatment, I'm a person, and those records belong to me," says Pratten.
Pratten, 28, says the court case was a last resort. "Five years ago, it was like 'You're a fringe group with issues,' " she says. Now they're listening. She is petitioning the Supreme Court of British Columbia to preserve and disclose donor records (although she suspects her own may have already been destroyed). She sees the issue as practical and straightforward: "We want the same rights that adopted people have." (British Columbia has some of the most liberal adoption laws in Canada, where any adoptee who reaches age 18 may access her birth records.) That right exists in only eight states in the U.S.
The U.K., Sweden, Norway, Germany, Italy, New Zealand, and Australia have legislated for more transparency pertaining to sperm and egg donation. In those countries it is illegal to sell the means to human reproduction, clinics are licensed, donors are routed through a central agency and cannot be anonymous, and the number of donations is limited. Activists would like to see the same thing happen in the United States. Despite their growing presence they have yet to coalesce into a single powerful lobby or organization, although adoption-rights activist and author Zara Phillips notes that more donor-conceived people have been seeking out fellowship at adoption conferences.
Lindsay Greenawalt, 26, started her blog, Confessions of a Cryokid (the tagline reads: "What happens when little bundles of artificially created joy begin to speak for themselves? Revolt!") as a way to vent her anger and search for her donor. Where others' families naturally shape their identities, it is Greenawalt's search for her biological father that has literally shaped her. Having become so adept at search functions and the dynamics of DNA coding, she is now pursuing a career in medical library science. She finds she has become part of a support system for others: "It's to the point where it's less about me and more about what I can give back and the advocacy that I can raise, and just being a resource for people."
Alana S., 24, is interested in capturing the emotional side of things in a story collective that offers a place for anyone involved—kids, donors, social parents, surrogates, or doctors—to contribute their stories in complete anonymity. "I had a lot of personal issues to sort through and I wanted to tell my story, but I didn't want to humiliate my mother or any of my family," she says regarding the site's conception. Donor-conceived children often speak of feeling like, and being perceived as, "freaks of nature." "It was very validating for me [to meet others in an online community]," says Greenawalt. "I had never met another donor-conceived person." And because searching for a biological parent and advocating for open donation is a loyalty tug of war between the yearning to discover genetic family and the fragile feelings of the social family, the overwhelming majority are scared to come forward, notes Greenawalt, who couldn't be telephoned at home because her parents don't want the subject discussed. "When I do media, it's there in the back of my head, 'Don't say something that's going to get you disowned!' We all have that feeling we can't be entirely truthful," she says.
Another complicating factor toward bringing the voices of the donor conceived to the fore is the perception that those who want to know their original heritage are ungrateful for the families they already have. Many people even believe that it's a nonissue: "love is enough"—but won't address the hypocrisy inherent in an infertile couple's desire to have a biological child and yet deny that child's desire to know his or her biological roots. The mainstream media is interested only in portraying Oprah-like happy "reunions" (not years of fruitless, painful searching) but refuses to address the emotions behind why those meetings are so affecting. Activists want to make clear their intention is not to hurt their families; they simply want to put an end to the frustration. Says Pratten, "I am happy. I am loved. My dad is my dad. My parents support my case. They were in court with me every day. I still want to know."
Studies on the long-term well-being of donor-conceived individuals are few and far between owing to the secrecy that's shrouded the practice for the past 120 years, as well as the inherent selection bias present in any known population. In a provocative 2010 study entitled My Daddy's Name Is Donor, researcher Elizabeth Marquardt, director of the Center for Marriage and Families at the Institute for American Values, surveyed 485 donor-conceived adults, 562 adopted individuals, and 563 young adults raised by their biological parents. Marquardt and coauthors Norval Glenn and Karen Clark found that donor-conceived children are more likely to be depressed or anxious and engage in substance abuse and delinquency. Marquardt took some criticism because the study wasn't peer reviewed, but also because she does not support same-sex marriage: "It makes us unable to say in law and culture that mothers and fathers matter to children," she says. Herein lies another complicating layer to the issues of the donor conceived, in the United States legislating "family values" is nearly always conflated with a conservative or religious agenda. "This is not a same-sex-marriage issue, and I'm pissed off that it's made to be," says Alana S. "It's not a religious issue," says Greenawalt, who personally eschews organized religion altogether. "It's an ethical one." Says Pratten: "I prefer the adoption context. Everybody gets that." Phillips concludes: "Gay, not gay—the child is going to have feelings around it. To be in denial about it doesn't help the situation."
In fact, The Sperm Bank of California, which serves a large lesbian and single-mother-by-choice clientele, has taken the lead in the United States when it comes to transparency in donation. "TSBC has always been about building families, rather than focusing on pregnancies alone," says Joanna Scheib, associate adjunct professor of psychology at University of California, Davis, and the bank's research director. Scheib conducts her own studies and finds that family dynamics is the key factor in the well-being of the children of specifically same-sex couples. A recent study by Nanette Gartrell published in the journal Pediatrics arrived at a similar conclusion. The bank, which grew out of a women's health cooperative and is still nonprofit, has pioneered an Identity-Release program, the first of its kind in the U.S., where donor-conceived offspring can access their information at the age of 18.
At whatever point on the political, religious, or even academic spectrum these studies' administrators fall, they do seem to agree on this point: the majority of donor-conceived adolescents are curious about their biological origins. "They want information that most of us have from birth and take for granted and that helps answer questions we all ask in the normal psychological process of developing one's identity—who we are," says Scheib.
Perhaps the biggest challenge toward being taken seriously is the fact that "society's collective sympathies go to the infertile," explains Greenawalt. "No matter what we say they're going to look through that infertility lens and see us as ungrateful." Alana S. concurs: "We've met infertile couples and we sympathize with them. We're friends with infertile people and we know their story. America doesn't have a donor-conceived friend; we don't have that portrait, that story that we have emotionally connected to, and because there isn't that emotional connection no one cares." It's inspired her to write her own screenplay on the subject.
Strides have been made in creative contexts. Many in the donor-conceived community welcomed the more true-to-life characters of the Oscar-nominated The Kids Are All Right (certainly a quantum leap from degrading romcoms such as The Switch and The Back-Up Plan), but they are dismayed that, once again, we're really seeing only the parents' perspective. "The movie gives the impression that [the donor] won't be a part of their life and that they will be 'all right.' Donor insemination has a lifelong impact that is poorly understood, especially for the many of us who will never find our genetic father or mother, in the case of donor eggs," says Bill Cordray, 65, a pioneering voice in the struggle for donor-conceived rights and moderator of the Yahoo group PCVAI (Persons Conceived Via Artificial Insemination), one of the community's earliest Internet forums.
As the battle for hearts and minds rages on in churches, think tanks, laboratories, and cyberspace, the practice of selling gametes is only growing. Women on elite college campuses are aggressively targeted for their eggs, and sperm donor catalogs now feature celebrity look-alikes. Stricter legislation in some countries has encouraged "reproductive tourism" in others, prompting the European Society of Human Reproduction and Embryology to call for a standardized code of practice on cross-border care.
According to the CDC, more than one in 100 Americans is now born through assisted reproductive technology (in Australia it's more than 3 percent). No one knows exactly how many of those children are the products of anonymous eggs or sperm. What we do know is that these "kids" are now adults and using the Internet and DNA technology to try to reclaim the first chapter in the story of their lives. They are shedding the passivity and shame of the past and need their voices to be acknowledged. Warns Pratten: "I'm just the tip of the iceberg."