Donors to Expect Temperature Checks and Health Questionnaires as Trump Looks to Resume Fundraising Events: Report
As President Donald Trump sets to resume in-person fundraising events in June after a months-long hiatus due to the coronavirus outbreak, donors can expect temperature checks and health questionnaires before entering events, according to a recent report from The Hill.
While he has pushed for the nation to begin reopening, the president has also begun making trips to swing states like Florida and Michigan to encourage his message.
Trump has said he wants to resume campaign rallies, but large gatherings have yet to be permitted by most states. The last in-person rally the campaign hosted was back on March 2 in Charlotte, North Carolina.
As the campaign tries to revive efforts for his reelection while following social distance guidelines, Trump's upcoming events are expected to limit the number of attendees as well as enforce health checks and cleaning protocols at the event sites.
A campaign official confirmed to The Hill that Trump is scheduled to host two events on June 8 in Dallas and June 13 in New Jersey, each expecting about 25 people--the latter being an outdoor event at his golf course, Trump National Golf Club Bedminster.
Attendees will need to test negative for a coronavirus test on the day of the event in order to enter. They will also be required to complete a health questionnaire and pass a temperature screening, which will be conducted by the White House medical unit and Secret Service.
The White House declined Newsweek's request for comment.
The president's fundraising committee, Trump Victory, is set to pay for the tests.
The New Jersey fundraiser will cost individual donors $250,000 each, while couples wanting to attend the event in Dallas will need to contribute $580,600.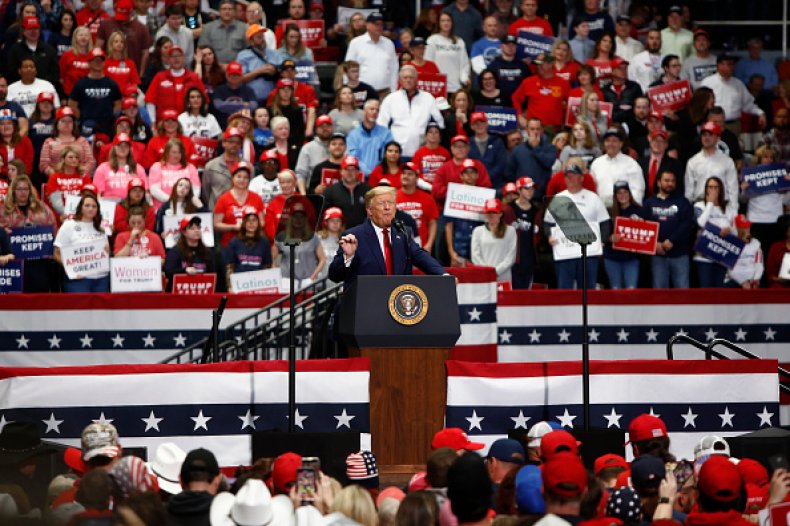 The Republican National Committee (RNC) has also been pushing for their party's convention in Charlotte, North Carolina to go on as planned in August. RNC chairwoman and the president of the convention committee, Marcia Lee Kelly, wrote to North Carolina Governor Roy Cooper earlier this week asking him to approve of safety measures for the event.
In his response, Cooper asked the RNC to elaborate on how they plan to implement their safety measures. He asked them detailed questions, including if testing would be limited to the first night of the convention or if they would extend into the rest of the four-day event.
He noted that "while North Carolina is now in Phase 2 of easing restrictions, this past week, we had our highest day of new lab confirmed COVID-19 cases in the state, and we have increasing numbers of people hospitalized with COVID-19."
Cooper said in his statement on Friday that the state continues to support the hosting of the Republican National Convention if it can be done safely.
Newsweek reached out to the Trump campaign, which did not offer an on-the-record comment.