Donovon Lynch's Family Sue Virginia Beach For $50m After Fatal Police Shooting
The father of Donovon Lynch, a young Black man fatally shot by a police officer earlier this year, is suing the city of Virginia Beach for $50 million.
Lynch's shooting drew national attention earlier after his cousin, musician Pharrell Williams, called for transparency in a since-deleted Instagram post.
At the time, Virginia Beach police said 25-year-old Lynch had been brandishing a handgun when an officer shot him. But no footage of the shooting was captured as the officer's body camera was not activated at the time.
Lawyers for Lynch's father Wayne Lynch, the administrator of his estate, say the civil rights lawsuit they filed provides additional context around the shooting and the police response, as well as naming the officer involved for the first time as Solomon Simmons.
"The past few months have been heartbreaking, but today is the first step toward getting justice for Donovon," Wayne Lynch said in a statement provided to Newsweek.
According to the legal complaint, obtained by Newsweek, Lynch was walking back to his car after leaving a restaurant with a friend when Simmons shot him on the city's oceanfront on the night of March 26.
"Officer Simmons was on his way to respond to an incident in which Mr. Lynch was not a suspect and not involved," the complaint says. "Mr. Lynch posed no threat to Officer Simmons or anyone else."
The complaint lists several counts against the city and Simmons—including wrongful death, excessive force, gross negligence, and failure to properly train and supervise.
It notes that Virginia Beach police responded to the city's oceanfront area to investigate reports that gunshots had been fired.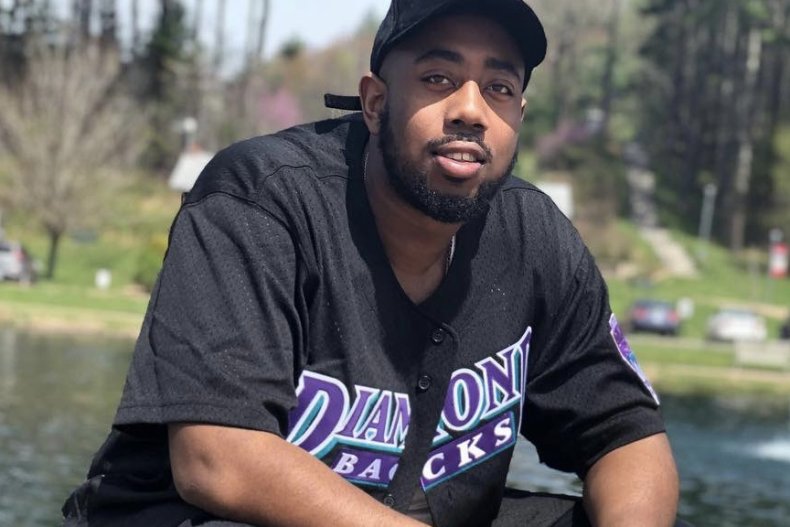 When those shots were fired, Lynch and his friend were in a restaurant, according to the complaint.
When they left, they saw "a throng of people and Virginia Beach Police Officers," the complaint said. "They decided to leave the Oceanfront and began to walk away from the area and towards the cars in which they had arrived."
It was while they are walking towards their cars that the men encountered Simmons, according to the complaint.
"Immediately, unlawfully, and without warning, Officer Simmons fired his police-issued firearm at Mr. Lynch, shooting him twice and killing him," it said. "At the time of his death, Mr. Lynch was 6'5" and weighed 305 lbs. A former offensive lineman for the University of Virginia College at Wise, he stood out due to his enormous size. He was unmistakable as anyone else."
The complaint alleges Simmons failed to identify himself or issue any warning, and failed to attempt to stop or otherwise determine Lynch's identity, before shooting.
It also notes that Simmons failed to activate his body camera. "Officer Simmons knew or should have known that his body camera needed to be activated pursuant to Virginia Beach Police policies, procedures, and/or protocols," it says.
Lynch's shooting led the city to change its body camera policy to require officers to activate cameras immediately when an officer marks "en route" to a call for service. The previous policy only required officers to activate cameras as soon as they arrived on the scene and as soon as it was "safe and practical to do so."
The complaint also alleges Simmons failed to render life-saving medical aid after shooting Lynch, and/or failed to cause others to render life-saving medical aid.
Simmons "demonstrated such an indifference to Mr. Lynch as to constitute an utter disregard of caution or prudence, amounting to a complete neglect of the safety of Mr. Lynch," the complaint alleged. "Officer Simmons' gross negligence, as described herein, is conduct that would shock the conscience of fair-minded people."
Lynch's father is demanding a trial by jury, $50 million from the city and Simmons, and further punitive damages be awarded against Simmons for $350,000.
The legal team—including Alex Spiro, an attorney who has represented Jay-Z and Elon Musk—say Simmons has been placed on administrative leave pending the outcome of an investigation. However, they added that the police department has not been forthcoming with information about the shooting.
The city of Virginia Beach and the Virginia Beach Police Department have been contacted for comment. Simmons could not immediately be reached for comment.
Update 6/22 11 a.m.: This article has been updated with a statement from Wayne Lynch.