Don't All Black Lives Really Matter? | Opinion
The brutal death of George Floyd in Minneapolis on May 25 has been the story of the year. Since that day, we've seen the emergence of an important discussion about police brutality and much more related to race in America. We've seen protests, most of them peaceful. And we've seen some violence, too.
I will not say that we don't have a problem with police killing Black men. We do. But we have another problem. And it's killing a lot more Black men than white cops do.
Start by paying attention to recent headlines regarding the violent murders of Black men—and some Black women—across the country. Here are just a few headlines this past month in Chicago alone:
Rightfully, we know the name of George Floyd. But what about the names of all of the murder victims in Chicago since May 25?
The victims in the Windy City were mostly young, male and Black—killed mostly by other Black males. All had their lives, dreams and futures ended too soon.
It's Columbine every weekend in America's third-largest city, but the camera crews aren't there. The marchers aren't there. The activists and politicians aren't there. Just a long list of grieving Black families wondering why the murder of their Black children means so little to so many?
The Chicago Sun-Times is making sure those names are remembered. They have a special page devoted to memorializing every murder victim. It's a heartbreaking web page to browse: https://graphics.suntimes.com/homicides/.
Here are some of the names. Amaria Jones, Female, 13; Jasean Francis, Male, 17; Alonzo Robinson, Male, 27; Kentray Young "Tre Savage," Male, 26; Almos Collum, Male, 33; Tyrone Thomas, Male, 19; Arthur Owens, Male, 31; Danannris Lipcomb, Male, 41; Victor Hudson, Male, 30; Kevin Applewhite, Male, 35; Denzail Gresham, Male, 27; Courtney Horton, Female, 32; Cincere Joiner, Male, 17; Darius Smith-Ross, Male, 29; Randle Lee, Male, 41; Jeremiah Jones, Male, 15; Johnathan Stanton, Male, 31; Pierre Johnson, Male, 30; Dante Denny, Male, 29; August Gills, Male, 18; Larita Kinley, Female, 37; Gerald Johnson, Male, 31; Andre Jackson, Male, 24; Alex Clark, Male, 21; Deshon Dillard, Male, 22; Shanon Steward, Male, 24; Andrew Crues, Male, 34; and Darius Ferguson, Male, 26.
Who are their mothers? I wondered as I cried.
Those Black lives matter, too, I thought. But the nation doesn't name their names. The nation isn't weeping for them. And why? It comes down to this: A white cop didn't kill them.
There have been 290 murders in Chicago in 2020: Most are Black on Black murders. Across America, young Black men are killing each other at disturbing rates, and no one seems to care. Black people are either too afraid or too ashamed to talk about it. Better to talk about white cops and racism instead.
But facts are stubborn things. Of the 13,455 people murdered in America in 2016, 7,039 were Black. That's 52.3 percent of the total murder victims in the country, though we represent only 12 percent of the nation's population.
We're killing each other at many times the rate white people are killing each other, but we've convinced ourselves that white cops are our biggest threat? That white racism is our biggest problem?
Last weekend, The Washington Post reported that scores of fathers gathered with their children to celebrate Black fatherhood. It was a positive piece about the joys of raising children, but as the story continued, things got strange.
We heard from Daryl Curry, a video educator who was celebrating his very first Father's Day with his 10-month-old son. "A lot of Black fathers don't have this opportunity, to be a father," because they die at the hands of police, Curry told the reporter. "The opportunity is taken from them, and it's damaged the community."
Curry failed to present the whole truth. The Black men murdered on the streets of Chicago by other Black men were denied that opportunity, as well. Why didn't he share that reality with The Washington Post reporter? Or his son?
How, I wondered, did we get to a place where we can lie to ourselves like this?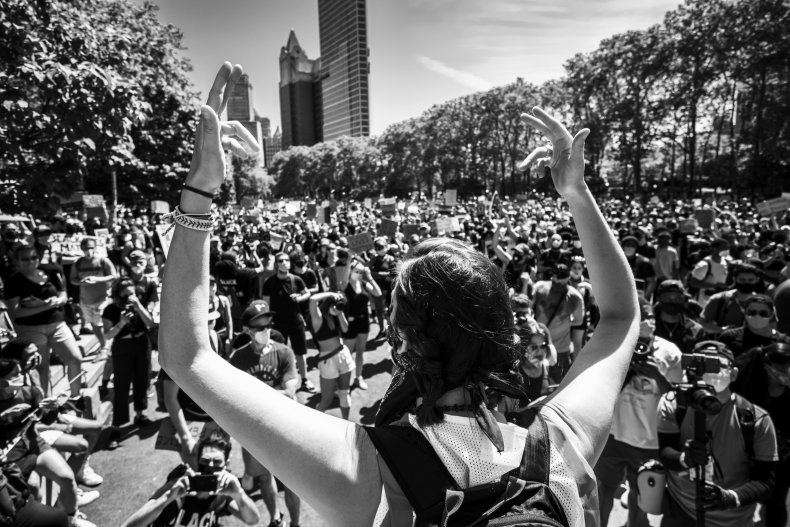 I am always thrilled when Black men do the important work of being fathers. I applaud men of all ethnicities and races who do the same. But we African-Americans have a father problem. An astounding 75 percent of our Black children grow up without one, and it is big factor in the violence exhibited in our cities every day.
It's a truth we avoid at our own peril: When men abandon their children, a certain kind of love only fathers can provide is left behind. Fathers teach boys how to become men. Fathers teach them to channel their masculine impulses in productive ways. It's a father's job to instruct, guide, correct and bring children to church. It's hard to have faith in anything, let alone God, when your own father abandons you.
White and Hispanic fathers commit the same failures at tragic, though lower, rates. But I'm writing to all the Black men who have not done right by their children: You know who you are. It's not too late to step up and be the father you can be. To heal the wounds of the past. And turn the victims of fatherlessness into victors. It's never too late—as Spike Lee once said—to do the right thing.
It's not a mantra heard at many Black Lives Matter rallies, but it is true nonetheless: All children deserve a loving father. The world would be a better place if men who made babies raised them. That would lead to a real revolution. A revolution of hope. And love.
Black Christians, in particular, should be behind this message. "Thou shalt not kill" is one of the Ten Commandments. So is "Honour thy father and mother." Tragically, too many of our Black men kill each other because they have no fathers to love or honor.
Last weekend in Chicago, the youngest murder victim was a three-year-old named Mekhi James. He was shot Saturday evening, when someone opened fire at his father's car. His father rushed him to West Suburban Medical Center, where he was pronounced dead. His father, 27, sustained graze wounds to the abdomen. The wounds to his heart will never heal.
Is it too much to ask that we march not just for George Floyd, but for Mehki James, too? And for thousands of Black men left for dead on our inner-city streets over the past year? Too many died because a father never loved them. Many who are in prison are there for the very same reason.
That's a march I'd be happy to lead. It's a march that might lead to real change. To the real hope we've all been praying for.
Cynthia Garrett, is a long-time TV Host, producer and Author of I Choose Victory: Moving From Victim To Victor (Salem/Regnery 2020). She is also the Founder of Cynthia Garrett Ministries and The Bernard Garrett Sr. Foundation for Financial Literacy.
The views expressed in this article are the writer's own.