Don't Believe the Hillary Clinton–for–VP Meme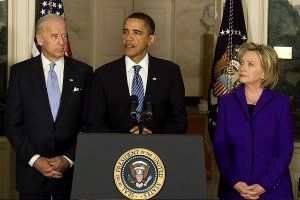 The Daily Beast's Tunku Varadarajan isn't mincing words: "The only way Obama can win re-election is with Clinton on his ticket. The Democrats' least-sullied heavy hitter, she'll hold the party together—and be a magnet for crossover voting," he writes today.
He reasons that President Obama is potentially in electoral trouble for 2012 (a fair assumption) and that Joe Biden has outlived his usefulness, having given the Obama campaign the gravitas of an old, white, working-class man that it needed. For 2012, however, Clinton—who still enjoys high approval ratings—will give the presidential-reelection campaign a boost.
Varadarajan's column follows on a column at The Wall Street Journal (his old employer), by John Fund, who claims that the Draft Hillary for Veep campaign "is gaining traction." Fund, in turn, cites former Virginia governor Doug Wilder, who made the argument in a Politico op-ed last week.
There are two problems here. One, the movement isn't gaining traction—unless baseless speculation by pundits constitutes traction—and two, the political math is fuzzy at best.
It's probably a safe assumption that if the major proponents of a strategy for Democrats are current or former staffers of the Journal editorial pages, the Dems should perhaps be wary (just as the GOP would want to steer clear of a Republican strategy proposed by the Huffington Post). You can look, too, at the people who are doing their best to amplify the claim: right-wing outlets like Pajamas Media, the Daily Caller, and even WorldNetDaily.
Nor is Wilder exactly in the Democratic mainstream. He left his last high-profile gig, as Virginia's governor, in 1994, and was last heard from refusing to endorse the Democratic candidate for Old Dominion governor last year. Washington Post online style columnist and D.C. doyenne Sally Quinn is also in Wilder's camp, but she's not part of the Democratic mainstream either. MSNBC's Hardball discussed the topic, but that seems mostly to be proof that Chris Matthews has to fill a long show every night. And Politico's Mike Allen ridiculed Fund's column, offering the tongue-in-cheek disclaimer that it was "NOT [from] The Onion."
But let's consider the merits anyway. First, what would adding Clinton gain Obama? Proponents/sophists point to her high approval ratings and successful (so far) tenure as secretary of state. But Foggy Bottom is a good place to boost poll numbers. She's avoided major gaffes, and the major foreign-policy hotspots are the wars in Iraq and Afghanistan, so the heat's on the Pentagon and White House. Anyone in her job would be cruising along. Proponents also say that Clinton—and, perhaps just as important, her husband—would bolster Obama's sagging ratings among white, working-class voters. But that's something that Biden does, too, and his Scranton foundational myth makes him perhaps more effective than the Wellesley- and Yale-educated Clinton.
On the other hand, there are plenty of negatives to the Hillary option. Obama avoided adding her to his 2008 ticket, and received criticism for appointing her secretary of state, because of the danger of Bill Clinton overshadowing her and the administration. That's still a danger—love him or hate him, the former president's star power is undeniable. She's got plenty of baggage of her own, too. As soon as Clinton returns to the domestic-policy spotlight, her rabid and devoted detractors will start up the mantra: Hillarycare, Vince Foster, Whitewater. And that doesn't even get into her wildly undisciplined 2008 campaign; a similarly sloppy squad in 2012 would be tough to reconcile with the famously on-message Obama team.
Furthermore, as Steve Kornacki of Salon—a determined debunker of the Hillary for VP meme—points out, Biden is hardly problematic in comparison with his predecessors. Still, if he were a liability, orchestrating the swap would be full of tactical headaches (especially if, as John Heilemann suggests, Obama were to send Biden to take over State in Clinton's stead), even if, as my colleague Howard Fineman reports, she'd jump at the opportunity to join the ticket. Yes, it's true that Clinton looks like a strong contender to run for the Democratic nomination in 2016, but that will be the case either way, it's a long way away, and, as Kornacki says, a defeat as running mate in 2012 could set her cause back.
So it's hard to see how the math really works. The idea of a dream ticket in 2012 is fun for pundits to discuss in a slow August news cycle, but don't expect to see Biden bowing out in a year's time.