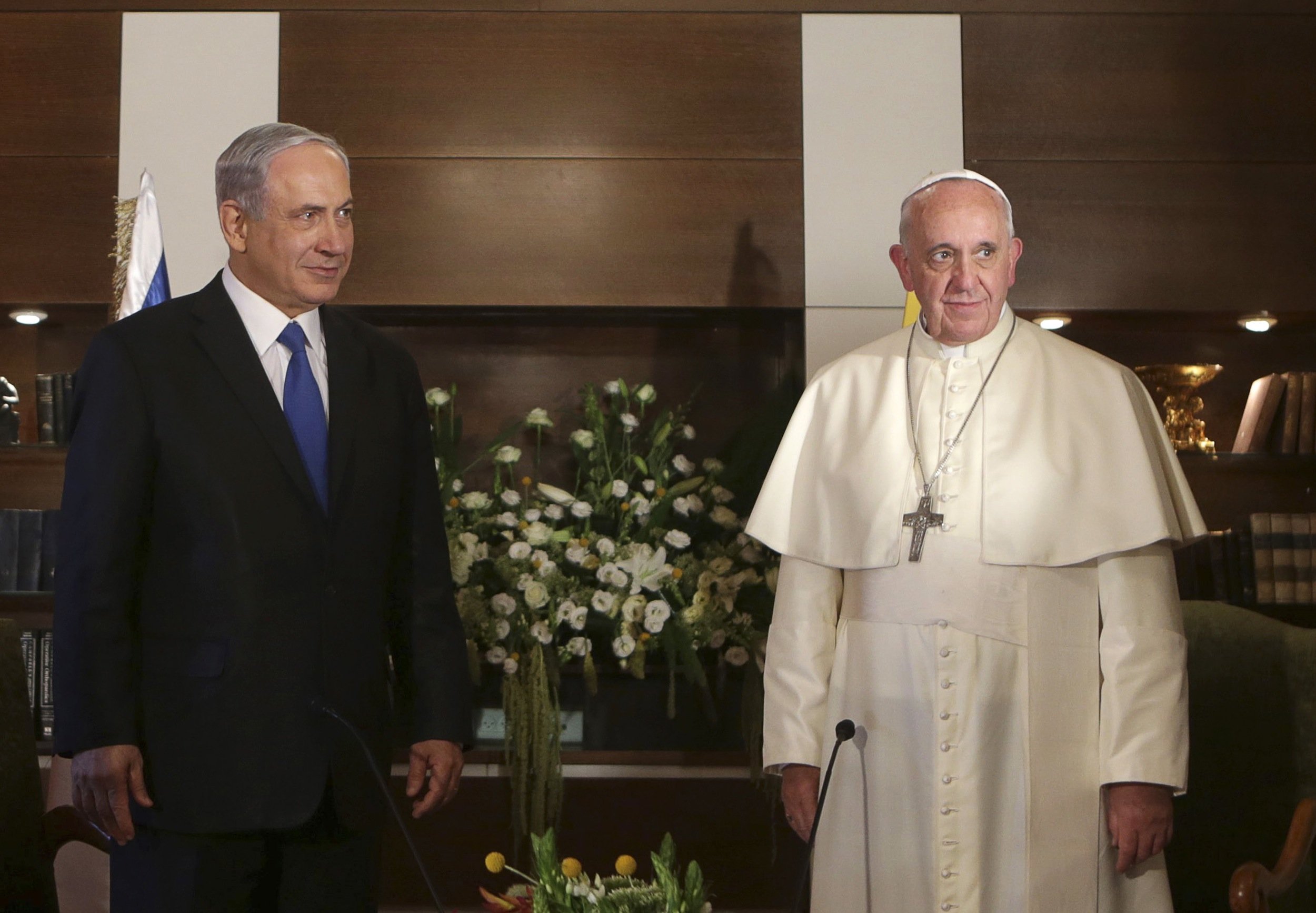 By inviting the Israeli president and his Palestinian Authority counterpart to his Vatican home for a "prayer for peace," Pope Francis has given Shimon Peres, one of the best known statesmen in Israel's history, an opportunity to shine on the world stage for perhaps the last time. But the pope may also have stepped in a minefield of political and religious sensitivities.
The invitation to President Peres and the Chairman of the Palestine Liberation Organization, Mahmoud Abbas, could be seen as an inspired way for the pontiff to put some content behind his very public call on both sides to renew peace negotiations. But even the date that was reportedly set for the meeting, June 5, is fraught with problems.
It falls on the second day of the Shavuot festival, in which Orthodox Jews are not permitted to travel. As for Palestinians, the day is a painful reminder of the 1967 Six-Day War, launched on that date, in which Arab armies suffered a profound defeat and in which Israel conquered the West Bank, the Golan Heights, Gaza and the Sinai Peninsula previously held respectively by Jordan, Syria and Egypt.
The date for the Vatican prayer meeting is not yet officially set and is likely to be moved. But other religious and political sensitivities remain.
Both Abbas and Peres hail from secular streams of their national movements. But their date with the Pope may anger Jewish and Muslim sects that frown upon prayers at Christian venues, and that consider all parts of the Vatican as such.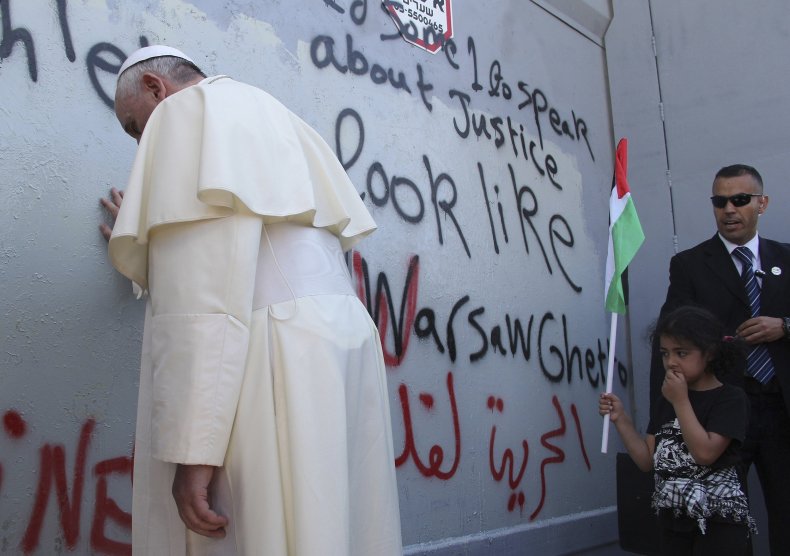 When inviting Abbas and Peres for a prayer, "the pope was well aware that he was addressing a Jew and a Muslim," retorted David Neuhaus, the Jerusalem's Latin Patriarchal Vicar for Hebrew-speaking Catholics. A Jewish convert to Catholicism, Father Neuhaus says the invitation was not framed as a "formal event." He quotes the Pope as telling Peres on Monday, "Let us make room for God, so he can show the way. We are all children of God, so we can remember that my brother is sitting next to me, as we come from the same father."
Peres enthusiastically accepted the pope's invitation. "I believe that your presence here and your call for peace will echo around the region and help to renew efforts for completing the peace process between us and the Palestinians, on the basis of two states living side by side in peace," he told the pope when greeting him at his presidential residence in Jerusalem.
Pope Francis believes in personal diplomacy, said Neuhaus. "He is a man of friendships, and he feels strong kinship with Abbas and Peres." Neuhaus notes that at their meeting Monday, the pope told Peres, "You know that I pray for you, Mr. president, and I know that you pray for me."
But subtle differences between the two men remain. Earlier during his trip, while hosted by Abbas, the pope made a reference to the "state of Palestine," as it is recognized by the United Nations General Assembly. Yet both Jerusalem and Washington said such a state could only be formed through a negotiated pact with Israel. As Peres pointedly told the pontiff, "A jewish state, Israel, and an Arab state, Palestine – that can only be achieved by mutual agreement."
Hence lies the political complication that could arise when the prayer session takes place in Rome next month. Will it merely be a spiritual event, or is it meant as an opportunity to relaunch peace talks, which under American mediation all but died last month?
Start with the uneven status of the Israeli and Palestinian invitees. While Abbas, as the head of the Palestinian Authority, is the ultimate decider on matters relating to the peace process, the Israeli president, formally, has no such power. In Israel the presidency, though defined as a "head of state" office, is mostly ceremonial. It is the prime minister who steers the affairs of state.
It is notable that in Jerusalem the political world's reaction to Peres's quick acceptance of the Pope's invitation for prayer was – like the dog that didn't bark – a thunderous lack of comment.
Prime Minister Benjamin Netanyahu refrained from even referring to the Peres invitation when he greeted the Pope Monday. He neither endorsed nor rejected it. Right-wing Israeli politicians, who are usually wary of any "ambush" that could lead to concessions to the Palestinians, also kept mum.
Jerusalem accuses Abbas of undermining peace talks by joining international treaties and, more significantly, by signing an agreement with Hamas to include that organization -- which Israel, America and the European Union define as terrorist -- in the Palestinian Authority.
Angered by these moves, Netanyahu frowns on any attempt by high profile politicians to independently contact Abbas in order to revive the talks. On Monday, even as the Pope remained in Israel, the prime minister warned his cabinet ministers against consorting with Abbas.
He was reported to have been angered by a meeting in London on May 15 between Israel's Justice Minister Tzipi Livni and Abbas. According to some reports, Netanyahu was so furious at the meeting, which he did not authorize, he threatened to fire Livni, who is the point-person for any Israeli-Palestinian peace talks.
"I hope we won't see a recurrence of this incident, and if we do, we will weigh how to act," he told fellow Likud party members on Monday, according to the Israeli website Walla.
Peres, meanwhile, remains a controversial figure even though he has become a sort of father figure for the Israeli nation. Just shy of his 91st birthday, the presidency is largely seen as his last role in a long career at the top of the country's public life. Widely admired world-wide, Peres is perennially derided by the Israeli right as a "tireless political saboteur," as his fellow Labor Party stalwart, the late Yitzhak Rabin, once called him.
As president since 2007, Peres has at times defied Netanyahu on political matters – including urging more concessions to the Palestinians and successfully organizing opposition to Netanyahu's plan, along with former defense minister Ehud Barak, to launch a preemptive military attack on Iran's nuclear facilities.
As his presidency expires at the end of July (a new president is scheduled to be elected by the Knesset on June 12), the pope gave Peres the chance to commit an "end of term act that once again will put him in the global limelight," says Amnon Ramon, a scholar of Israel's relations with the Holy See at Jerusalem's Hebrew University.
Pope Francis invited Peres rather than Netanyahu because "it's hard to imagine that Netanyahu would have come," Ramon says. "The pope must have wondered what could he do to advance the peace process -- and this is what he came up with. On the face of it, it's hard to imagine that much would come out of it as far as the peace process is concerned. But who knows? It remains to be seen."
Follow Benny Avni on Twitter: @bennyavni