#Don'tDeportMelania Trends After Trevor Noah Says Donald Trump's Immigration Policies Are Aimed At His Wife: 'I See What You're Doing, Donald'
Comedy Central's Trevor Noah set Twitter alight on Wednesday night when he jokingly revealed who he truly believes is the ultimate target of President Donald Trump's hard-line immigration crackdown—the U.S. leader's own wife, Melania Trump.
After Noah called on his Daily Show viewers to take a stand against what he argued was a calculated campaign concocted by Donald Trump to see Melania Trump deported, Twitter users flooded the social media site with the hashtag "#Don'tDeportMelania."
While some posters offered words of support for the first lady, the majority of Twitter users simply showed up to shower Noah with praise for coming up with one of the most clever Donald Trump conspiracy theories yet.
"Welp, Trevor Noah now owns the internet and we all have to pay him rent," wrote Above The Law Executive Editor Elie Mystal, adding the "#Don'tDeportMelania" hashtag.
In his Daily Show segment, Noah sought to break down his theory for the masses, taking a close look at Donald Trump's immigration policies through a new lens.
"While her husband has struggled to get his approval rating over 40 percent, Melania has consistently remained the country's most popular Trump, and personally, I love her too," Noah said. "We have so much in common. We're both immigrants, neither of us would be here if it weren't for Donald Trump… And, I'm just going to put it out there, we're both style icons."
"But the reason I've been thinking about Melania lately is because in the wake of Trump's recent immigration crackdown, I've started to notice something that's got me really concerned: I think Donald Trump is trying to deport Melania.
"You might be asking 'why would he want to deport his wife?'" Noah said over the audience's laughter. "I don't know, but things haven't exactly been perfect between them.
"First of all, it's no secret that Melania barely spends any time at the White House. Secondly, when he tries to hold her hand in public, she tries to slap it away like a Slovenian Dikembe Mutombo—you remember that," Noah said, referencing the basketball player's signature block and finger wag gesture.
"And who knows, it may have even created some tension between them when Trump allegedly banged a porn star and paid her to be quiet and then the whole country found out about it," Noah said.
In a bid to back up his theory that Donald Trump has been plotting to see his wife deported, Noah sought to connect several dots between Donald Trump's immigration policies and how they could, at least hypothetically, be applied to Melania Trump.
"I know it sounds crazy; Donald Trump wants to deport his wife?" Noah said. "But if you look at all of Trump's immigration policies, right, a lot of people think that he just hates immigrants. But, when you put them all together you start to notice a pattern. All of his policies seemed to be aimed at his wife."
Delving into his theory, Noah first pointed to the president's apparent outrage over immigrants who have "come to the United States in the wrong way and work in the country illegally"—and how it could be applied to the president's own wife's "questionable immigration history."
Specifically, The Daily Show host pointed out the widely reported discrepancies between Melania Trump's timeline working as a model in the U.S. and the timeline of her green card and citizenship process.
Even before Donald Trump's 2016 election victory, the timing of Melania Trump's early model work in the U.S. had prompted questions around when she first entered the country and whether she had been legally permitted to work here.
As Noah noted, Donald Trump had said Melania Trump would be holding a news conference to address the issue. However, that never happened.
"To be fair, it's only been three years since that promise was made," The Daily Show host said. Regardless, he said, "it seems a little convenient that Trump would bring up the legal work thing when he knows his own wife has a shady visa history."
"Clearly, when that failed, Donald tried to switch things up," Noah said, pointing to Trump's later complaints against immigrants coming to the U.S. as skilled workers.
Noting that Melania Trump had obtained U.S. citizenship on the "Einstein" visa, which is marked for immigrants with "extraordinary ability" and "sustained national and international acclaim," Noah said it "seems strange" that the first lady would be granted such a document. "Although, I guess if you spend enough time standing next to Donald, anyone starts to look like Einstein," he quipped.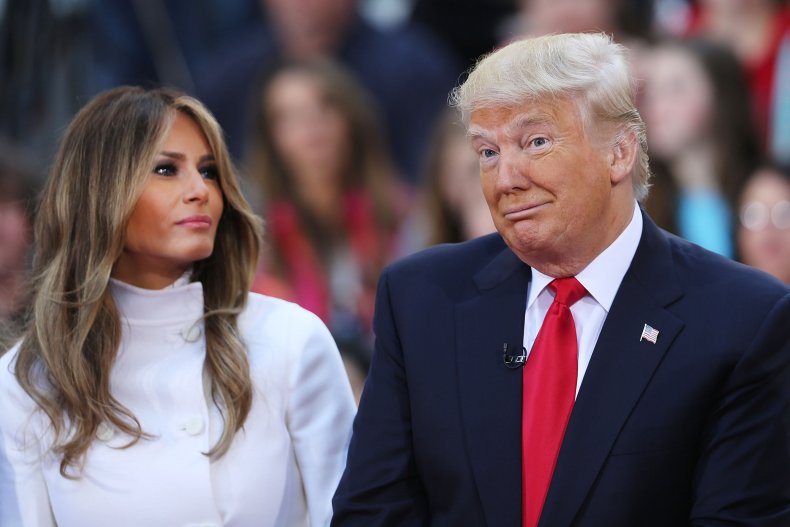 Further backing up his theory, Noah pointed out how heavily Donald Trump has campaigned against chain migration, the process by which family members of a green card holder are able to come to the U.S.—and the process by which Melania Trump's own parents came to the country.
"It was really slick for Trump to make it seem like this thing was about uncles and aunts and cousins, but clearly there was someone that he was actually aiming at all along," Noah said. "He was trying to turn his in-laws into outlaws, which is super hardcore."
Finally, The Daily Show host turned to the Trump administration's latest "public charge" rule, which is set to make it more difficult for low-income immigrants to obtain green cards and temporary visas.
"They came out saying that immigrants who receive assistance from the government may not be allowed to stay in the United States," Noah said. "Well, guess who lives in a free house provided by the United States? Melania f***ing Trump!
"Donald, I see what you're doing, Donald. I see what you're doing and I'm not going to let it happen," he said, before calling on viewers to tweet in support of Melania under his now-trending hashtag.
"Because if this great immigrant is forced to leave this country, then the United States can never truly 'be best,'" he said, in a reference to Melania Trump's own Be Best public awareness campaign against cyberbullying and drug use.
Among the tweets responding to Noah's call, was a post from writer Tara Dublin, who has been credited with helping turn the hashtag viral, after tweeting out the words, "Aw, #Don'tDeportMelania, they're such a happy couple!" alongside an image showing the president and first lady sat together with the words "I hate you" drawn in a speech bubble over Melania Trump, while Donald Trump responds: "I know."