'Don't Eat That Sh*t': Woman Warns About Free Hotel Breakfasts
A now-viral video showed a woman who claimed to have worked in the hospitality industry warning others not to eat the hotel's continental breakfast.
The video has amassed more than 380,000 views since it was posted late last week. Brandi Augustus, or @brandiaugustus on TikTok, said she worked in the industry for nearly fifteen years and that over those years, she worked for numerous brands and still saw similar patterns.
"If your hotel serves a hot continental breakfast, eggs, waffles, stuff like that," she said in the video with creepy music playing in the background. "Don't eat that sh*t."
In the video, Augustus claimed that hotel corporate and management "don't give a sh*t" about the breakfast." She recalled a time she was trained at a hotel and the night auditor told her to only use one paper towel to clean the entire hotel.
She said throughout the night, she used the same paper towel to clean the kitchen bowls, silverware, along with the tables.
She recommended that people who want to enjoy a continental breakfast from their hotel should stay at a Double Tree or another hotel that has a chef.
"The waffle station," Augustus said. "Check the waffle maker and see if the waffle maker is even clean, okay? Because oftentimes, it's not."
She also explained that the waffle batter is not made fresh every day like many assume.
"That waffle batter gets reused until it starts to smell like beer," she said. "I learned a lot, that's why I don't do that shit no more."
Many users in the comments claimed they also worked at hotels and had similar stories to share.
"As a night auditor for a very popular hotel, she telling the truth!!" one user commented. "Stick to the pre-packaged foods, also check the room before you bring luggage in."
Augustus even replied to the comment recommending people also check the bed and surrounding area for "critters."
Others recommended various hotels they would get breakfast from, including Embassy Suites. Augustus replied saying it was "hands down the best breakfast" she ever had in the industry.
Some commented on how these practices definitely broke regulations. But Augustus explained to Newsweek that during audit hours, nobody really checks in to see how breakfast is being set up.
"They pass the health codes because the health department doesn't come during audit hours," she explained. She said that audit hours are between 11 p.m. and 7 a.m. and that the health department doesn't even open until 8 a.m.
"Nobody ever checks how breakfast is set up," she told Newsweek. "They just check how it's operated."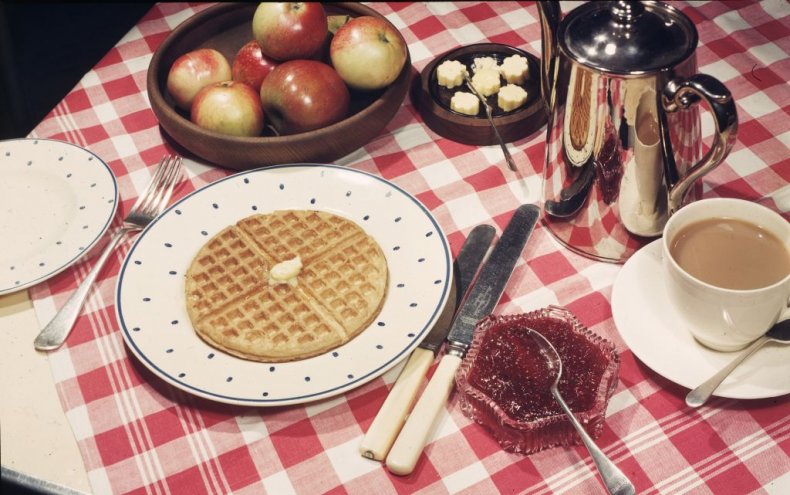 Newsweek recently reported on a viral video that showed the reality of some restaurants' ice machines. The video, posted by @jantheman____ on TikTok, showed a moldy commercial ice machine and received more than 5.5 million views.
"A lot of times people go to a restaurant, they get sick, and they think it's food poisoning, or their food made them sick," he said in the video. "Let me tell you this, there's a chance that it was their ice that got you sick."
In another video, @jantheman____ warned people against consuming ice from hotels. In the TikTok, he walked up to a commercial ice machine inside of a hotel and lifted the front to reveal mold inside. He said people should not use it unless they are cooling bottled drinks.