Don't Expect to See a Live Audience Cheering for Contestants on 'The Voice Season' 19
The Voice returns to NBC for its 19th season on Monday, albeit with one major change: There will be no live audience cheering on contestants as they sing for a spot on Blake Shelton, John Legend, Gwen Stefani and Kelly Clarkson's teams during the blind auditions.
That's not the only change to the singing competition. There will be no studio audience when each of the coaches' chosen team members face-off in the Knockouts or Battle Rounds, either. And there's a big chance that there also won't be a live audience when the top contestants sing for their chance of being crowned The Voice's Season 19 winner at the Live shows.
"At this point, we don't have plans to bring a live in-person audience into the show for this season yet. But we're constantly checking that and educating ourselves on when and how we can do it. But no definite plans at the moment," Audrey Morrissey, an executive producer of The Voice, told reporters during a virtual event attended by Newsweek recently.
With staff and crew members reduced by 60 percent for Season 19, showrunners are taking many precautions to keep contestants and judges safe. That means refraining from inviting spectators into the studio (including the contestants' family members), having coaches and contestants take routine coronavirus tests, enforcing facial covering mandates for crew members and seating coaches far apart on set.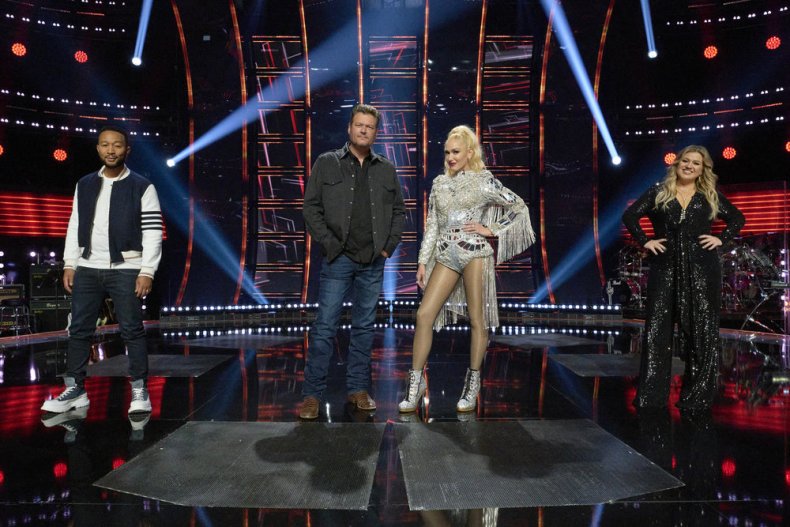 You know how The Voice host Carson Daly and coaches usually hug the people who have landed a spot on the show? Expect to see them offering their congratulations by way of a rubber hand attached to a six-foot stick.
"That said, we're doing everything in our power to make our show feel like our show and feel like the show that everybody's loved and will continue to enjoy," Morrissey added.
While Morrissey noted that showrunners are anxious to get the green light for a live audience eventually, like some other NBC shows currently airing—Saturday Night Live and a number of late-night shows have resumed filming at their designated studios in front of a limited, socially distanced audience—The Voice producers were still able to give contestants some background support for their performances. Any hooping and hollering on the show this season will come from the four coaches, Daly and a massive virtual audience comprised of contestants' family members and friends and hundreds of other Americans tuning in from home.
That may sound bleak compared to the thrilling and loud performances viewers were privy to back on earlier seasons of the show, but Morrissey said axing the live audience as a COVID-19 safety measure actually may have led to better overall performances from contestants during the auditions, Knockout and Battle rounds of the season, all of which were filmed over the summer when coronavirus cases started to downturn.
"We spent a lot of time thinking about how it would be [without a live audience]. How would it be for the artists singing—to kind of feel naked out there and not have that crowd, that feedback, to help lift them up and carry them through?" she said, explaining that there was a point early into filming when producers weren't even certain they'd be able to supply contestants with a proper band.
In the end, though, the absence of a live audience turned out not to be a problem at all.
"But I will tell you this, what was absolutely shocking in some ways was that the music was incredible. The singing was incredible. It's definitely one of our better singing, vocal seasons. And a lot of us are wondering if that has something to do with because there was no audience," Morrissey continued. "Maybe the singers could actually hear themselves better without the crowd. The coaches commented that they felt they could hear the singing better."
As for the show overall, viewers shouldn't expect any major format changes. Shelton, Legend, Stefani and Clarkson will choose artists for their teams during the blind auditions—only 10 contestants per team this season, though—and the singers will compete in the various rounds per usual. Coaches can block one another and steal contestants that may be facing elimination. And the four-way Knockout, in which the four saved artists compete for a spot in the Live shows, will be in effect for Season 19, too.
The Voice returns to NBC with Season 19 on Monday at 8 p.m. ET.