Putin Is Losing the War. Don't Be Fooled by What Happened in Severodonetsk
Russia is losing the Ukraine war. Though Moscow is poised to capture the eastern city of Severodonetsk, it again has proven itself incapable of attaining a broader conquest over its smaller neighbor. The Russian army's so-called victory is the latest installment in its humiliating military display and comes with a crushing human cost.
"The Russian military is getting weaker by the day, with little prospect of overall replenishment or meaningful reinforcement," a senior Defense Intelligence Agency official tells Newsweek. "Meanwhile, Ukraine is holding on ... [and] standing on the brink of major western augmentation of its offensive capability."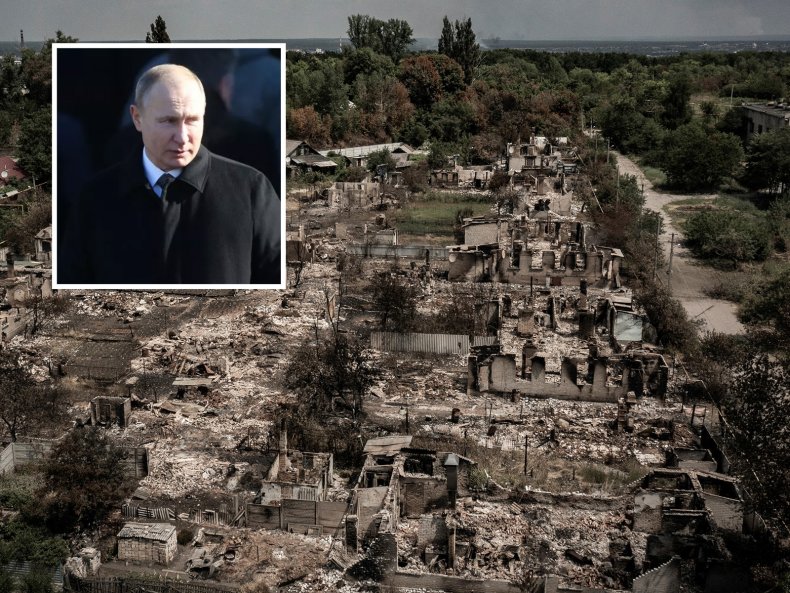 Most experts predict the war will continue to grind on for months, and many analysts are saying the tide has turned in Vladimir Putin's favor. It hasn't. Even as Severodonetsk falls, it's important to remember that Russia has already suffered three major embarrassing losses. First was Moscow's inability to reach Kyiv, depose the government there, and its subsequent withdrawal from the north. Second was its failure to take Ukraine's second city, Kharkiv, with another retreat from its environs. Third is its inability to move forward in the south, contrary to Kremlin predictions. Odesa and Mykolaiv are no longer threatened by Russia.
The fighting in Severodonetsk will likely go on for a week or more, and even longer if it turns into another Mariupol. "Even if Russia manages to take all of Donbas in the coming weeks, we'll still see a standoff where Ukraine increasingly has an advantage," the DIA official says.
The miracle in Severodonetsk
In his nightly video address on Sunday, President Volodymyr Zelensky assured his people that Ukraine is fighting for "literally every meter" of Severodonetsk.
The eastern industrial metropolis and center of Ukraine's chemical industry sits on the eastern bank of the Siverskyi Donets River, a major obstacle for Russian ground forces. It had a pre-war population of 100,000; some 15 percent are left sheltering in the city.
Monday, Ukraine said its forces have been pushed out of the center of the city, their backs increasingly against the river. Some have questioned Kyiv's decision to mount a tenacious defense of Severodonetsk, asking why Ukrainian forces didn't retreat to the high ground on the other side at the twin city of Lysychansk (population 95,000) to live and fight another day.
This ignores that Severodonetsk has been under artillery and air attack since the beginning of the war, with Russian troops moving to its outskirts and beginning their campaign to take the city almost exactly two months ago. Since then, the fighting has been a see-saw of advances and retreats, Ukrainian forces managing to do the impossible and hold on even when defeat seemed imminent.
In late May, says Illia Ponomarenko, one of Ukraine's top military journalists, "Russia seemed to be just a step away from severing the T1302 highway (commonly known as 'the road of life') and closing the 40-kilometer-wide pocket [around the metropolitan area]." Ponomarenko explains that there was "doom and gloom in the media in Ukraine and beyond, with loud calls to the Ukrainian military to withdraw troops from Severodonetsk and Lysychansk to save them from inevitable disaster."
And yet, he points out, Russia was unsuccessful at encircling the city. "With time," he says, "it has switched to much more narrow goals of creating several smaller death traps for the Ukrainian military instead of just one giant. In many ways, this happened due to Russia's lack of manpower for such a large operation, as well as fierce Ukrainian resistance."
"The Russians totally control most of Severodonetsk," says Governor Serhiy Gaiday, head of the Luhansk administration where the city is located. "The battles are so heavy that the struggle can last for days, not even for the street, but [also] for one high-rise building," he says.
"For weeks," Ponomarenko adds, "Russia and Ukrainian militaries are waging cut-throat, brutal fighting in the city, throwing more and more troops in the grinder, with houses and districts changing hands all the time."
Now about 8,000 Ukrainian soldiers—elements of three regular army brigades, national guard, territorial guard, and foreign legion—are isolated on the eastern bank of the river, according to U.S. intelligence.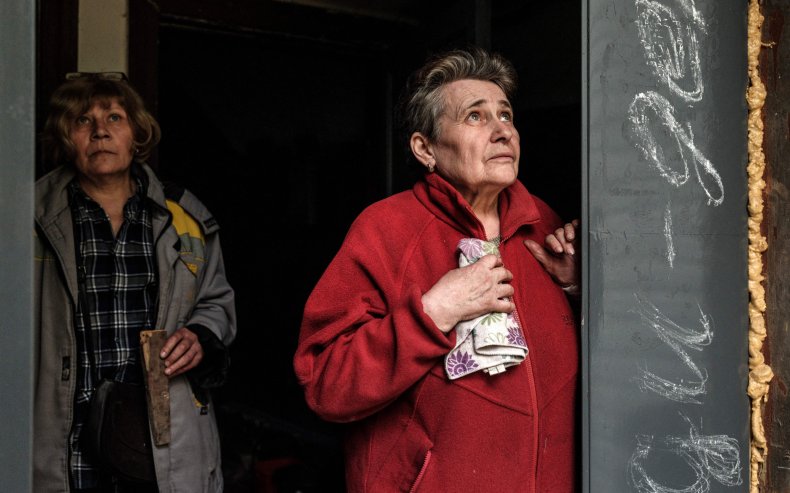 Ten-to-One works both ways
Despite fierce fighting on the ground, the Russians, as they have been doing throughout the war, resort to long-range artillery to attack Ukrainian soldiers and preserve their own infantry force.
Ukraine's General Valeriy Zaluzhny, commander-in-chief of the armed forces, says that Russia outnumbers his country ten-to-one in guns and rockets. "Despite everything," Zaluzhny said on Facebook this week, "we continue to hold positions. Every meter of Ukrainian land there is covered in blood—but not only ours, but also the occupier's."
"Both sides are extremely exhausted and have sustained devastating losses," says Ponomarenko.
Those losses, according to U.S. intelligence, have been particularly bad for Russia, which has suffered as many as 10 casualties for every Ukrainian soldier lost since the offensive began on April 18. The senior DIA official ascribes the Ukrainian advantage to greater morale and motivation, better training and leadership, superior knowledge and use of the terrain, better maintained and more reliable equipment, and even greater accuracy.
To take all of the Donbas (as the two provinces of Luhansk and Donetsk are called), Moscow has now committed 45 percent of its entire armed forces. Since the beginning of the war, Ukraine says it has killed over 32,000 Russian soldiers. U.S. intelligence thinks the number of Russians killed is closer to 18,000, but sources tell Newsweek that an additional 65,000 have been injured.
"Russian generals see their people simply as cannon fodder," says President Zelensky.
"It can't go on forever like this," the senior DIA official says of Russia's shrinking manpower pool. "It started with trained troops, then resorted to reserves and conscripts, then administrative personnel, students and even cadets, then new draftees rushed to the battlefield. They are literally running out of people."
Meanwhile the clamor from Kyiv pressuring the west to accelerate their supply of weapons continues. Not giving up on Severodonetsk shows that Kyiv is not giving up on holding Ukrainian territory, not ceding anything for free now that it recognizes how weak Putin's forces are. But it is also part of a holding action—holding on and hoping that sufficient arms will reach the front in time to defeat the Russian invaders.
Across the river
If Russian forces gain full control of Severodonetsk, the next step would be crossing the Siverskyi Donets River and assaulting Lysychansk. From there, it is just five miles to the Donbas border with greater Ukraine.
This weekend, Russian forces destroyed the Proletarskyi bridge over the river, the last driveable connection between the two cities. Governor Gaidai says the loss of the bridge means that there is "no way of leaving Severodonetsk in a vehicle."
In order to move forward, the British military intelligence said on Monday, Russia is either going to have to "complete ambitious flanking actions, or conduct assault river crossings," neither of which it has managed to do in the last three months.
"Russia has struggled to put in place the complex coordination necessary to conduct successful, large-scale river crossings under fire," British military intelligence says. "Over the coming months, river crossing operations are likely to be amongst the most important determining factors in the course of the war."
Another factor to ponder in putting the loss of Severodonetsk in context is that it is only a tiny segment of the battle: one that is important in continuing to take all of Donbas, but not so crucial that Ukraine's defenses collapse.
The frontline between Russia and Ukraine, from east of Kharkiv in the north through Donbas to southern Ukraine all the way west to the Pivdennyi Buh river, is 1,500 miles (2400 km). There are active hostilities, General Zaluzhny says, on nearly 680 miles (1100 km) of that front. Much of that is in communities around Severodonetsk and other pockets of Luhansk and Donetsk still under Ukrainian control. Outside of Donbas, Ukrainian counter-offensives have largely halted any Russian advances. The fourth setback is now likely to happen in the south and west.
As Severodonetsk falls, it is still a race between Ukraine's need for resupply and reinforcement and Russia's dwindling manpower.
"Severodonetsk is standing, and Ukraine is also fortifying the defenses Lysychansk just to the west, a city on a higher ground that is belted by the Siverskyi Donets River hilly banks, which gives a big advantage to defenders," writes Ponomarenko, assessing the bigger picture of the loss.
He warns, as do other experts closely watching the war on the ground, that the loss might provoke both western officials and even Kyiv to see the Donbas as lost. And once Donbas is lost, even if Russia declares victory and a ceasefire, there is a danger of the west urging Ukraine to negotiate, to trade even more of its own territory for peace.
"What will the West choose: a tempting deal with the devil or the good side in history?," Ponomarenko asks. "We'll see soon."