'Don't Go to a Big Family Thanksgiving': Teacher's Harrowing Tale of COVID False Negative Goes Viral
The holidays are speeding toward us, as is an increase in COVID cases throughout America. While many are planning to reunite with family over a Thanksgiving feast this November, one teacher is cautioning all to stay home with a warning story.
The gist: two COVID tests came back negative, but hospitalization and a terrifying thought that one man may never see his wife again should discourage anyone from braving the conditions to socialize.
Matt Waite, the founder of the Drone Journalism Lab and Journalism professor at the University of Nebraska—Lincoln, tested negative for the virus, as did his high-risk wife, Nancy, even after they both displayed symptoms. After a few days, Nancy's symptoms worsened and she was admitted to the hospital, leaving Waite to wonder if he'd ever see his wife again. A Twitter thread Waite published Sunday explained the entire scenario, and how it continues to plague the family.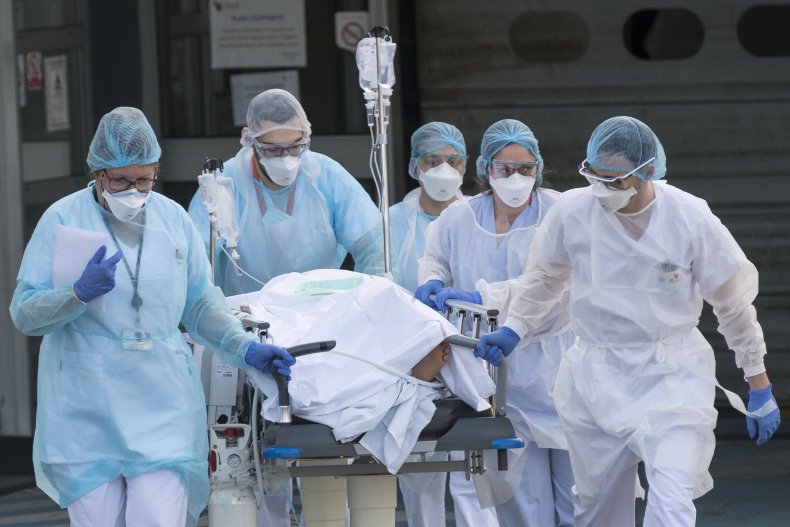 It started off simply. Waite and Nancy spent the year quarantined, aware that if Nancy got the illness, it wouldn't be easy. When Waite began feeling sick two weeks ago, he isolated in his basement and got a COVID test. It came back negative.
Nancy contracted the illness shortly after, and her test also said negative. When her symptoms accelerated however, she was admitted to the hospital where they confirmed she did, in fact, have Coronavirus. Nancy was locked away in the hospital with intense breathing problems and a high heart rate. Waite's description of her isolated hospital stay was fuel for nightmares.
"In the middle of the night, she could hear the patient in the room next to her code out," Waite tweeted in a series that explained the harrowing time. "She could hear them trying to revive the person, heard them taking that patient out. To the ICU maybe? I can't imagine what she went through that night. It kills me to think about."
After just a day, Nancy was still sick but sent home. "The next morning, the doctors decided she wasn't sick enough for COVID drugs, and didn't need oxygen, so they needed the bed," Waite explained. "They discharged her. Nancy told the nurse, I'm scared to go home. The nurse told her 'you should be scared to stay here.'"
Nancy is recovering, and one of the pair's two children has just tested positive for COVID. The point? The Waite family did everything right. "I'm slowly driving myself insane trying to figure out where we got COVID," Waite wrote. "Was it the day I forgot to put on my mask before walking into the college? I went without for maybe a minute. Was it the day I wanted to make fancy tacos so I went into a grocery store one time since March?"
Waite ended the series of tweets with a dark message that many Americans may need to hear: "I guess I'm telling you this because I don't want you to have to ask yourself if that was the last time you'll see a loved one," he wrote. "There's no hospital bed for you. Even if they find one, there's no one to care for you. They only have time for you when you near death."
COVID cases in America have begun to rise rapidly, as they did near the start of the virus. To date, the United States has confirmed over 11.1 million cases of the virus. Of course, that doesn't include negative tests like Waite's, or those who didn't get tested while ill. Individual cities and states have ordered lockdowns again. This includes Chicago, which began Stay at Home advisory on Monday and New Mexico and Oregon which have ordered state-wide lockdowns. Still, some Americans are planning on traveling and visiting with the family next week.
The Centers for Disease Control and Prevention issued guidelines on how to stay safe this Thanksgiving if you truly feel inclined to attend a gathering. They advise bringing your own utensils, wearing a mask at all times and only going near food if you are cooking. You can read all of the guidelines here.
Waite's message put it in the simplest terms, though. Skip Thanksgiving, and stay isolated. "Everyone tells you wear a mask and wash your hands. I did all that. We're past that point," he said. "It's rampant right now. You need to stay home unless it's life or death. Don't be around anyone until this passes. Don't go to some big family Thanksgiving. Stay home."